When out riding on your own, or in a group, normally you all stop for a coffee and cake, all part of the ride, be it in the middle or at the end. It's very easy to be distracted and take your eyes of your bike, especially if you're chatting, getting food or simply off to the toilet. The answer is a bike lock.
But the problem being they are big and with road bikes in general you don't want a big lock on your bike frame, when you are out training at the weekends, it's just not the done thing when you have an aero light racing machine.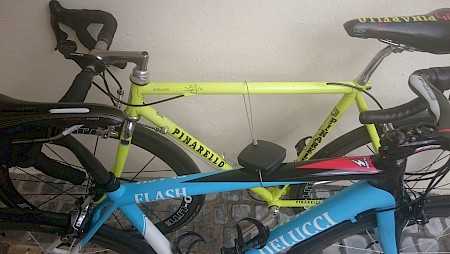 You need a lock which fits in the pocket of your cycle jersey, a deterrent to make it harder for someone casually jumping on your bike and riding away and one which can lock several bikes together. Most bikes which are stolen are wheeled away casually, not causing any attention, the thief acting as if it's their own bike and hoping no one takes a blind bit off notice.
Let's see what's out there from locks for group training rides and also stronger locks for touring or commuting.
Group Training Rides
Knog Milkman - Cable Lock
The Knog Milkman lock is a great solid bit of kit. When out training, it just slips nicely in your pocket. I have one of these myself and I can lock it to another bike very easily.
Features: Polycarbonate housing with steel braided cable, 90cm Retractable cable for added convenience, 3 keys included, convenient size: fits into back pocket.
Prices start from £17.75
Knog Milkman Combo (Combination)
This is the combination version of the Knog Milkman designed for those who prefer not to carry a key.
Features: Keyless, Injection Moulded Polycarbonate, 90cm braided steel rectractable cable, convenient size: fits into back pocket.
Prices start from £17.09
Kryptonite R2 Retractor Combination Cable Lock - 2.4mm x 3-Feet
Available from amazon, looks and sounds good value, another handy little lock for training ride.
Features: Extremely flexible 90 cm retractable cable lock, perfect for your pocket, 2.4mm vinyl coated twisted steel cable for lightweight security.
Prices start from £8.89
Commuting and touring locks
Abus Bordo 5900 Folding Link Bike Lock - 90cm.
The foldable Bordo lock uses a unique link construction to offer maximum flexibility when attaching you bike to a lamppost or railings. Clever design allows the lock to fold right up into its own compact frame mountable case or place in your bag. Weight: 1.26kg.
Features: Unique link construction, Folds into a compact frame mountable case, ABUS EC 'Extra Classe' cylinder.
Prices start from £43.98
Abus Bordo Granit X Plus 85cm Lock
Abus Bordo Folding. This lock is very strong, comes with a gold secure rating, comes up a bit smaller than 5900 lovely lock, has a nice quality rubber pouch, which also has Velcro straps to mount anywhere on your commuting bike or place in your bag ideal for touring as well.
Features: 5.5mm hardened steel links, 85cm long, Supplied sleek rubberised storage pouch.
Prices start from £73.36