The Yorkshire seaside town of Withernsea played host to a free Music and Motorcycle Festival this past weekend, and what a brilliant experience it was.
The Withernsea festival which first started as the "Summertime Special" in 1994, was back again and this time even more crammed packed full of activities and entertainment to keep families amused for the whole weekend.
With my partner and young son in tow, I made the long train journey (with many delightful train changes) from our Norfolk base, all the way up to the beautifully sunny and picturesque Yorkshire landscape to enjoy what the festival had to offer, and I am so glad we did. I found the variety of stalls and entertainment perfect for families, which helped keep the kids and adults entertained throughout the weekend. The weather was perfect too; it could not have been any better!
I don't think I've ever seen so many motorcycles in one place either and such a variety of riders! The streets were scattered with Goldwings, Sports Bikes, Custom Cruisers and Motocross bikes. I did see the odd Scooter and Moped, but admittedly my eyes were more drawn to the Goldwings.
Live Bands, Dance, Acoustic & Spoken Word
Friday saw the festival kick off with a selection of talented bands from the region, which was hosted by Kevin Lythe, and Sa-ves & DJ Ridoo. Performances included Wake Up in Vegas, Stuart Collison, Blabbermouth and Bonemuel. This was a new bands showcase and helped get everyone in the festival mood.
Saturday and Sunday had a variety of different performers, ranging from dance groups to rock bands. In my opinion some of the best performances were in the Valley Gardens arena, by Sa-vez & DJ Ridoo, The Alligators, The Jokers, Band of Gypsies and Complete Control.
Inside the Meridian Centre you found a much quieter environment, with some fantastic acoustic and spoken word acts. I did not get the time to fully check this venue out, but from what I hear, the performers were exceptionally talented.
Stalls & Activities
There were plenty of stalls and activities available for adults and children over the weekend. The most important ones for me being the "greasy" burger vans and outdoor bar, but of course you could find the usual gift stalls, craft stalls, tombola and various other stalls offering prizes to be won. I myself failed miserably at trying to win my son a huge smiley face stuffed toy, but I made up for this by letting him have several goes on the bouncy castle......which probably cost me more than my attempts at winning him that toy.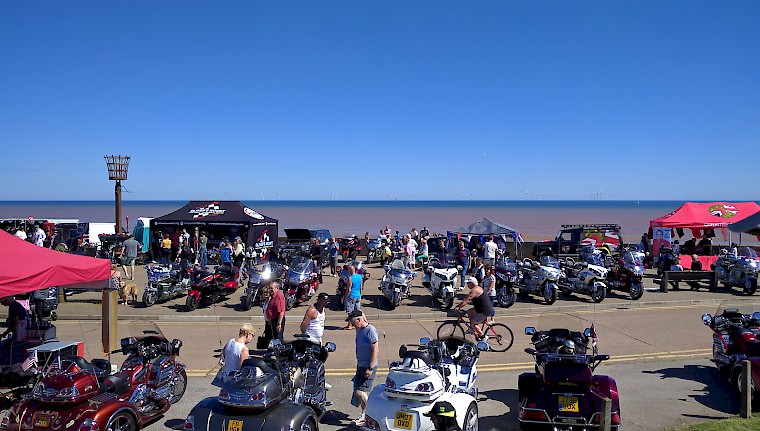 5-ways Motorcycle Centre were one of the official sponsors of the Withernsea Festival, so as you can expect they also had a stall. They were offering people the chance to win prizes worth over £500 in a FREE prize draw, something I completely missed until it was time for me to leave. This was down to the vast amount of attractions to look at, it was quite overwhelming at times.
Children were kept entertained too, Professor Fiddlesticks, an Excellent and Experienced Entertainer was on hand to demo his circus skills, juggling, devil sticks, balancing, diabolo and unicycle, and encouraged audience members to have a go with some of these.
As mentioned above, there was a great bouncy castle available to all youngsters (not adults unfortunately), children play areas and carnival rides
Dave Coates – Motorcycles Stunt Show
With over 20 years of experience and world records to his name it's not a surprise the crowds flock to the Dave Coates Stunt show. The Yamaha rider pulled out tricks galore on his MT07, MT09, MT10 and also his YFZ450 Quad bike, leaving the crowd in awe after some of his breath-taking stunts.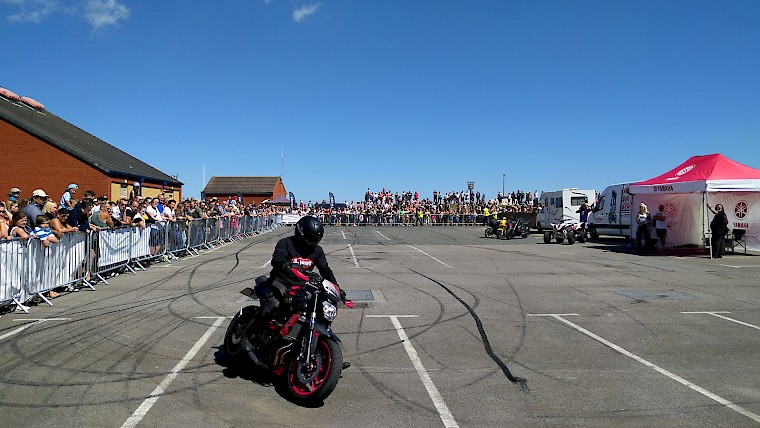 Overall this was a great festival and I will definitely be going back next year with my family, but I'm hoping to find another method of transport up there, as the usual delays on UK trains didn't make it a pleasant journey with so much luggage and a 4 year old.
Lexham Insurance were also proud sponsors of the festival website and aided in its creation and development.