The cafe racers were originally a British youth subculture of the 1960's, so called due to their habit of racing between the various popular cafes of London in an attempt to achieve the elusive 'ton' (100mph). This lead to another nickname for the group - the 'Ton-Up Boys'.
The cafe racer motorcycles were distinctive for their stripped down appearance, clip-on bars and forward tucked riding positions. Their motorcycles were based on the road racing machines of the era and built for speed.
The original cafe racers were figures of rebellion and danger but in modern times, things have changed a great deal. With retro motorcycles gaining huge popularity, riders are once again gravitating towards the vintage charm of the cafe racer.
As a result many manufacturers are putting new cafe racer style bikes into production, combining the retro look and feel of the classics with modern technology and know-how. These bikes are fun to ride, beautiful to look at and in 2019 there is a ton of great options!
---
Triumph Thruxton 1200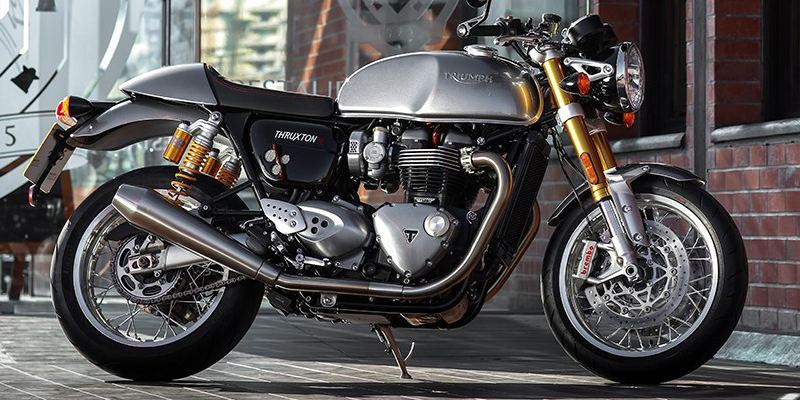 Triumph were one of the pioneers of the original cafe racer movement, in fact the great majority of the original Ton-Up Boys would have utilised a Triumph engine in their configuration. It's fitting then that Triumph once again have been leading the charge in this retro renaissance with their mighty Thruxton.
The Thruxton is currently available in two variations, the standard Thruxton 1200 and the more deluxe Thruxton 1200 R. Both versions are powered by a parallel twin engine putting out 95.6 bhp and for 1200cc bikes, they are surprisingly light at 206 kilos. Both also come loaded with features including ride modes, switchable traction control and ride by wire technology for starters.
The standard comes in at £11,000 brand new and for an extra £1,400 the R version boasts Brembo brakes, Showa USD front forks, Ohlins rear shock, Rosso Corsa tyres and LED lights!
---
Royal Enfield Continental GT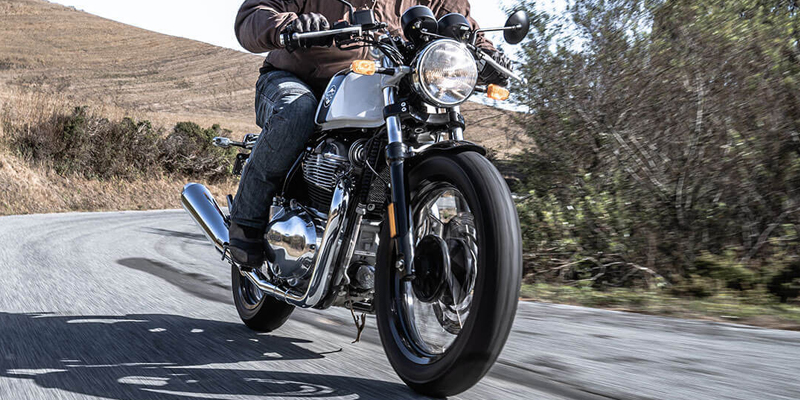 Royal Enfield have become known for making beautiful looking retro machines that come at budget prices. The trade-off for these low price points tends to be the low power output and lack of modern features (some enthusiasts may consider this a plus).
With the Continental GT, Enfield have changed things up a bit. It does still come in as one of the cheapest bikes on the list - starting at £5,700, however it packs a lot more punch than the usual Enfield offering.
The bike is powered by a new 648cc parallel twin engine tuned for a bit more grunt at the low rev ranges. It's 47 bhp ensures that despite a bit of extra fun-factor in the performance department, the bike still meets A2 licence requirements.
There's a few mod cons on this one too, the bike features Bosch ABS as well as ByBre brakes (a Brembo subsidiary) and a slipper clutch which is incredibly good value for a motorcycle that costs less than 6 grand.
As usual with Royal Enfield, perhaps the most striking feature of this bike are it's looks - perfectly capturing the stripped down cafe racer style. The Continental GT is available in a range of finishes, including a very tidy chrome option that will turn heads and put a smile on your face without breaking the bank.
You can check out a full feature on this bike as well as it's sibling the Interceptor.
---
Kawasaki W800 Cafe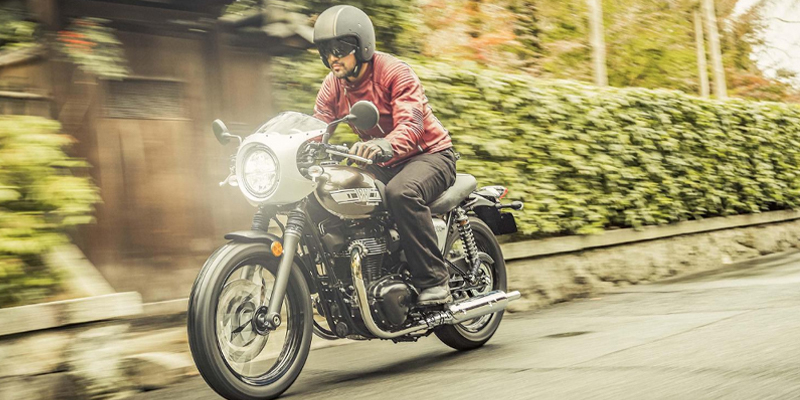 I talked earlier about the birth of the cafe racer movement in 1960's England but by the mid 70's, Japanese manufacturers like Kawasaki had emerged as major players in the cafe racer scene.
The Kawasaki W800 is a brand new model for 2019 and pays direct tribute to their classic 1966 W1 (which was itself based on earlier British models) mixing classic styling with modern technology.
The W800 has a slightly unique aesthetic, utilising the more elongated and boxy shape of Japanese cafe racers with a stylish cowl around it's LED headlight. Everything about the bike's design screams retro from the peashooter exhaust to the analogue dash.
The new W800 makes use of Kawasaki's ergo-fit system (allowing it to be adjusted at various points to fit a wider range of rider sizes) as well as incorporating a slipper clutch, ABS and preload adjustable rear suspension.
The engine is a 773cc twin and at a maximum 47bhp, this is another A2 compliant cafe racer that sits right in the middle of the list in terms of performance and price, starting at £9,000.
---
Ducati Scrambler cafe racer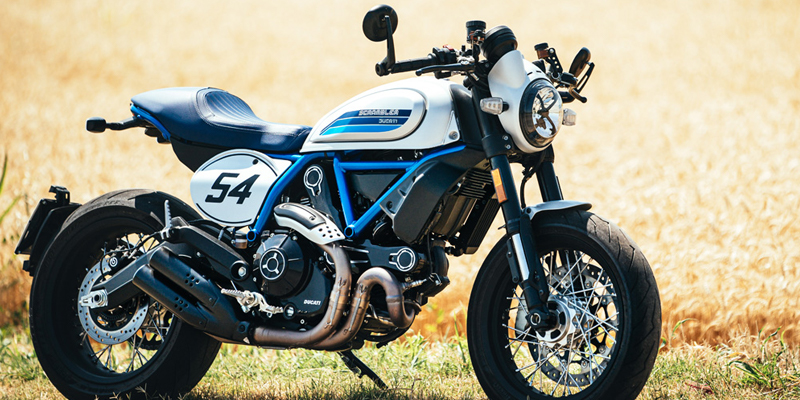 Ducati have been one of the leaders in the retro revival craze the motorcycle industry is currently enjoying with their top selling Scrambler range. The Scrambler comes in a variety of flavours now and as the name implies, it's usually based on the off road bikes of yesteryear.
After much demand, 2017 saw them add a Cafe Racer to the line-up and the latest model has a brand new look for 2019.
Sharing many of the same components as the rest of the Scrambler family, including the 803cc 73hp engine, there are a few notable differences to make sure this motorbike becomes a true cafe racer.
Aside from the obvious clip on bars and rear-set pegs, this Scrambler sports slightly smaller 17" wheels that come with Pirelli Diablo Rosso tyres at front and back - a clear indicator of its cafe racer intentions. The road focused wheels are matched with a reconfigured suspension and as usual with Ducati, there's only premium parts to be found here: Brembo brakes, pre-load adjustable Kayaba rear shock, Bosch Cornering ABS and a slipper clutch are all standard.
The Scrambler Cafe Racer has a lot to offer, it's mild enough not to be intimidating but still has enough oomph that you won't be getting bored of it in a hurry. It also makes for a great Ducati fashion statement but has a Ducati price tag to go along with it, starting at £9,950.
---
BMW R nine T Racer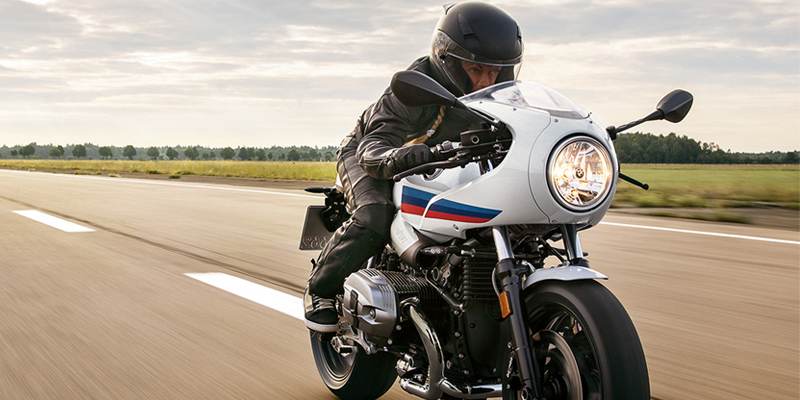 BMW's answer to this retro revival movement is their R nine T range, another motorcycle that comes in various flavours depending on what you're after. For this list we are of course looking at the R nine T Racer.
This has to be the most focused bike featured, the ride position forces you into a tucked and aggressive posture the original Ton-Up Boys would be proud of! It has matching performance with its 1170cc twin-cylinder boxer engine, 116Nm of torque and 110hp.
The Racer starts at £11,050 and for an extra £730 you can get the Sport version with heated grips, chrome exhaust, LED lights and spoked wheels. The price range and stats put it as a direct rival to Triumph's Thruxton but as stated earlier it is a more sport-focused and less versatile option.
---
Suzuki SV650X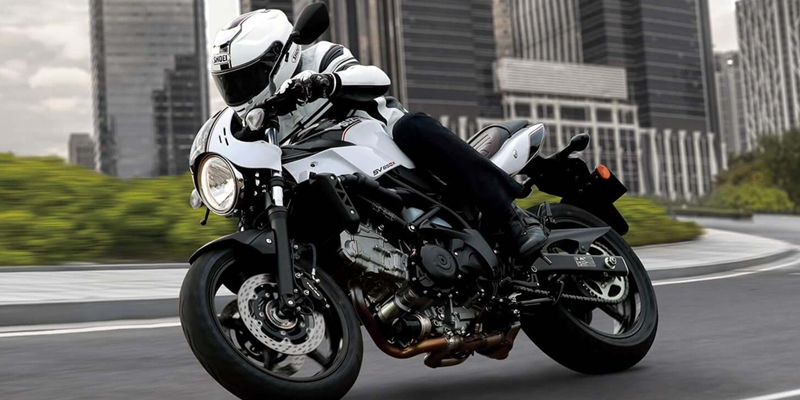 The SV650X is perhaps the least authentically retro cafe racer I've included, it is after all essentially a regular SV650 with clip-on bars, a front cowl and a new paint job. Fortunately the SV650 is a very good base, so the result is a more modern styled cafe that can tick a lot of boxes and is great value for money.
Most modern cafe racers are going for that full traditional style so this actually ends up being somewhat unique and in my opinion still looks great. It's powered by a 645cc v-twin with 75hp output, which puts the SV650X's performance right in the middle of the list. It will require a full licence if unrestricted and has plenty of go about it, but it's a lot less intimidating than some of the more aggressive options.
The price starts at £6,599 which is pretty great for the amount of bike your getting but aside from ABS there's no fancy features here. It does have Suzuki's Easy Start and Low RPM Assist systems which is nice for beginners - smoothing out revs at low speeds and making it far less likely to stall.
---
Norton Commando 961 Cafe Racer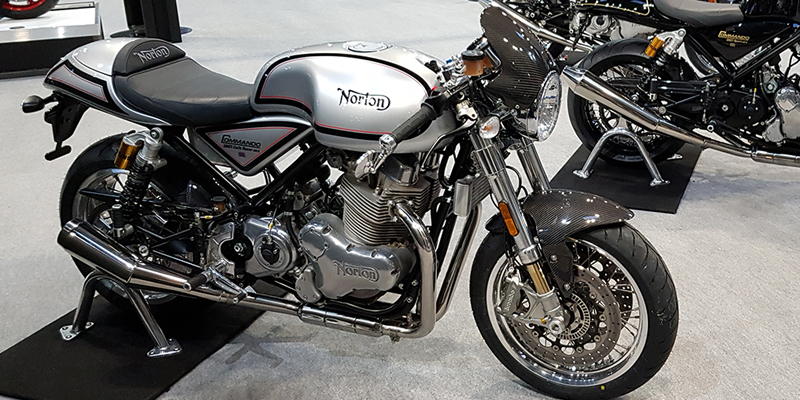 Norton, like Triumph, is another name that goes hand in hand with cafe racers. Many of the original racers would use their feather-bed frames, as seen in the Isle of Man TT, in their configurations.
The original Norton Commando first arrived in 1967 and more than 50 years later, the Norton Commando 961 Cafe Racer is here for a new generation of riders and looks equally impressive.
The visuals are pure retro right down to the twin dial dash but the bike is fully loaded with premium components. Ohlins USD forks and rear shock, Brembo brakes and clutch master cylinder, no expense has been spared when it comes to production.
The motor is a 961cc parallel twin with 79hp and 90Nm of torque @ 5200RPM, with a weight of just 188 kilos, expect some serious performance when combined with this bike's top spec hardware.
With all these premium parts there is also a premium price tag of around £16k but you are getting a serious bit of kit for the money!
---
Moto Guzzi V7 III Racer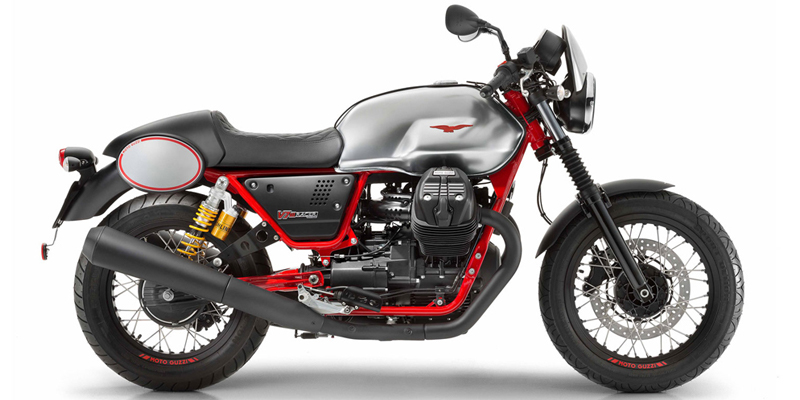 The original Moto Guzzi V7 Sport was released in Italy in 1967 during the cafe racer heyday. To celebrate the 50th anniversary of the motorcycle in 2017, Guzzi released the V7 III range - a series of beautiful bikes but perhaps the most unique of the bunch was the V7 III Racer.
The Racer is a true cafe like it's ancestor and has a very striking visual style - the blacked out hardware, red frame and chrome tank as well as the signature Guzzi protruding engine really make this model stand out.
Despite the racy looks however, the V7 is still designed to be Moto Guzzi's entry model, with it's 744cc V-twin engine producing 52hp it's a nice un-intimidating ride that will be very accessible for beginners as well as veterans who just want to cruise in style!
The V7 III Racer was produced as a limited edition with each model numbered and given the most high spec features of the range including switchable traction control and fully adjustable suspension.
You may not be able to find one of these brand new any more due to that limited exclusivity but I have seen these floating around the used market for under 5 grand!
---
Husqvarna Vitpilen 401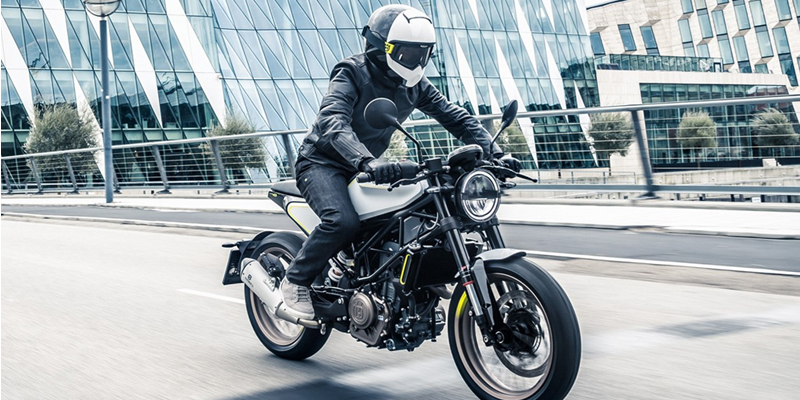 Husvarna's Vitpilen comes in 2 versions - the 701 and the 401, giving an option for different budgets and licences. The bike I am covering here in this list is the 401 as it fills a bit of a gap as a 373cc lightweight A2 option.
One of the things that has already become clear as we go down the list is the sheer variety of the cafe racers currently on the market, with each one carving it's own niche. The Vitpilen is no different, being perhaps the most futuristic of the bunch.
That might sound a bit odd in this retro-centric genre but it works surprisingly well, fusing the classic cafe racer riding position with a hi-tech modern design. The hi-tech theme isn't limited to its looks either with a host of cutting edge features like a slipper clutch, WP suspension, Bosch ABS and ride by wire throttle.
The Vitpilen weighs in at just 148 kilos so despite the A2 friendly 42 bhp power output, it makes for a surprisingly nippy ride that a wide range of motorcyclists can enjoy. The price tag is a little steep for a 300 at £5,599 however, it is still the cheapest bike on the list and you do get a premium bike for the money.
---
Yamaha XSR900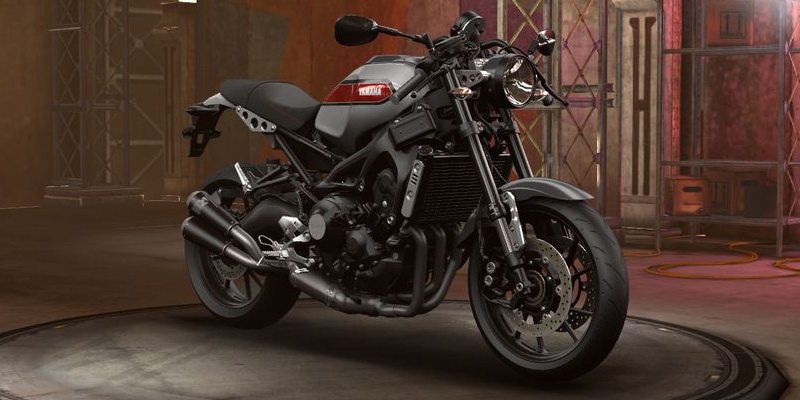 For the final spot in this list I've gone a bit outside the box with Yamaha's XSR 900. The standard XSR is one of the best street bikes on the market right now and with an optional low bars accessory available, suddenly you are in cafe racer territory.
Yamaha did experiment with a true cafe racer style XSR in 2016 with the limited run Abarth (only 695 were produced) but likely your only chance to pick one of those up is on the used market.
The standard XSR 900 can be bought new for less than 9 grand which is a steal for a bike that excels in almost every regard. It features the same torquey 850cc engine as the MT-09 with a 113hp power output. You get ABS, ride modes, switchable traction control and a slipper clutch as standard, with a tidy vintage aesthetic.
It's not going to be for everyone - the performance is a little intense for beginners and traditionalists may want one of the more classic themed cafes on the list but a very high fun factor combined with a decent price point and top spec features make this a colourful option to think about!