With the second national of the year at Weston-Super-Mare just around the corner, I thought it was a good opportunity to look back at this classic rally location and preview what's on offer this year.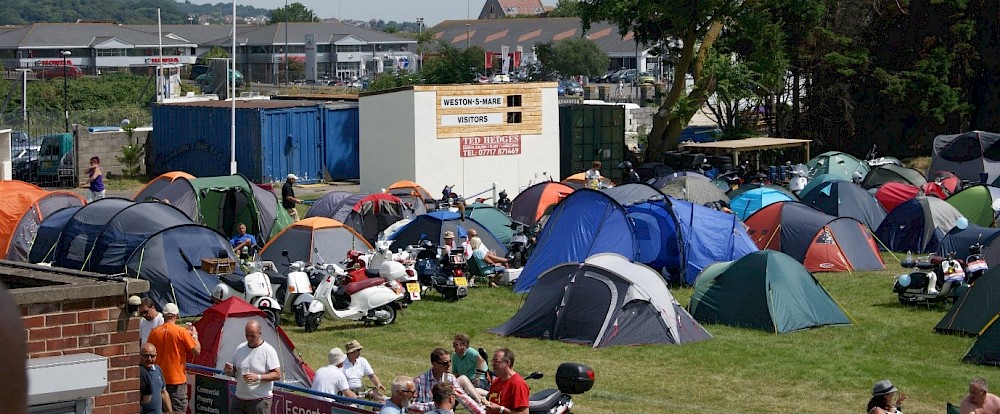 The Weston Super Mare Rally is on this year between the 3rd and 6th of May (May Day bank holiday)
My first Weston Super Mare rally
Weston has always been a great scooter rally town and my first visit there was in 1984. For some reason my own scooter must have been off the road because I rode my friend Linda's Vespa 100 Sport, with her on the back, for the 120 mile journey. I'm not quite sure why but we were carrying two tents and four sleeping bags, our boyfriends clearly wanting to travel light in a forward party and leaving us to bring all the gear.
So we rode on our own, and had a slight drama en route with a rear wheel blowout when riding through the Cheddar Gorge. We were going quite fast down a hill and I couldn't control the scooter when the tyre blew, so we both came off, but luckily there wasn't too much damage to the scooter as we had so much luggage which softened the fall, and as you can see from the picture we did at least have a spare wheel!
I did however break my big toe, so after getting x-rayed and being bandaged up I spent the rest of the time hobbling about. It wasn't a great start but I didn't let it spoil my weekend.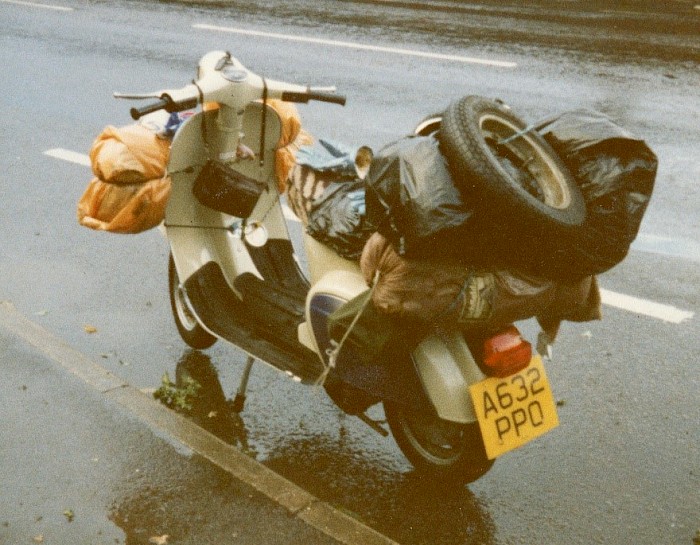 What's going on in Weston Super Mare this year?
Weston is great because the campsite is close to town and these days the hosts are the local rugby club at the Recreation Ground. There are plenty of hotels for those who prefer their creature comforts and now that the Winter Gardens is no longer a venue all the action takes place at the Grand Pier. The pier was destroyed by fire in 2008 but has risen from the ashes and is now better than ever, with a main room and soul room upstairs.
During the daytime there are amusement arcades, fairground rides and a museum. There are plenty of refreshments including a restaurant at the end of the pier which has a fabulous view and serves a delicious afternoon tea which I can thoroughly recommend!
The South West Scooter Club crew have alternated between Weston and Exmouth in recent years which I think works really well, providing a bit of variety. 2014 was a scorchingly hot year, with rally-perfect weather there in July. As the town was an early adopter of the fancy ice cream parlours which are now everywhere, there were many little places along the prom which offered amazing toppings and flavours. I'd highly recommend them if we get another heatwave this year!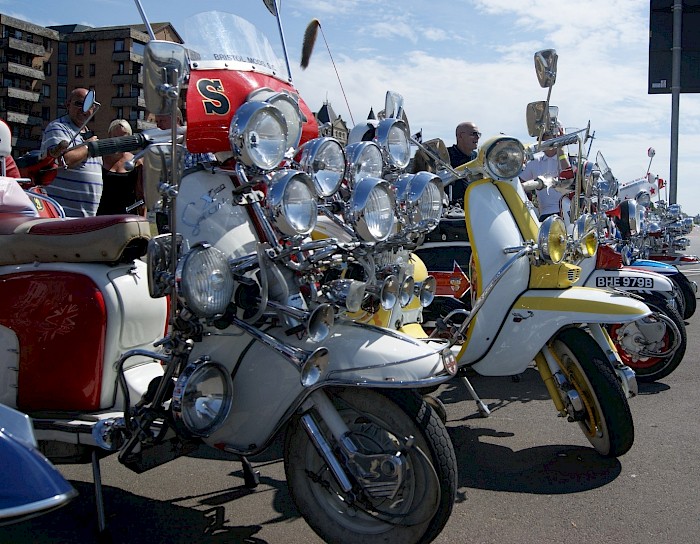 Since that year the date has moved to be earlier in the rally calendar, to the May Day bank holiday weekend. There's always plenty to do at Weston, both in the town as well as on the campsite. The Lambretta Scooter Museum in Alfred Street is well worth a visit. It is a private collection of models from 1947 to 1971 owned by Stuart Lanning and there is a vast array of other exhibits including adverts, posters, accessories and magazines. It is open from 11am – 2pm on the Saturday and 10am – midday on the Sunday.
When we visited in a previous year we weren't aware it shut so early and arrived as it was about to close, so I will definitely go back and spend longer looking at the range of memorabilia. There is an assortment of scooter-related bits and bobs for sale too, including some really lovely vintage posters.
Anywhere to have drink in the evening?
This year there are a number of pubs putting on entertainment as well as the official dos, with the blessing of the organisers. On Friday night the York Hotel, which is on the seafront opposite the pier, will be playing scooter sounds from 6-8.30pm, and on Saturday from 2-8.30pm. On Saturday afternoon there is live music from 5.15pm at The Back Bar and the SKAstuds at The Tavern from 2pm, and The Sunday Affair at Boro Social Club from 3pm. There is music on the campsite at the Recreation Ground in Grove Road, from 8pm – 3am on both nights.
Remind yourself of the 2017 Weston Super Mare Rally with our blog and photos here!
Doors open at the Grand Pier for the main dos at 8.30pm, with the Regency Suite hosting the northern soul room and scooter sounds and alternative music in the main hall.
The stalls will be trading at the Recreation Ground from 9am on Saturday, and the custom show starts at 11am there. The rideout leaves at 1pm from there too.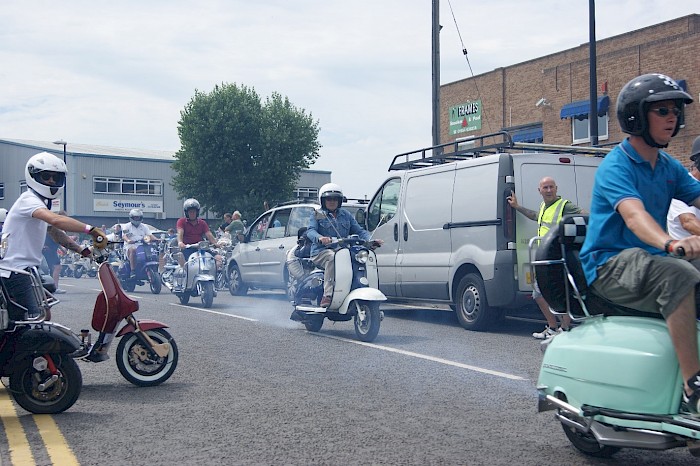 If you've still got enough energy on the Sunday then there's an after rally party at Unwined in South Parade from 6pm til late featuring DJ Ross playing scooter sounds and northern soul.
Camping at Weston Super Mare
If you want to camp then the price is £20 which includes the whole weekend's entertainment too. For just the entertainment it's £15 for a weekend pass or £10 for each individual night. You can pay for entertainment tickets at the Pier from 8pm or on the campsite from noon on Friday. If you just visit the campsite for the day on Saturday then it's £5 from 9am – 7pm.
Andy Greenslade says "We are really looking forward to the Weston rally as both the campsite and venue are exceptional there, giving it an atmosphere like no other".
I'm also looking forward to it and hope that the weather is similar to Scarborough at Easter, so I have a good excuse to indulge in some ice cream!
If you want to set your satnav for the campsite then the postcode is BS23 3PA, and the Grand Pier is BS23 1AL.
See you there!
For more amazing scooter content, head over to Ali's website at: Diary Of A Detour
---
Fancy seeing how the rally was? Ali has posted her Weston Super Mare 2019 Rally blog on Diary of a Detour!
Go and give it a read.
---

If you're attending the rally, let us know! We'd love to see you.
Send us your photos from the weekend on social media as well - tag us in, or use the hashtag #ScooterRally2019