As an athlete and multi-sport coach it is extremely important that I use good quality equipment and accessories, I simply can't have things let me down because of poor quality.
Over the years I have tested many products, the special ones which really impressed me will become a part of my arsenal until I find something even better, I think I may have just found that something special...

Vittoria Cycle Tyres
I have frequently used Vittoria tyres in the past, especially tubulars for my TT bike and road bike for racing, mainly the famous Corsa series as they seemed to be the first ones to bring out funky colours back in the 90s. Like most people though, I moved towards Continental tyres. However, in the 12 months or so, I've noticed my customers here at Delucci were using Vittoria tyres again and all saying how good they are.
Finding a suitable cycle tyre
This June, I went to Morocco to ride the Atlas Mountains with some Portuguese friends, I didn't have a gravel bike or mountain bike for this challenge, but I didn't want to miss out. The only bike suitable was my Vaaru V8, but as this is a road bike with lovely aero forks which only took 25mm tyres - I had to find some pretty special tyres to take on these punishing roads.
With hours of research, the tyre which kept coming up was the Vittoria G Rubino Pro Endurance G with Graphene; this has a new puncture resistant material which is a level up from kevlar and has exceptional characteristics. It consists of carbon, or more precisely graphite, which gives the tyre amazing durability and puncture protection.
To be honest for this challenge I needed at least 28mm tyres, but as mentioned previously, the frame wouldn't accept this which is common with a lot of older bikes.
Would the 25mm Vittoria Endurance tyre handle the harsh and extreme conditions of the Atlas Mountains for six days with a bike ladened with luggage? I simply didn't know – but I was going to give it a good go and find out!
Ready for adventure
I purchased the new Vittoria Pro Endurance tyres and put two layers of rim tape on the wheels just to be safe, along with inserting the standard innertubes.
I gave the tyres a blast off-road a few days before just to see how they would do, I couldn't believe the grip, even out of the saddle! Putting my weight over on the back of the bike standing up, it still kept traction, with only a 25mm tyre I was blown away by the performance.
Put to the test
With 6 days of gravel, rock, sand, and just about everything else you could imagine thrown at the tyres, they just kept going! For me they were even outperforming what it said on the box.
Before we set off I took three innertubes with me and a spare tyre. Everyone was saying "you will be stopping with punctures or sliding off", how wrong they were…
I didn't have one puncture and I didn't slide off once. You won't believe this, but I didn't even pump up the tyres over the whole 6 days! Gravel, dirt tracks and rocky roads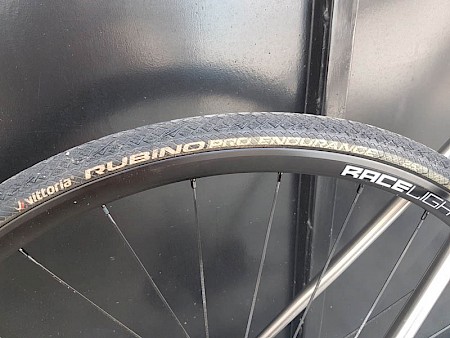 didn't kill these tyres. Of course, there are signs of wear as the surface was hard enough even for a mountain bike.
I was the only one in our pack without tubeless tyres and the other guys were pumping up their tyres every morning. I can't say enough how amazing these tyres are, they totally exceeded my expectations!
If you have a bike and you use it for everything, on and off road, they are the business. Even for commuting through the winter or touring with weight, I'd consider these.
These tyres might be a little bit heavier when compared to some of the other tyres in the Vittoria range but you'd expect this with the tough and resilient performance they offer. For me, these are very much worth looking at and considering, as they will fit most scenarios and requirements, especially riding during the winter months. When it comes to fitting I had no problem putting them on either and at £26.99 they are great value tyres.