Vaaru Cycles were one of the stands to see at this year's Cycle Show at the Birmingham NEC, Titanium framed road bikes with disc brakes, these high spec bikes have got a lot to offer and have gained a lot of interest since their inception. While I was back in the UK for a few weeks at the tail end of November I was fortunate enough to be asked by Vaaru to test one of their new creations. It wasn't a difficult question to answer.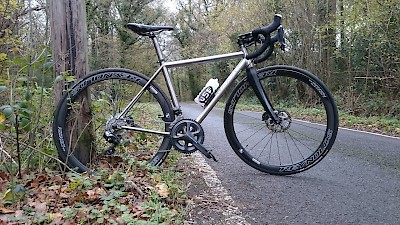 Having never ridden a Titanium framed bike before nor a road bike with disc brakes, I jumped at the opportunity, this was a first in more ways than one and with the feedback I had already heard about this bike I knew it was going to be fun.
First Impressions
With the Vaaru V:8 Disc Titanium road bike delivered and looking the business it was naturally time for the first ride out with a bunch of my old mates. I knew this ride would test the bike to its limits, my friends including Chris Lillywhite, a previous winner of the Tour of Britain, were there to ensure the bike and myself were pushed to the max.
As we gathered at the starting point which was the Giro Cycle Café in Esher, my group of friends did the traditional look over to pass judgment on the new Titanium machine. Just like me everyone loved it, the styling and components looked the part but how would it perform?
Comfort
One of the first things I noticed with the Titanium frame was the ride, I found it smoother than that of an aluminium build yet more forgiving on rough roads when compared to Carbon.
I hadn't ridden the bike prior to this test, though it was set for my measurements. I did a solid 4 hard hours on this bike and surprisingly felt no aches or pains, even though this included riding on a mixture of road surfaces. A nice little addition to the bike is the titanium seat post which has a very nice feel and look.
Descending
Testing the bike at full performance I went down a leafy wet road in Surrey around 10-12%. Getting up to 50mph on the decline the bike felt as safe as houses, it was very stable and cornered well, it gave me the confidence to go whizzing past my friends at speed, it felt great the carbon forks complemented the titanium frame perfectly.
Disc Brakes
Braking is more direct which means a lighter touch is needed on the brake lever when compared to braking on the wheel rim which can be a bit softer.
The main advantage with discs is in winter conditions when you are battling against dirt and wet roads, the brakes perform the same throughout and don't lose braking performance. Losing performance in bad conditions is a common issue with the traditional brake pad system resulting in losing braking resistance caused by moisture and dirt getting on the breaking surface, so I was soon won over by having brake discs on a road bike in wintery conditions.
Be aware though disc brakes can be a bit noisy when wet, but perform well in all conditions. They do take a little bit to get used to, but if you have a mountain bike with disc brakes then you will be used to the feel.
Summary
The bike ride was on a route I have done many times so I was able to compare the Vaaru V:8 Disc Titanium road bike well against bikes I have previously taken on this trip. The frame was perfect and responsive, topped up by the disc brakes as added bonus, it just turns this bike into a brilliant tool for commuting. The general feeling from fellow riders is that it's a great all round frame. You can ride to work on it every day, cycle around Europe or just ride through the UK countryside - it's the perfect all-rounder, on Vaaru's website they claim it's the ideal sportive and leisure bike and I can't disagree. The V:8 Di2 disc Titanium which has a price range of £1,699.00 to £6,375.00 looks good and handily cleans up easily after a ride.
A brilliant addition to this already high spec bike is the Shimano Di2 gear set, it simply makes everything about changing gear effortless, a luxury you can soon get used to. Do you need it? Not really… but if you can afford it, go for it. Press of a button gear changing is superb; you will love it. Generally, you will have to charge the battery which is nicely concealed in the seat post every couple of weeks.
In regards to Disc brakes I rate them for winter training, commuting and touring, for me they are the thing to have. In the scene people who have disc brakes added to their top end carbon road bike are still in quite a small minority, but with all the big manufacturers having them on their top end stuff I think this alternative braking system will only grow in popularity.