If like me you're still riding around on an old Vespa, complete with 2-stroke engine and a manually operated gearbox, then tubeless tyres may not mean much to you.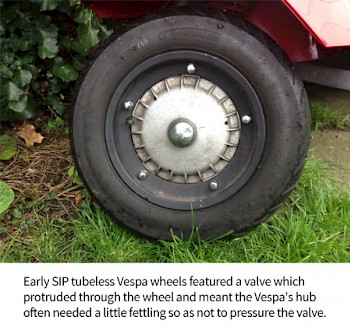 However, such things do have an advantage. If and when they get punctured, the thicker tyre takes longer to deflate, allowing the scooter rider to come to a controlled halt whereas a thinner inner tubes can 'rip' upon puncturing, causing a sudden deflation and subsequently are more likely to cause an accident.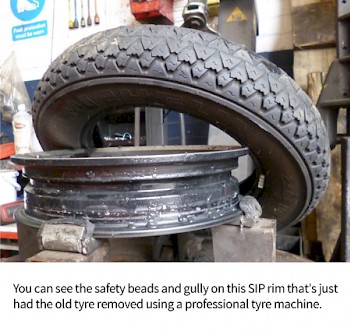 Tubeless tyres must not only to be air-tight on the wheel, but the wheel itself needs to have safety beads inside to stop the tyre from moving or running off should it deflate. For a one-piece tubeless wheel like those from SIP Scootershop in Germany this also means a gully is required to allow the tyre to be levered on without damaging it. However the Vespa hub design doesn't allow for this, meaning that only certain tyres can be persuaded to fit, which ideally makes this a task entrusted to a professional motorcycle/scooter tyre fitter who has both the machinery and experience to cope with a 10" wheel. This can also be done at home using rim protectors and tyre levers, but does require some practice as well as brute force!
Pinasco of Italy joined the tubeless party a little later but with a clever idea of adapting the original split wheel rim design. As Vespa owners know, split rims make changing a tyre at home with just basic tools yourself so much easier. Like the SIP wheels, Pinasco's are made of aluminium, the two halves sealed by using a rubber O-ring. Tyres are much easier to fit as result, meaning you have more choice as you don't risk damaging the walls of certain types by levering them on to a one-piece wheel.
Another advantage of the split rim is that if you get a puncture, you can simply disassemble the wheel, removed the valve, insert an inner tube and you have yourself an old-skool wheel once again. With the one-piece wheel however, once punctured you need to either repair or plug the hole before you can continue.
From personal experience I've been using and testing both types over recent years and can confirm they hold air well - even when laid up for a few months - and while I have no trouble changing the Pinasco's tyre myself, my scooter friendly local tyre centre does my SIP wheels with no problems either, my choice of rubber for both being Michelin S83, SIP Performer or Sava semi-slick tyres. Othertubeless Vespa wheels are available, but these are the two types I've put my faith in over the last four years or so.