For those who don't already know I run a training camp in Portugal called the Delucci Retreat where I help people train for Triathlon, Cycling and Running events.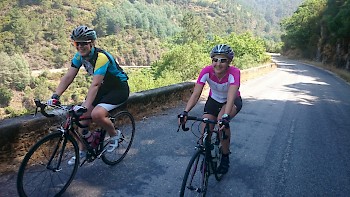 As you would expect in this line of work a high percentage of people coming through the doors are preparing for a new challenge or target and want to attack it the best way possible and are looking at a training camp as a way of improving performance.
I thought this time it would be good to get first-hand experiences and views from the athletes who take part in a training camp themselves - does a training camp work? Do they notice the benefits from attending?
For this blog we hear from Kingfisher Tri Club members Rachael and Sophie who are taking part in their first 70.3 triathlon in September this year.
Rachael's Triathlon Training Camp Experience
A 70.3 is no easy task for someone two seasons in to triathlon, and in wanting to further my limited knowledge and prep I chose to take a week off work and headed out to Delucci's. I chose Delucci's as it had been strongly recommended by various members of the tri club, who said that you gain so much from listening to someone who has been there and done it. And they weren't wrong. Before going I would have described myself as average on the bike, weak at the run and strongest on the swim. After my first day out on the bike training with Flash I realised this was an ambitious assessment of myself, and I had far more to learn than I would have previously considered. That said, with 5 more days ahead Flash remained positive that significant improvements could still be made in the short time.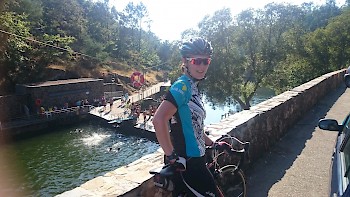 Over the course of the week I was like a sponge and continued to soak up as much info as possible, even to the point of understanding I need to change my water bottles in the summer due to the evaporation experienced with clear bottles. In fact, I spent most of the plane journey home writing down everything I had taken away from the week to help jog my memory as these things aren't second nature to me.
Key "take-aways" from the week for me would be;
1) Stand up on the bike on occasions - it's key to avoid back pain and ensure you can complete the distance
2) Cadence - beforehand I understood the theory around cadence but never quite saw the benefit in practise. This was all because I had it wrong and once corrected by Flash it made such a difference on the hills.
3) Nutrition - one of my weaknesses is to go all out on the bike leg and forget to eat/drink so there's nothing left for the run. Again, in listening to what I was being advised I have changed my electrolyte only drink for a carb based product which should make me last longer, which also has electrolytes.
4) Also had problems with my neck and lower back…
When I arrived at Delucci, Flash said straight away, just by looking at me, you're a 52 (small) , my training bike, which I do spend the most time on, is a 54! So I rented a 52 from Delucci, and after a few tweaks on the road it was so comfortable!
I also went to Francisco a top physio who works with Flash. I had some deep tissue treatment, as Francisco found some damage there, but long term will be ok.
Was advised I need to sit up straight and be aware of my posture. I was also given some exercises and stretches to perform to help and the right size bike, yes don't run with a water bottle in your hand.

5) As corny as it sounds, don't give up because you'll only kick yourself later on.
Sophie's Triathlon Training Camp Experience
Being in my first triathlon season, and a total novice on the bike, a week at Dulucci was rewarding and inspirational!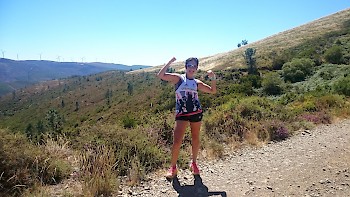 I was able to focus solely on my training, with near on 1-1 coaching in all disciplines. The feedback daily was invaluable, and my confidence grew as the week evolved. Starting the week with a gruelling 50mile climb, I instantly learnt the importance of pacing and refuelling on the bike. Descents were always something I found to be fearful, my hands would be gripped firmly on the brakes, my body would be stiff, now I have the courage to enjoy the journey down and confidently take note of the lines on the road, and my body positioning. This got me through day 2 on a high.
I was then able to swim freely in a beautiful lake, with Gary leading in a kayak, and thus, able to feedback my strengths and weaknesses as we went, enabling me to concentrate on one area at a time and practise my sighting. My technique continues to improve. Hitting the trails, and mixing up my running type from home, has given me a new form to enjoy, which is great for building strength, stamina and prevention of repetitive strain injuries. All in all it was a great week, where a picked up an abundance of first-hand knowledge and tricks of the trade, which I will take forward with me, on my new adventure!"
Summary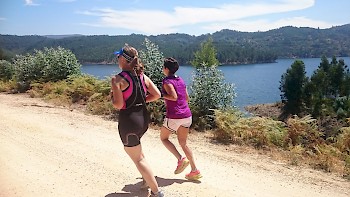 Both Rachael and Sophie, were both full of drive and keen to improve. They are both driven by their passion for the sport and more importantly doing for themselves, because they want to. I feel from the way the girls trained and how focased they both are this is just the start!
The Weymouth 70.3 Triathlon is the weekend of the 10th and I wish them all the best on their new challenge.