In this blog I have been lucky enough to get some tops tips from none other than Ernie Feargrieve, whom for the past 19 years has worked for the British Cycling Team, where he is currently the head mechanic.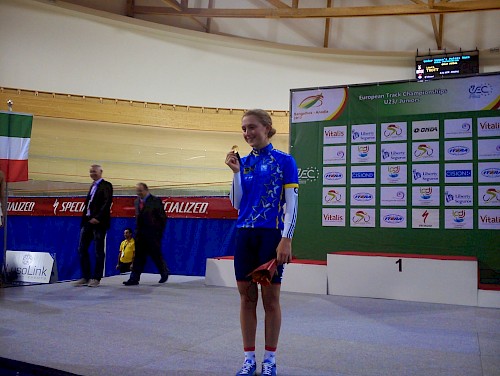 In recent years Ernie has prepared bikes for the whole of the British Cycling Team including Olympic heroes such as Jason Kenny and Laura Kenny (formerly Trott) to name a couple. Ernie even helped prepare Bradley Wiggins bikes for the his UCI hour record attempt, in which Wiggins covered 54.526mn in just 60mins, smashing the previous record of 52.937km.
While I was working directly with Ernie for the British Cycling Team at the 2017 JR/U23 Track European Championship where the team amassed 24 medals and 7 gold I was fortunate enough to get some tops tips from the man himself to share with you.
Tyres
Check your tyres for grit and small bits of glass, as these can work their way into the tyre and ruin the tread, leading to punctures. Can be removed by a strong pin or a small spectacle screwdriver.
Brake pads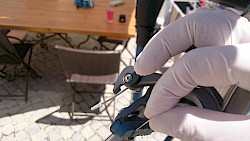 Break pads should also be checked for bits of grit, as these can damage carbon break surfaces and effect breaking , for this using the same method as tyres to remove unwanted grit.
Saddle
Make sure your saddle is straight, not doing so can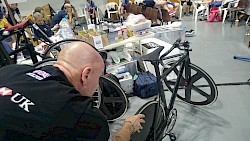 lead to sores and injury as you body will be out of line. Important to note that saddles do twist and loose shape over time so worth keeping an eye on to make sure you put it back in alignment.
Rear mech hanger
Always worth having a spare hanger, when out on your bike, in the event of dropping your bike or coming off, the rear hanger is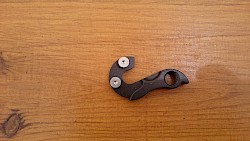 designed to snap to save the frame. Also handy when you're traveling with your bike in a box.
Carbon handlebars
As a safety precaution, it is not a good idea to use carbon bars after a crash, as it is very difficult to spot the bars have been weakened and could break under stress.
Break levers
Getting you break levers level is very important as you spend long periods on the hoods and your body position is lopsided and can lead to injury. Using a straight edge you can get them spot on.