At the beginning of the year I mentioned the Scomadi 400 scooter that was premiered at the Milan Motorcycle Show in November 2016. This raised quite a bit of interest, so here are some more details for those eagerly awaiting its arrival.
Background on Scomadi
Firstly, the Scomadi brand has been in the news a lot recently with regards to an 'issue' relating to their former production facility in China.
For those who don't know, Scomadi was born from a concept created by two British scooter enthusiasts, Paul Melici and Frank Sanderson a number of years ago now. They began by hand-building the first Scomadi scooters at their HQ in Lancashire and offering limited edition runs to keen customers.
After a few years of using Piaggio engines, the supply dried up as the Italian giant changed its policy. This, combined with demand for more affordable scooters of varying capacities saw Scomadi take the brave decision to invest in overseas mass production. The result of this was a tie-up with Hanway in China to produce 50cc, 125cc and 200cc Scomadi scooters which were sold worldwide, quickly gaining a large global following.
Scomadi Production Moves To Thailand
Early this year, Scomadi announced that production was shifting to Thailand with a new partner there. In the mean time, it seems, the original Chinese factory has decided to continue producing Scomadi-type scooters but instead has offered them to an alternative British importer wearing a different brand name.
For more detailed look at how this situation has progressed, you can check out the Clone Wars article on SLUK.
The Scomadi 400 Scooter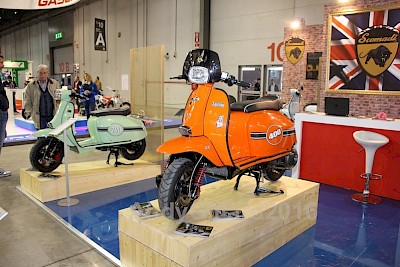 Back to Scomadi and in Milan in 2016 I had a chat with Paul and Frank about the new 400. First of all, Scomadi have purchased the design, intellectual property rights, tooling and moulds for a 400cc scooter engine from Moto Morini that had in the past been used by Malaguti and Benelli amongst others. Having test ridden it back then, and knowing it is basically a shorter version of the original Suzuki Burgman 400 motor, I can suggest that the Scomadi 400 will be an exciting scooter to ride regarding performance. In fact, with a style more like the old Benelli Velvet rather than the feet-forward maxi-scooter styled Madison and Burgman, the Scomadi should prove a real hoot in burning off other two wheelers on the road as well as being great fun to throw around corners too!
In Milan Paul told me; "The engine is just going through evaluation. We plan to squeeze a little more power out of it and obviously we're going fuel-injection for Euro4 regulations and adding ABS with Bosch. It should be putting out roughly between 28hp and 32hp by the time we've finished with it, at the back wheel."
A new chassis will be developed for the 400, stiffer and with wider forks. There will be twin disc brakes at the front for stopping power and the wheels are planned to be 13" diameter. Meanwhile, beneath the seat they are currently working on the development of a larger fuel tank too.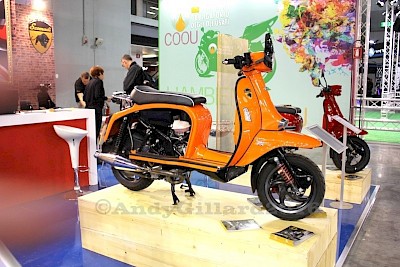 Unfortunately there is still the best part of a year of prototyping to go and a final pre-production model is not expected to be unveiled until the Milan how in 2017. That said, Scomadi told me that once that's done production itself is anticipated for the early part of 2018, although understandably they are unable to be any more precise at this stage. Until then, Scomadi fans will have to satisfy themselves with the current range of retro styled models, albeit the liquid-cooed 200cc version also show at Milan in 2016 could satisfy a few eager beavers when that arrives on these shores.
So the good news is that the scooter market (currently rather mediocre in my opinion) is soon to get a boot up the derriere from a relatively new upstart in the showrooms, and one with a British team behind the development.
The bad news is that this won't happen until 2018. Still, at least that gives us time to start saving…