KYMCO's brand new 125cc Euro 4 naked motorcycle has now arrived in the UK, ready to offer riders a modern alternative to traditional styles of learner-legal commuter bikes.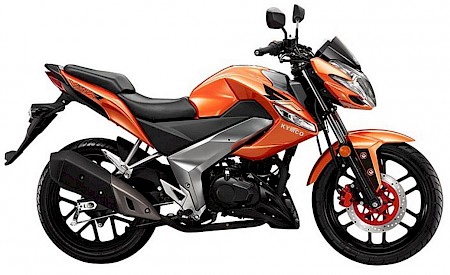 The new VSR 125i CBS is an updated & revised version of KYMCO's best-selling CK1 125 naked sports bike, and looks wise it replicates its predecessor's sharp styling and edgy street look. It's underneath this sports design where all the major changes have been made in line with new Euro 4 legislation.
The most significant development is the new fuel injected 4-stroke air cooled engine from KYMCO, which makes the VSR ultra efficient and impressively cheap to run. With a top speed of 65mph, the VSR can achieve well in excess of 100 miles per gallon - ideal for every-day commuting to work or college.
The addition of a new combined braking system will also be welcome news for learner riders. By linking the front and rear disc brakes, the braking experience is more progressive, balanced and safer.
KYMCO's VSR promises to take over where the CK1 left off in terms of bridging the gap, cost wise, between a pricey Japanese bike and a cheaper machine from an unknown manufacturer. The VSR 125i CBS offers riders a quality, reliable machine from a globally trusted manufacturer at an affordable price for learners and commuters of all ages – plus not forgetting its sports styling, which like the CK1 did previously, will set it apart from 'retro' styled machines.
Competitively priced at only £2499, the VSR 125i CBS is available to order now from all recognised KYMCO dealers in a choice of three striking colours - Matt Blue, Flame Orange and Bright Green Metallic.
Subsidised insurance & finance offers are also available, plus the VSR comes with 2-year manufacturers' unlimited mileage parts & labour warranty.
For further information and to find your local KYMCO dealer please visit www.kymco.co.uk