I have been lucky enough to be involved with British Cycling many times over the years and have seen how organised and precise everyone is to have everything ready for the riders when they begin their race.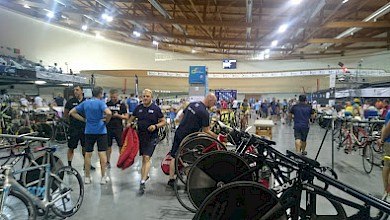 Ernie, who I'm lucky enough to call my friend, is one of the best mechanics I have ever seen. He has been working for British Cycling for 19 years. He has been evolved in major events all around the world.
Working closely with some of the best, Bradly Wiggins to name but one, helping him with the hour record and making his bike as perfect as possible, Ernie is the one to do it, as he takes passion and pride in what he does. It is a great reasonability with a lot at stake.
This year I was with the Junior and under 23 British Cycle Team in Anadia, Portugal, at the under 23 European track champs.
I spent 10 days helping with the general running of the team.
I worked mainly with Ernie, assisting him when he needed me, helping getting the bikes ready for racing and picking up tips on bike maintenance for road and track bikes. I'm always keen to learn more.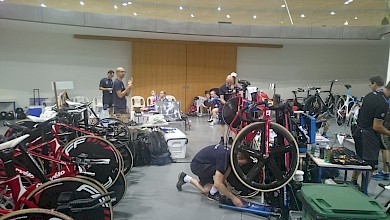 Seeing Ernie work at speed with precise organisation and multitasking is mind boggling. He has eyes and ears everywhere, at the same time preparing a bike for a rider's next event, studying the inventory of the days races at a glance, absorbing and taking all the information on board, already thinking of the next event and bikes he needs to prepare. Total focus!
At this event, the team has at least 70 bikes or more as riders bring their own road bike, which they ride back and forth between the hotel. Then of course you have the track bikes. With a total of 30 riders to look after, all with different bikes for, sprint, pursuit, points race and more, all with unique set ups for each rider. Every bike has the rider's name on it and some riders will have two of more depending on what events they are doing over the week. The coaches will let Ernie know what gear set-up needs to be on the bikes and Ernie will make sure it's ready and waiting for when the rider comes to race. Then, when the rider heads off to race Ernie will take the bike to the start, where the rider will be waiting. The bike is checked that it's compliant to the UCI regulations. This has to be done every time before a race. Ernie will be on hand track side with spare wheels throughout the race in case they are needed. Ernie will normally have an assistant who keeps an eye on things in the pit (centre of the track) and help prepare bikes.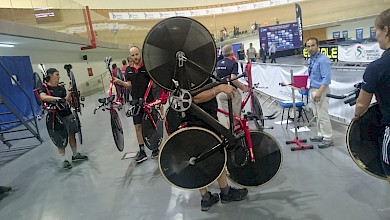 It's full on for mechanics. They are the first at the track and the last to leave. The only other staff to do the same are the masseurs and nutritionist. When it's full-on and the races are in full flight bikes and riders are in and out all the time, there's no room for error. Working under such pressure as if the bike isn't right, then it's the difference of winning and losing! Even under so much pressure Ernie is as cool as ever, even if there is a last minute change to a bike, Ernie is on it, focused, calm no worries, job done.
Not only is Ernie Head mechanic but he organises the loading of the vans which come over with the bikes, wheels, nutrition, spares, so he knows exactly where everything is and he will also meticulously organise the loading when the vans are heading back, so that it will be loaded quickly and organised.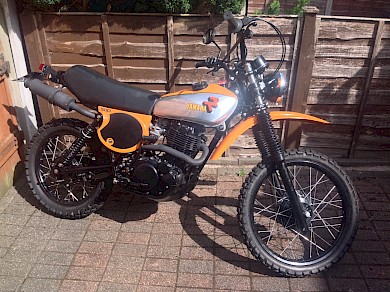 Ernie is very passionate about this, so much so that he has a tattoo of a chain and sprocket his back!
Besides cycling Ernie does have one other passion and that's motorbikes. He spends a lot of time restoring bikes and also loves riding bikes and has been a true biker for most of his life. He rides a Triumph Tiger at the moment.
Ernie is a joy to be around and there isn't and will never be anyone quite like Ernie, the ultimate bike mechanic, who knows his job inside out and respected by everyone in the Pro cycling world.