The Velodrome pursuit in aid of the Great Ormond Street Hospital Charity has already got some top names attending including Olympic gold medallist Victoria Pendleton and celebrity chef Gordon Ramsay — and now, 7-times Olympic gold medallist Sir Chris Hoy has also joined the event! It really is going to be a fantastic day.
For those that don't know
The Velodrome Pursuit is a charity event taking place at the Olympic Velodrome at the Lee Valley Velopark on Thursday 2nd November. Twelve teams, comprising of four riders each, will battle it out for the quickest time. It's not all just competitive racing though...
What's happening during the day and what to expect
Gordon Ramsey will be working with Absolute Taste, to create an Italian-inspired menu for breakfast, lunch, and dinner.
Mark Sinclair of Kalas Sportswear has supplied team kit for the event. Kalas, are the official clothing supplier for the Great Britain Cycling Team, so expect top quality jerseys for all the participants.
Sports nutrition for the cyclists will be supplied by Science in Sport and Jason Turner from Sigma Sport will be holding a bike mechanics course with the shop's top mechanics.
James Golding, cycle endurance athlete and world record holder, a truly inspiring man who has recovered from cancer, will be present and getting involved with the day's activities.
In the evening there will be a money-can't-buy auction with lots on offer. Even our friends in Portugal have got involved, Podium Events and Ultra Spirit are donating entry to the Lisboa Granfondo on April 22nd 2018 along with a 2 night stay in a hotel. I myself am donating a two night stay with training at Delucci Retreat, my purpose-designed cycling and triathlon training base.
There is plenty of other features to the day which you can find on the GOSH The Velodrome Pursuit website.
Expert advise
Well for expert advice you really can't get much better than this!
Victoria Pendleton will be welcoming everyone at the start of the event, offering coaching and also taking part in a question and answer session in the evening.
One of Britain's greatest ever Olympians Sir Chris Hoy will also be coaching the teams and helping them prepare the for the day's racing. Chris will also be accompanying Victoria on a Q&A session in the evening.
Simon Cope is on board, ex-pro cyclist, and GB coach now working with the Wiggins team with vast experience on road and track.
Dean Downing, ex-pro cyclist with years of experience and an accomplished athlete in his own right, will also be coaching on the day.
Team TCS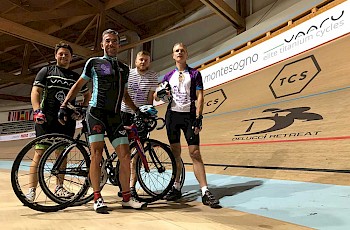 I can now confirm I will be taking part in the event as a member of Team TCS.
Team TCS is the idea of my close friends, Mungo and Julietta Tennent's. Our team consists of Mungo Tennent, James Beresford, Mark Malone and of course myself. Our team name is dedicated to our sponsors The Communications Store who are helping us with fundraising.
The only track experience I have is simple track training, not racing. My team mates had never been on the track, they just ride on the road, so this is a totally new and exciting experience for them. The Velodrome Pursuit has given us this amazing opportunity to get the unique feeling of competing on the track.
A few weeks ago, I managed to arrange some track time out in Portugal at the track in Anadia for our team, not far from Delucci Retreat. It's a beautiful track and it's where I've been lucky enough to train myself and also work with Team GB, which I've written about previously on the blog. We managed to get two sessions of two-hour blocks, to teach the guys the basics and get a feel for riding on the track with a bike with no brakes and a fixed wheel, which can be a bit daunting at first along with getting used to the sensation of riding on the banked track. It was very important to get an idea of how long a lap would take, as in the pursuit we will be doing four laps and should stay together in a line.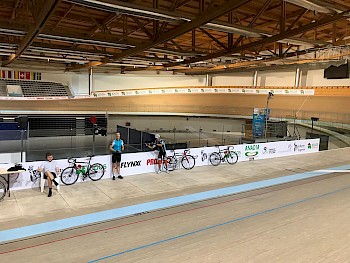 We all came away with priceless knowledge of how to work as a team and to experience the track to build up our confidence. One very important part of it all, is that we had fun!
It was also a great opportunity to get to know each other, as some of us had never met, and we were all drawn together by this amazing charity and the love of cycling.
Gordon Ramsay has also entered his own team in the event. Being a keen cyclist and triathlete himself, he is very keen to be involved.
This will be a truly amazing event and I'm very humbled to be on the committee and be a part of this amazing charity.
Raising money for GOSH
This is all about raising money and when it comes to children's charities, this touches all our hearts. If it wasn't for this charity there would be countless children who would not have survived.
Children like Meila. While still in her mother's womb, she developed a condition called Gastroschisis, which meant her stomach hadn't closed properly and her organs where forming outside her body, within hours of being born. She was rushed to great Ormond Street Hospital, to the world-class surgical team, where they performed an intricate operation to move her organs back inside her body.
Thanks to the highly skilled surgeons and this incredible charity, Meila and her family are living happily ever after.
It would have been a different story if GOSH weren't there. So, if you're not coming or can't take part then please give, if you can, we have a Just Giving page towards this event and any donations are gratefully received.