As far as debuts go for Scooter shows, I don't think it would be fair to call ScooterExpo anything other than a resounding success. It was extremely well organised, well attended, and well planned.
Plus, I guess it's worth mentioning… the scooters were ALL undeniably breath-taking.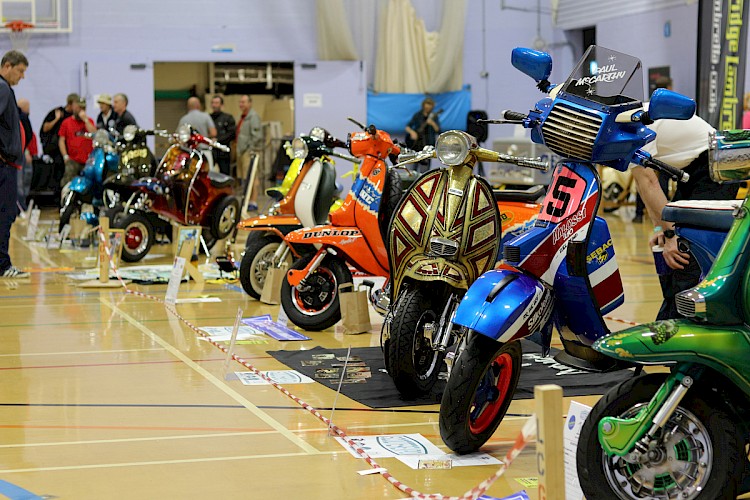 Alfreton - Grey Outside, Technicolour Inside
For a raining Sunday in the hallowed halls of Alfreton Leisure Centre, I couldn't believe how much vibrance and colour there was around. The atmosphere surrounding the place was of pure excitement – and you could tell it was a great opportunity for old friends to catch up and re-live their youth at the first (of many, I hope!) Scooter shows in the midlands. We were honoured to be one of two main sponsors of the event, and it was the perfect opportunity to see some of these rare beauties out after many years (for some).
The quality of scooters on display was absolutely outrageous, and from speaking to some of the exhibitors, some came out of the woodwork for their first show in years. What's even better to see was the fact that so many of the attendees arrived in what can only be described as inclement weather, on their scooters which would be then later displayed all day! I heard of one guy who rode in from Essex and back on his show scooter! Goes to show that this was something special not to be missed by many.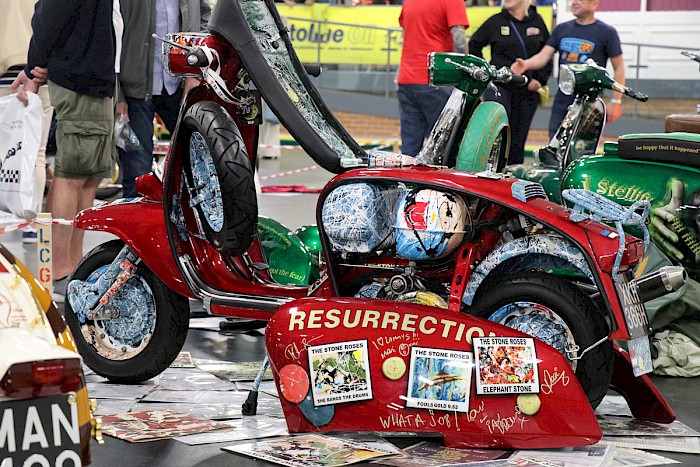 Stunning Scooters
Categorised into various packs, we had custom Scooters from around the country displayed in two halls of brilliant scootering history. There were custom scooters, chopped scoots, pristine restorations, patina beauties, examples of engraving masterclasses, and even some that I would describe as simply art on wheels. The sheer creativity of scooter owners is something that astounds me to this day, and I'm sure my dad with his PX sat at home will be taking a lot of inspiration from!
Throughout the day we had guest speaking appearances from Norrie Kerr, Peter Green and Martin 'Sticky' Round – who chatted about their best (and worst) experiences on (and off!) their scooters. There was live music, airbrushing from Dave Dickinson, live pin-striping from Slacker, a few select trade stalls with some top quality wares for sale, and even a spot of squash to watch on the way to Hall 2 – okay that may not have been part of the schedule, but it was definitely a good watch!
Historic Guests and Hand Picked Traders
There were of course a few unable to attend at the last minute due to various reasons (common for any event), but the attendance was overall incredible and both halls were routinely packed through the day. There were even deck chairs to lounge in, if you needed it! Last minute changes in the weather meant the outside space was not possible to use, but lets keep our fingers crossed for better weather next year if it goes ahead.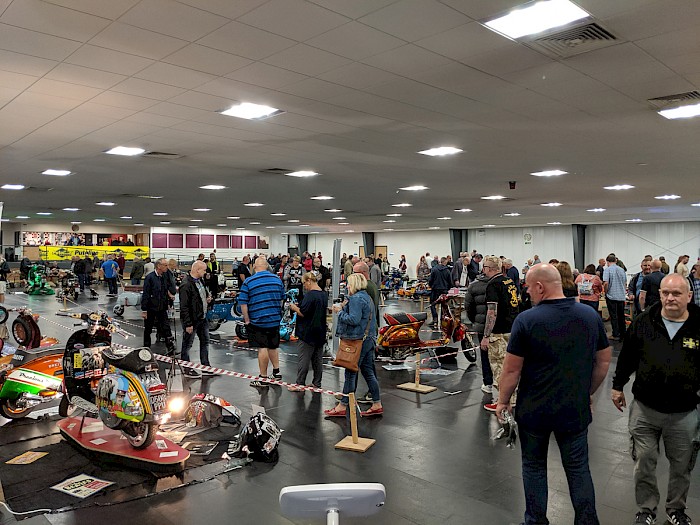 Out of the woodwork...
The history of scooters in the UK was on display for all to see in Alfreton on that rainy Sunday – but the colours shone through from both halls to really show what the scootering community is all about, great scoots and great laughs.
We hear that Iggy and Andy (ScooterLab & ScooterNova, respectively) are very much considering putting the show ahead for 2020. It'll be difficult to follow such an incredible first show with a second one – sequels are notoriously hard to follow after absurdly good debuts – but I've got a feeling the best is yet to come for ScooterExpo. It's certainly one you won't want to miss next year if it goes ahead!
There were a few trophy winners selected on the day, as well as attendees and exhibitors who had a chance to put in for their favourite scoots of the day, unusual for any show let alone a scooter show, and thanks to ScooterLab the winners list is here –
ScooterExpo Competitors award results
Our entrants voted for their four favourite scooters, two custom and two classic Vespas and Lambrettas.
The Classic Lambretta award went to number 68, Ian Gregory's lovely Lambretta Series 2 Rallymaster. An emotional Ian was overwhelmed.

The Classic Vespa award went to number 60, Matthew 'Babbs' Babbington's superb Vespa GS 160 Arc-en-Ciel dealer special.

Custom Lambretta Award went to Dave Oakley for Exiled although there's more to that than initially meets the eye. Dave had accidentally put Sieg Heil in the position for Exiled so the numbers on the voting slips were for the wrong scooter. Seig Heil was the real winner. Apologies for the mix up on the day.

Best custom Vespa was a tie between Steve Leahy's Real Gone Kid and Jason Stephenson's Ceremony. Both competitors will receive a trophy.
ScooterExpo Showgoers awards
The general public were given the simple choice of choosing one Vespa and one Lambretta.
Best Vespa award

 

went to Paul Reeson's home sprayed and built homage to The Meteors – Strange Times Are Coming.
Best Lambretta

 

went to number 37, a beautiful TV175 Series 2 with Pav trailer, owned by Kirk Wattis. This stunner was also Norrie Kerr's favourite scooter on the day (incidentally Norrie's Beautiful Vespa 50SS came second in the Vespa Showgoers choice.
There was also a raffle to win a carbon fibre NZI crash helmet, donated by VE (UK). We only have a phone number for the winner but they should have an answerphone message from us. " - Text borrowed from ScooterLab.co.uk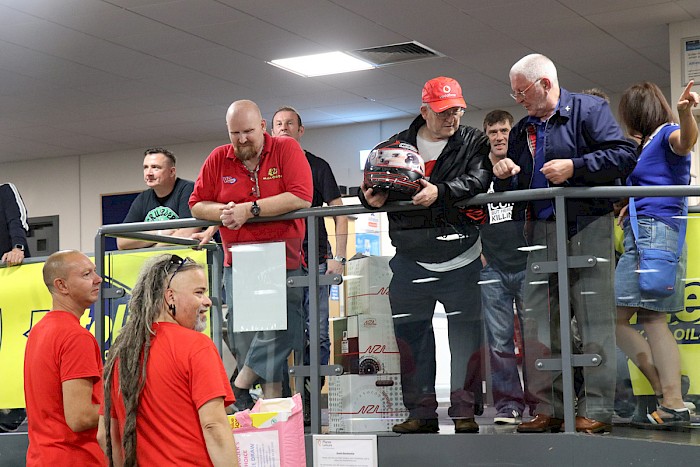 Want More?
See below for a gallery of some of the best photos I was able to capture on the day, and for the full album check out our Facebook gallery here. I took around 500 photos, but cut them down to the best!
Want to read more? Scooterlabs recap article is here, and Ali from Diary of a Detour has her recap here.
We'll see you at the next scooter rally, BSSO scooter race series, or if not, any scooter event in the year! Video will be on the way shortly as well.