The Easter bank holiday weekend traditionally plays host to the first National Scooter Rally of the year, varying between the coastal towns of Scarborough and Whitby.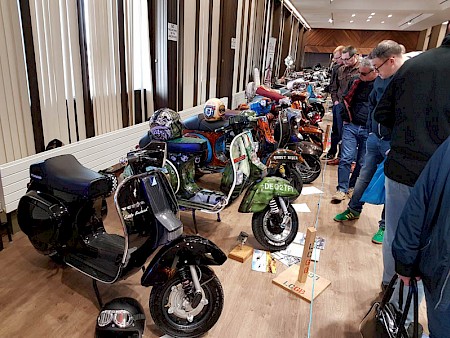 This year, the former held the event, with scooterists from across the country and further afield coming together for a weekend of bands, booze and scooters.
The weather held off well (apart from the odd shower), which resulted in a fantastically well attended rally. The whole event was held at the Scarborough Spa, overlooking the sea with some stunning views. The Friday night kicked proceedings off well with 'The Jam DRC' playing to a packed out main room, playing classics such as 'The Eton Rifles' and 'A Town Called Malice' for rally goers to dance and drink away too into the early hours. Others enjoyed alternative entertainment from the soul room and other rally DJ's.
Saturday saw the trade and parts fair take over the Spa. Lexham Insurance were once again in attendance to offer scooterists some great deals on insurance and administer the BSRA championship. Other traders were offering the best in new and used parts, clothing, music & rally merchandise. This show also saw the launch of the brand new scooter magazine 'ScooterNova'. The magazine is the brainchild of Andy Gillard and Stuart Lanning, both of whom have been involved with the 'Scootering' magazine in previous years. Scooternova is a breath of fresh air on the scene and well worth a read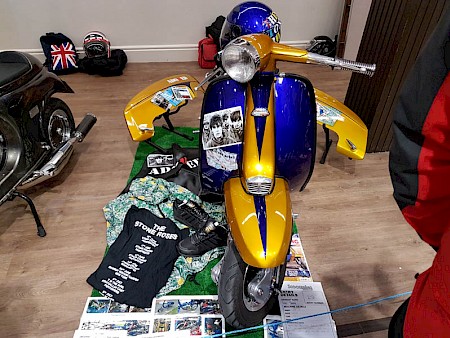 . It was also good to have a catch up with Iggy and Sticky from popular scooter news website Scooterlab.uk (SLUK) . Both Lambretta and Vespa clubs of Great Britain also attended allowing riders to clock up their mileage for their annual competitions. The custom show also took place on Saturday with some superb entries, a favourite of ours was the Stone Roses Inspired 1963 Lambretta LI Series 3 owned by Simon Pickering.
The entertainment carried on well into the night Saturday with tribute band 'The Extra Specials' playing to a once again busy crowd. As well as the official venue, the town of Scarborough also boasts a large number of pubs, bars and restaurants for everyone to enjoy and the rally certainly brings in extra custom to the town.
If this was anything to go by, then this season should be a fantastic one for scooterists. Bring on Weston-Super-Mare!