I had the great pleasure again to have the chance to attend the Rouleur Classic this year, at the same amazing Venue at Victoria House WC1, running from 2nd to the 4th of November.

Bruce Sandell was kind enough to invite me along, with my good friend Mark Sinclair from Kalas, on the Friday. We were both exited to attend, even both of us being tired from being at Lee Valley velodrome the day before, being a part of the new exciting velodrome Pursuit event, with Great Ormond Street Hospital, which will be my next blog.
So how was the event? Did it have the same feel as last year?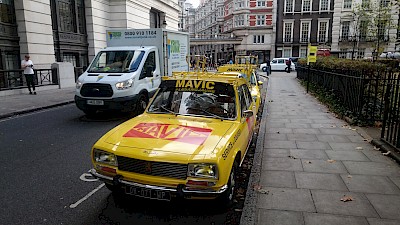 As Mark and I approached the entrance on our left we saw an old 70s classic car, in that famous Mavic Yellow, with a couple of yellow bikes on the rear, accompanied by the up to date version back-up support vehicle used in the races around the world, so straight away, even before you stepped inside, the presence of cycling was there.
We actually went in the daytime this year, as opposed to the evening. We thought it might not be as busy. This was not the case, with a nice friendly greeting at the entrance, even bumping into David Miller on our way through, having a quick catch-up before heading downstairs, where we were immediately immersed into a wall of people, enjoying an audience with none other than Fabio Cancellara, one of many great names attending, such as Bradley Wiggins and many more at this three-day Rouleur Classic.
As we explored more trying to absorb all the new up and coming goodies, from some of the best products in cycling. It felt like an Aladdin's cave, filled with cycling treasures, with a mix of classic bikes on your journey through the Roulur Classic from days past, to remind us how advanced bikes have come, but also noticing that the general structure of bikes hasn't really changed over the years - still a chain, two wheels and a frame. This all adding to that Art Gallery feeling. Very minimal stands for the manufactures, easy to absorb everything at glance, bikes well displayed on white backgrounds to keep that unique Rouleur look, kept that same feel as last year, not getting greedy and trying to ram everything in...
The main theme for the show was Monuments.
The monumental races of 2017 being:
Milan Sanremo 18.03.17 - winner Michal Kwiatkowski
Tour of Flanders 02.04.17 - winner Philippe Gilbert
Paris Roubaix 09.04.17 - winner Greg Van Avermaet
Liege Bastogne 23.04.17 - winner Alejandro Valverde
Tour of Lombardy 07.10.17 - winner Vincenzo Nibali
All these classic races displayed in a stunning gallery as you move from one room to another.
Also, this show is a great way to catch up with friends as its lovely environment to socialise in helped by the amazing food and beer on hand, just like you would have if you were in the Alps.
Here I am catching up with a good Friend, Mark Cooper, and long-term friend, Dean Downing.
And where there cycling invoved James Golding is never far away Also Dean and James where with me at Lee Vally with Gosh.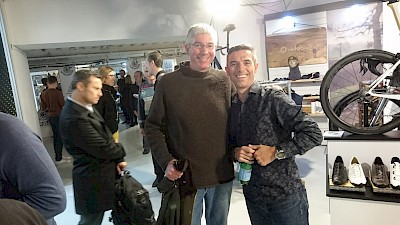 It's a great chance to visit friends on their stands like Rohan Dubash - otherwise known as Doctor D. There is nothing this man doesn't know about classic bikes, he is the guru when it comes to Campagnolo.
Always lovely to see Mick Tarrant, owner of Prendas Ciclismo, a legend, always a smile on his face accompanied here with his lovely wife.
Also catching up with Alistair from fat creations in Chichester, showing some of his amazing work, a true artist one of the best sprayers around accompanied by James from Vaaru Cycles able to show some of his new work as James and Alistair work closely together as being long time friends.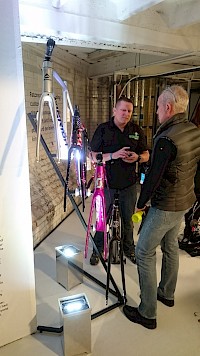 With so many top Brands now trying to be involved in this amazing venue, if you want to show your wares then be quick, because stands sell out extremely quickly.
The show is as good, as if not better, than last year, with so much going on, added to the clever layout, makes you feel as though it's bigger than it really is. The theatre is an added bonus, where you can see riders and famous faces in the world of cycling being interviewed and sharing their experience on the bike.
From new cloths, new bikes for next year and much more, it defiantly seems to be the place to go to see what's new.
Tickets may be a little expensive, but if you use the whole venue, they are good value for money. You pay for what you get, it's not the NEC Birmingham, this is one quality venue a cut above the rest.
If you love cycling you'll love the Rouleur Classic.