New Year, New Scooters!
Back in November 2016, the annual Milan Motorcycle Show revealed an abundance of new machines that European riders can look forward to in the coming months. Here are a selection of those that really flicked our switch.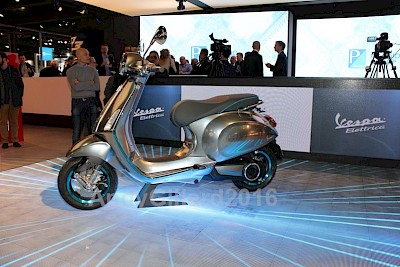 Euro 4 regulations become legislation for all machines from 1 January 2017. This resulted in most manufacturers modifying whichever of their older existing models they wanted to keep within their range to improve emissions and add either ABS anti-lock brakes (over 125cc models) or Combined Braking Systems (a cheaper option for under 125s).
It was also a chance to unveil some new brand scooters, or in the case of Piaggio, some new colours at least. Regarding the Vespa brand there was an electric powered version based on the Primavera shown for the first time called the Elettrica, along with a GTS/GTV based tribute to the Sei Giorni six-day racer from the 1950s, with 125 and 300cc special editions planned. They also announced the 2017 version of their premium 946 Vespa, which will be available in red with a percentage from each sale going to the Red Aids charity.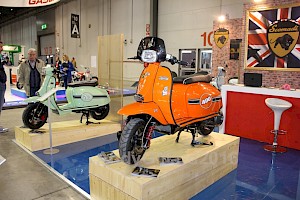 Another modern auto with retro appeal is the classic Lambretta-inspired Scomadi, who presented their new TL 400cc model in Milan. This will be powered by a former Motori Morini engine for which Scomadi recently purchased the rights. Expect a final pre-production model in late 2017 but don't expect to see them in the showroom until 2018 I'm afraid.
Kymco AK550
Kymco's new maxi-scooter is their AK550, a twin cylinder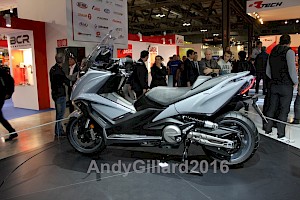 liquid cooled machine with two electronically controlled drive options. This Taiwanese manufacturer have a good reputation for developing and producing quality machines, so much so in fact that BMW chose Kymco to produce scooters and motorbike engines for them. At the opposite end of the range, a new version of their retro Like was also unveiled to the masses, as was a redesigned version of their hi-wheeled 125cc People S scooter, which as well as a Euro 4 engine also boasts LED lighting and a taller windscreen.
Yamaha T-Max
Also in the maxi-scooter world, Yamaha launched three new versions of their popular T-Max scooter for 2017. As a result the 530cc twin cylinder sports scooter will soon include features such as ABS, traction control and keyless ignition.
A new X-Max 300 scooter was also presented in Milan, and will be launched in March 2017. It will replace the current X-Max 250, and the new liquid-cooled 4-stroke engine offers 5kW more power than the previous 250 with a total output of 20.6kW. The X-Max is styled more like it's big brother T-Max, boasts sinister looking LED lights at the front and will have traction control fitted as well.
Honda ADV-X
Meanwhile Honda continue to carve their own path in the market with the launch of their radical ADV-X 'crossover' motorcycle/ scooter. It also has keyless ignition, the styling is certainly unique, and powering the latest two-wheeler in their range will be their 745cc twin-cylinder engine driving through their Dual Clutch Transmission and has two automatic modes plus the MT mode for manual gear changes.
They didn't forget about their bread and butter scooters either with the new, restyled Vision benefitting from the use of Honda's eSP – enhanced Smart Power – engine, a bigger floor, repositioned foot pegs and new grab rails, and uprated brakes and suspension. The Forza 125 will get Honda's Smart Key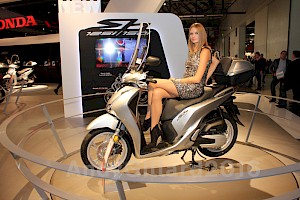 system and more progressive rear suspension, and the big-wheeled SH125i also gets a redesign, along with the Honda Smart Key system, a charger socket and increased storage space.
Peugeot Belville
Peugeot announced both a new petrol and electric scooters in Milan. The former was named the Belville, will come in 125cc and 200cc 4-stroke petrol-powered versions and is expected in the summer. The latter -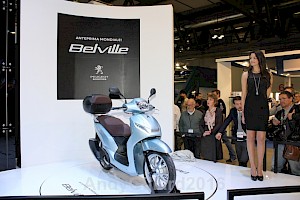 some 20 years after their ScootElec first hit the streets – is the GenZe, a result of collaboration with their new controlling partner, Mahindra & Mahindra.
Gogoro
As you'd expect, a lot of manufacturers are now developing electric scooters, but one brand to keep an eye on are not established vehicle manufacturers at all,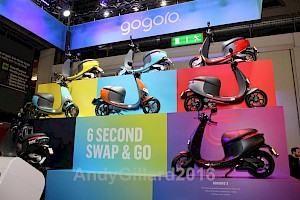 but they do seem to have a good concept. Gogoro launched in Taiwan earlier this year and their easily removed batteries can be exchanged at charging stations within seconds make the Gogoro a viable alternative to a petrol powered scooter. In the city of Tapei, Taiwan they have developed their own network of such stations pretty much every square kilometre, so a rider is never far from one. Gogoro recently arrived in Berlin where they are available for hire along the lines of the Boris bikes in London, in a couple of the city's suburbs, or you can view an example at the Design Museum in London. It the future is electric, this could be the way to go...
Andy Gillard