Lexham insurance staff recently took part in a charity walk on the 20th May 2018 walking from Dunston to Dickleburgh, roughly 25 miles.
The money we raised has been donated as sponsorship to Tom Bobbins, from Diss, who is running in the London2Brighton 100km charity race on the 26th May to raise money for Shine cancer charity in aid of a friend and her family that has recently found out she has metastatic cancer. This is a great cause and was started with the intention of raising both awareness and donations towards the charity.

We followed the Boudicca Way trail which officially runs from Norwich to Diss for 36 miles but joined it for about 25 miles from Dunston (near Norwich) to Dickleburgh. The trail gets its name from the legendary warrior and Queen of Iceni who once inhabited the area – which is fitting as we all felt like warriors of the Lexham Tribe after completing it…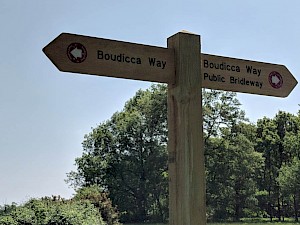 The track took us through fields and forests, with some parts going on small country roads, so luckily, we set off at a time that had little traffic around. With a few stops on the way for stretching, and even a quick ice cream in Pulham (as well as making sure we knew where we were going) we were able to follow an amazingly picturesque route all the way into more familiar territories of the surrounding villages.
With a few of the staff having to be put back together along the way, and one other member of staff doing the total mileage over the course of two days instead, we all made it to the other end! Luckily the sun was shining throughout the day, which meant that an ice cold drink was even more rewarding afterwards. A provisional total of our donations so far is over £2000 from those who walked alone, which is an incredible achievement to be proud of.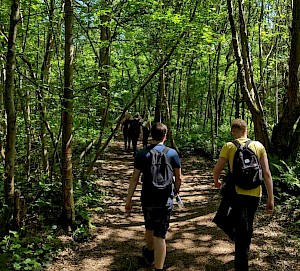 There was a great turnout at the other end, many of the family and friends of Lexham were there to welcome us with well-deserved sausage rolls and sandwiches, which everyone enjoyed in the sun. Everyone had an incredible time, and although there are a few aches and pains that will linger for a few days, it was all for an amazing cause.
It's not too late to donate, and if you want to do so you can donate to directly Tom Bobbins just giving page or to Shine Cancer Support on their website.