The end of May bank holiday traditionally hosts one of our favourite scooter rallies of the year. That rally is of course Kelso.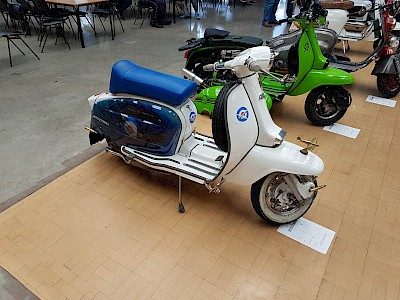 Once again, thousands of scooterists from far and wide descended on the picturesque town for a weekend of sun & scooters. The weather certainly played its part in a great weekend with temperatures hitting high 20's whilst people were arriving on Friday, which left a fair share of red skin and it wasn't particularly nice setting up a stand either!
The whole event is held at the border union showground which usually sees more agricultural events such as dog and rabbit shows. So the smell of 2 stroke and sounds of revving engines was a far cry from the usual scenes. That being said, the site is the perfect venue for a rally with plenty of campsite room, massive halls to accommodate all the entertainment and of course a couple of bars as well. The Friday night punters were treated to a great set from the band 'Skababs' who take clear influence from bands such as 'The Specials', 'Madness' & 'Bad Manners'. They had the dancefloor packed and kept everyone bouncing throughout the night. There was also the northern soul room in the next hall and a silent disco so enough to keep everyone happy.
The custom show once again featured some incredible scooters of all shapes and sizes ranging from a small childs Vespa Sidecar to a Battle of Britain inspired Lambretta. However a favourite for us was the Valentino Rossi inspired Vespa PX. There were too many to mention individually but please see our photo gallery (below) for others that caught our eye.
Launch of 'Win a Scomadi'
The parts fair again was well attended with Lexham Insurance being amongst the many traders over the weekend. For us it saw the launch of our 'Win a Scomadi' competition which we will be running until after the Isle of Wight Rally 2018. For your chance to win the stunning scooter, come and see us at any national rally between now and then.
Overall another great weekend in the Scottish borders. See everyone at Tonbridge for Big 7!