Heading north of the border has always been an adventure for this scooter rider from the south east of England, with plenty of fond memories of setting off to Fort William back in the 80s.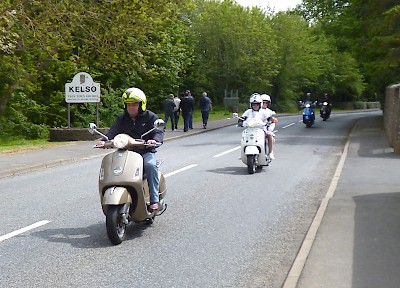 Of course if you're Scottish, then Kelso is not so much 'north of the border' but 'damn close to those English', but anyway…
From our location, the tedious A1M was made all the better once we got onto the A68 - if you've not ridden it, then give it a go; it's a fantastic road not just for riding but the scenery too!
The scooter rally is held on a showground on the edge of town, a short walk across an old bridge gets you into beautiful Kelso with a number of pubs, fewer restaurants and shops.
The entertainment take place at the showground with the usual menu of band and DJs to keep you happy.
Saturday morning saw the custom show take place inside, while dealers and stalls basked in the sun outside over what was a pretty good weekend weather wise.
There were plenty of tasty scooters to admire in the show, from gorgeous classics like a restored Vespa GS, tidy Spanish Lambretta Jet, and a Vega and D, with a couple of rusts too. As for the custom machines, a Bonnie & Clyde theme'd GS drew much attention, as did a couple of Vespa chops, the well-ridden full-blown Lambretta customs Start Me Up and Avatar picked up some well deserved trophies.
Personal favourites were the Banksey theme'd Dismaland LML, the mini LML army-style scoot, and the Vespa PX Faithful Friend which is always nice to see.
The good weather remained, pubs and clubs in town full of happy revellers, until later that evening when King Kurt arrive on stage to entertain the masses. Another highlight for many.
For those without an early start Sunday morning a silent disco kicked in after the 1am curfew, for those of us heading back south east on Sunday the pleasures of another ride along the A68. Nice.