The Kalas W&W Pure Jacket was put to the test…
An essential part of any cycling kit is a good rain mac, it goes without saying that it protects you from rain – but it also acts as a wind stopper, it's ideal to put on after climbing, and perfect to keep the chill off of your body whilst on any quick stops for coffee. The most important thing, of course, is that it keeps you as dry as possible, it's breathable and it fits nice and snug in your rear pocket for easy access when the rain comes or goes.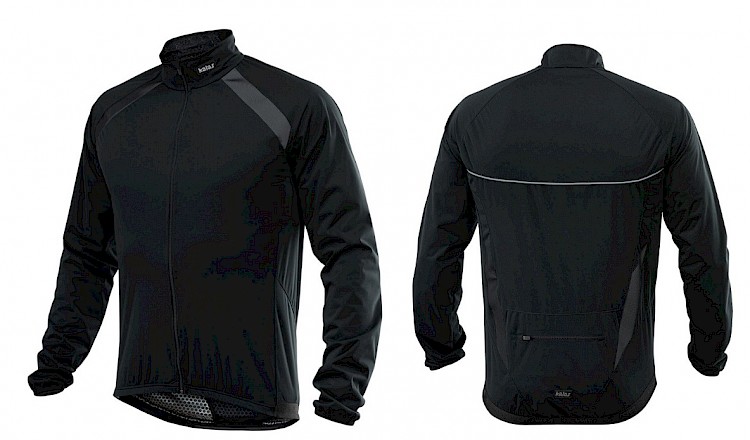 Finding the right jacket
Once again I've had the opportunity to use and test the Kalas lines of cycling kit, this time it's a purpose-built cycling jacket. I've been using the Kalas W&W Pure Jacket since May this year and have used it in all kinds of weather - from severe downpours to light rain, or even simply to keep the chill out when I'm in the mountains of Portugal or back in the hills of Surrey in the UK.
First Impressions
Instantly when putting on this jacket I noticed just how nice it felt to wear. It's snug on the body with a lovely high neck and an elongated tail to keep the rain and road spray out. Possibly my favourite feature on the jacket is the gripper on the lower section of the jacket, situated around the bottom, rear and sides – it's fixed to an elasticated band which works perfectly to stop the jacket riding up your back and sides whilst riding your bike, nicely keeping the wind and rain out.
In terms of safety/visibility, the jacket has reflective strips situated on the front, middle of the back and sides for when riding in the dark. The jacket itself was very light and rolled up nice and compact to fit in the rear pocket on my cycle jersey. A couple of nice added features were the rear zipped pocket, and the front zip - which has a nice little flap to keep the zip in place when it's up on the neck whilst also covering the zip pull giving a nice neat finish.
Weather Protection
Kalas advertise the jacket as being constructed using the latest materials in wind and water proof technology, perfect for when you only have room for the one jacket as this one will do it all. In rainy conditions the jacket worked extremely well, giving a beading effect from the jacket repelling the water. You can see where the 'hexagon' material is creating that barrier for the water where as it will be sitting on the material as opposed to soaking through. It's therefore a perfect jacket to have with you on all rides, even just to keep the chill and wind out as an added layer when the temperature suddenly drops. It's of course crucial to have such a jacket with you on rides when you're descending on the bike, or even simply when you're stopping for a coffee or drinks break on your ride - as it's perfect to keep you warm.
What about my street-cred?
There isn't a huge deal I can say in terms of the style of this, simply because the jacket just really does look good. The reflective parts on the jacket serve two purposes here, one of course is safety but it's also, in my opinion, a nice little stylistic point. Due to the fact that the jacket is designed for wet and windy conditions, it's also a nice light and breathable material as I've mentioned, meaning it's perfect for taking on any rides where space is limited.
Worth noting that everywhere I've been seen wearing this jacket, everyone has asked for more details and then been keen to purchase one themselves. Kalas really know what they're doing when it comes to designing cycling kit – and similar to the bib shorts I reviewed, their kit not only looks great but is very functional too.
My opinion?
All-in-all I was very impressed with this jacket. Having worn it now for five months the jacket is still as good as new. I've been washing it at 30 degrees when needed, and there has been no breakdown in the material which still works exactly the same in rainy conditions – I mention this because it's known that some waterproof jackets lose their waterproofing when washed a few times! This Kalas jacket hasn't (so far) had any of these problems at all. In severe rainy conditions over a long period of time the jacket will feel damp, but that's like any cycle jacket out there really. It still does the job and I would highly recommend this Kalas jacket. It ticks all the boxes to create a fantastic and high performing rain mac. For the price it's a definite must and couple choices of colours for this exact style, but very similar ones have a vast number of choices.
Yet again Kalas have made a bit of kit that goes straight on the list of favourites!