For the last few years, the August bank holiday has meant one thing for Lexham Insurance. That is the Isle of Wight scooter rally. Held at Smallbrook stadium just outside the picturesque town of Ryde, the event sees scooterists from all over Europe descend on the Isle for a fantastic weekend.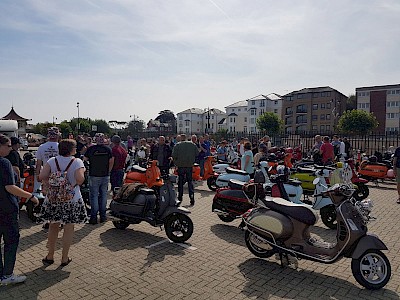 The weather this year played a massive part in ensuring the rally was a huge success. With scorching hot sunshine all weekend, every part of the rally was greatly attended including the parts fair in which Lexham could be found running our increasingly popular 'win a Scomadi' competition. The parts fair is by far the biggest of the national scooter rallys, with the best in spares and accessories, clothing, memorabilia and repairs as well.
Make sure to check out our photo gallery at the bottom of this blog or on our facebook page.
The custom show at the Isle of Wight rally is one of the biggest anywhere in the world, and Lexham proudly sponsored a number of trophies in this year's event including Best Mural and Best Engineered which were won by 'Discworld' and 'Lower Class respectively. A full gallery of some of our favourite entrants can be found below.
The entertainment over the weekend was also first class with top rate bands, plenty of bars and food as well as all the classic scooter rally hits being played by DJ's over the course of the weekend. A personal favourite was the 'Extra Specials who played the main arena on the Friday night treating the crowds to a back catalogue of hits from the 2 tone and Ska legends including 'A Message To You Rudy' and 'Ghost Town'.
It was good to catch up with friends from across the scene including Andy Gillard & Stuart Lanning from Scooternova who saw a successful launch of their 3rd edition as well as Steve Foster and all the guys from VFM who as always did a brilliant job in organising the best rally of the year.
Check out our IOW Scooter Rally YouTube video