Picking a new motorcycle means considering the obvious – style, performance, cost, economy and if it suits your riding needs. But there's one thing that isn't often considered: How well does the bike fit you? I've put together a few key points to remember when finding your perfect ride.
The most important thing to do when choosing your bike is to actually sit on it. You could find a bike that ticks all the boxes and looks ideal but when you actually get in the saddle it just doesn't feel... right. What does make a bike feel right? Well there is a lot of elements to that too but finding one with the right size and weight for your height and build is perhaps the key point.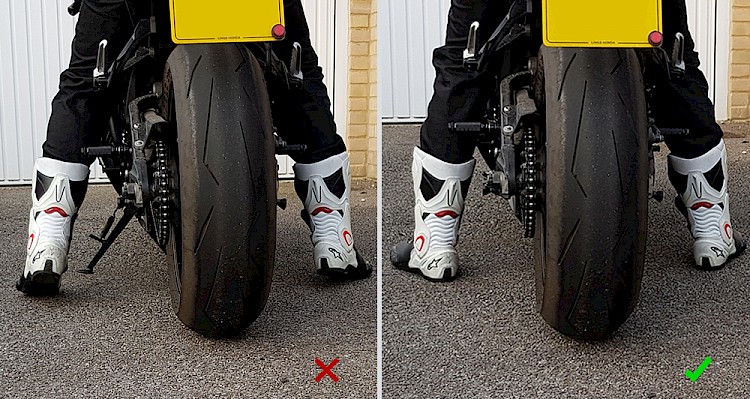 Sizing things up
Ideally, you want both feet flat on the ground when sitting on your bike.
When a bike is upright, no matter how heavy it is, it feels light as a feather but as soon as it starts to lean over things get heavy in a hurry. Being able to reach the ground with both feet flat means you can keep your bike in that perfect upright position whenever you come to rest. I've come across people who manage on tiptoes but realistically having your feet flat on the ground is the only safe option.
The next thing is to make sure you can easily reach all the controls.
Make sure you can work the pedals with your feet with no issues and you can comfortably reach the handlebars. If you find yourself stretching to reach everything or forced into an awkward riding position, not only will that ruin the enjoyment of your ride but it could also dangerously affect the balance of the bike, especially at slower speeds.
Of course these days the internet can give you all the dimensions of the motorcycle in question, including seat height, frame size and weight but the only way to really find out how a bike will fit you is to get down to the dealers and try it out.
Choosing your style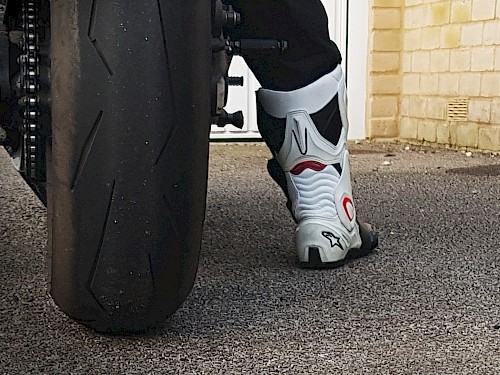 Bikes come in all different shapes and sizes and the kind of riding you want to do can play a part in your bike's size as well.
Are you after a laid back cruiser? Theses bikes tend to have lower seat heights which can be great for shorter riders. On the other hand some of them can be pretty heavy so again make sure you try it out and see if it's right for you.
You might be after something more agile like a sport bike. These usually have you leaning forward at a steep angle which can put pressure on your back and wrists, especially on longer rides so make sure this is something you can get used to.
Dual-Sport bikes are gaining popularity as versatile machines that perform well on and off the road, they also deal well with British weather! However these bikes can often be tall to give them better performance on rough terrain.
Perhaps a street bike is more your style, designed for a comfortable commute and agile urban riding. It's generally easy to find a good fit on one of these which is why most people will do their bike training on one. An upright riding position with a wide range of sizes and weights available.
Making adjustments
If you have your heart set on a particular style of bike but find it's a little bit too tall or you have to stretch a little bit too much it may not be the end of the world, most bikes can be adjusted.
Common ways to do this are to change the seat height and/or adjust the suspension - essentially lowering the bike. Most dealerships will be able to do this for you and can set up your bike with your exact measurements in mind.
A lot of new bikes these days are designed to fit as wide a range of shapes and sizes in their riders as possible. Plenty of modern bikes come with seat options or easily adjustable handlebars and suspension, which can make them customisable to you with just a few turns of an allen key.
I once helped a vertically challenged friend lower his Street Triple and it was a fairly straight forward process but he was somebody who knew his way around a bike and had a well equipped garage. Don't forget to adjust the side stand to fit your motorcycle's new height as well - you don't want to come back to find it laying on the floor because it was propped up too high.
The main things to take away here are that when choosing your new bike you should make sure:
It is a size and weight you can manoeuvre confidently.
Both feet can be flat on the ground.
You can easily reach all controls.
The riding position is not going to hurt your back or wrists.
If you have your heart dead set on a bike but can't quite get those feet flat, make sure it can be adjusted so that you get the perfect fit on your perfect bike.