Hopefully if you're reading this you're either thinking about getting on the road, or you know somebody who is interested in learning to ride.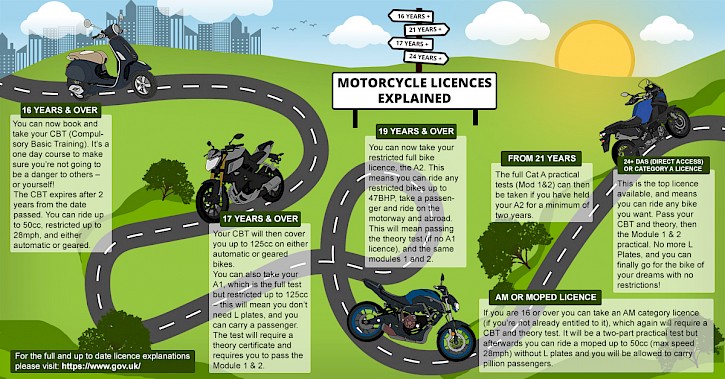 Firstly well done for taking the plunge, you won't regret it. Secondly let's try and simplify the red tape for you – of course you just want to get out there and ride don't you?
CBT: Compulsory Basic Training – 16 years and over
It does exactly what it says on the tin, gives you the necessary basic training you need before getting on the road. It's a simple enough one-day course to make sure you're not going to be a danger to yourself (or others). If you can ride a pushbike there's a good chance you'll not find a CBT too daunting.
When can I take it?
If you're 16 years old, (or over) you can book and take a CBT at any local bike training school (just Google it). You don't need to do a theory test or anything before it but having a basic grasp of the Highway Code is a good idea and will help you with road knowledge and your theory test later.
What can I ride?
At 16 you're restricted to a 50cc, 28mph moped, it can be either automatic or geared. At 17 you can move on to a 125cc bike or scooter as long as you have a valid licence and CBT.
A1 licence – 17 years and over
If you're desperate to take a pillion you can take an A1 licence at 17. Like all the practical bike tests, it's a two-part test and you also need a valid Theory Test certificate.
A2 licence – 19 years and over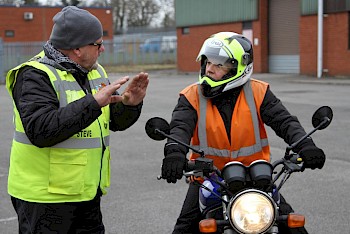 Once you reach 19 years old you can take the A2 test, once again it's a two-part test and you'll need to have a valid Theory Test certificate. Pass this one and you can get some extra power at last. The A2 licence permits you to ride anything up to 46.6bhp and you can ride on the motorway, ride abroad and take a passenger.
DAS – 24 years or over
DAS or Direct Access can be taken at 24 or over. Pass this two-part test and you can rip up those L-Plates for good. You can buy and ride the machine of your dreams, no more restrictions or power limits.