In this blog we're going to look at our top 10 125cc motorcycles and scooters aimed at beginners.
By their very nature most 125cc machines are suitable for beginners due to their smaller engine size and relative affordability and so it becomes more a case of what you are looking for. If your aim is to eventually be riding the superbike of your dreams for example, then a sportier offering like Yamaha's YZF-R125 with its full size R6 chassis is a great introduction to that style of bike. If you're looking to find an economical and effective commuter perhaps with a bit of style factor, then a scooter like Piaggio's Medley 125 could be a great option.
As a result, I've tried to include a wide range of styles and models in this list and it unfolds in no particular order - any of these offerings are hard to fault so once again it comes down to your preference and your circumstances. So, with that said let's get into the list!
KTM Duke 125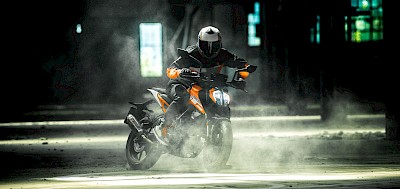 The first thing that instantly leaps out about the Duke 125 is it's styling. As with a lot of modern 125 cc motorcycles the manufacturers are moving them closer and closer to their larger counterparts both in terms of build quality and looks, this bike could easily be mistaken for a larger machine at a glance and a very attractive one at that. It has an aggressive street bike design, and a very slightly forward riding position gives it an almost supermoto feel while still preserving a sense of space and comfort important in its natural environment - the commute. The bike is nippy and responsive and able to easily manoeuvre in busy traffic. It comes with a 15hp 4 stroke single cylinder engine with fuel injection system and responsive 6 speed transmission. It also sports ABS brakes, an LED headlight similar to its big brother the Superduke and uniquely a multicolour TFT screen. The only real drawback is the price tag at around £4000 it is not the cheapest in this list.
Yamaha YZF R125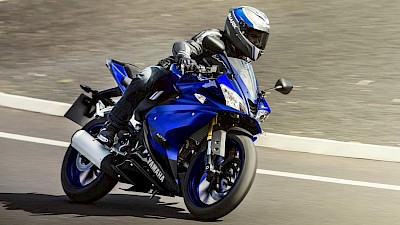 The smallest of Yamaha's R series of motorcycles has become hugely popular since its arrival in 2008. A decade later the current iteration is still a best seller and still as head turning as ever. Another 125cc bike that benefits from an increased frame size and modern features usually reserved for big bikes. First the styling, this thing looks like a superbike and when you see one ride past on the road you'd be forgiven for mistaking it as such. The fully faired design is very reminiscent of its iconic larger siblings the R6 and R1 with its centered air-intake, it even shares a similar ride position. Limited to 15bhp the YZF-R125 sports a single cylinder 4 stroke liquid cooled engine with fuel injection system and 6 speed gearbox that offer top of the range performance. Features like, upside down front forks and an aluminium swing arm, as well as ABS and its LCD instruments all add to the feeling of big-bike quality. Once again, the only downside to this bike is the price as one of the most expensive on the list at around £4,600 on the road, but factor in that this sport themed bike still does roughly 100mpg and comes with Yamaha's famous reliability and build quality it may not be so expensive in the long run.
Aprilia RS 125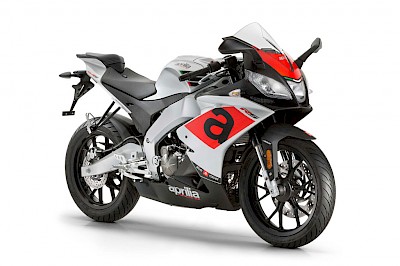 The RS 125 could be called a legend in its class. The original was released in 1993 and it redefined what a 125cc motorcycle could be, with its sporty big-bike looks and impressive 34bhp output, it was in a class of its own. The RS has had many iterations over the following decades and the current version, although now more in line with other 125s at 15bhp due to Euro regulations, it still retains an iconic sense of style and a host of class leading features. Firstly, the RS 125 is perhaps the bike that most resembles its larger counterpart with a design that perfectly imitates the 1000cc RSV4 RR and it looks gorgeous. The RS 125 also matches its piers with modern features like it's single cylinder 4 stroke engine with fuel injection, led lights and ABS and then one ups them with extra details like adjustable upside-down forks, aluminium frame and quick shift gear system. Expect to pay around £4700 on the road but that's a whole lot of bike you're getting and a great introduction to sports motorcycles.
Want to find out more about the RS 125? Check out Alex's (from BikeMatters) full review on the Aprilia RS 125 GP replica.
Honda CB125F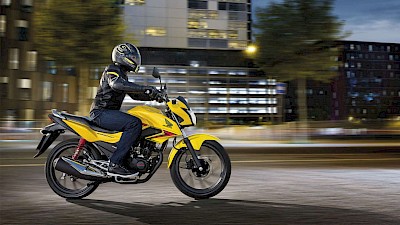 The Honda CB125F is another best-selling bike in the 125cc category and its large popularity is achieved through the combination of a very budget friendly entry price and Honda's famous build quality and reliability. It lacks some of the luxury features other bikes on this list possess, you won't find ABS here or upside-down forks or a full digital display, and the power output is slightly less than the more sportier offerings at 10.46bhp. What the CB125F does have however is a smooth and responsive ride that can zip through traffic and handle a commute with ease. On top of that, perhaps it's key selling point - a very impressive economical value. According to Honda's specification the bike can achieve up to 151 mpg on top of a very accessible purchase price of around £2799. Add to that some smart street-bike styling and you have a highly competitive offering.
Yamaha MT-125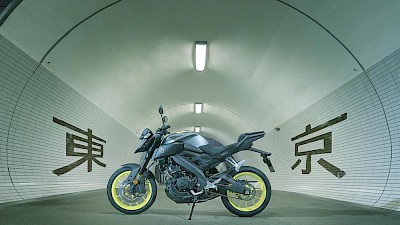 With Yamaha's YZF R125 already established as a hugely popular seller in the 125cc motorcycle market, 2014 saw the release of the MT-125. Sharing most of the same components and features that make the YZF such a hit, including the frame and engine, ABS, LED lights, LCD display and USD forks, the MT moves in a different direction when it comes to styling, taking its cue from the MT line with aggressive streetfighter looks and the same big bike feel the YZF captures. Aside from looks the MT-125 also features a more upright riding position to complete the street bike package and creates a unique feeling ride. The MT-125 also comes in slightly cheaper than its sibling starting from £4,299 and Yamaha say it can achieve 134 mpg giving it economy to match its style. With all this going for it I expect the MT-125 to remain a top seller for years to come.
Honda PCX125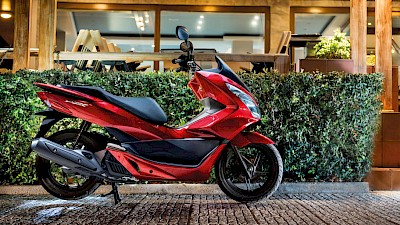 The Honda PCX125 was considered the king of the commuter scooters for a long time and although its status on top has been challenged in recent years by offerings from Yamaha and Piaggio, it remains a fantastic option and a perennial best seller in the UK. The PCX125 first arrived in 2010 and was the first two wheel machine to feature a fuel-saving idle stop system, add to that it's Honda built quality, competitive price, sophisticated styling and excellent handling and performance and you have a recipe for success. The current iteration retains all the things that made it great and refines them with the latest ideas and technology. With the addition of low-rolling resistance tyres and LED lighting the fuel economy has been optimised to 133.9mpg with an 8-litre fuel tank that promises a 233 mile range. The PCX also boasts an impressive amount of carry space with a large under-seat storage area and separate glove box. Scooters can make great beginner friendly bikes as their lack of manual gear changes can allow you to focus on mastering the basics of riding, add to that the generally lower purchase prices, in this case just £2899 for a machine designed from the ground up to offer an effective and economical commute and it could be just what you're looking for.
Peugeot Speedfight 4 125
Similar to the RS125, Peugeot's Speedfight is another fondly remembered classic, having first made its debut more than 20 years ago now. One of the few sports styled scooters left on the market, the current iteration, the Speedfight 4, retains its defining characteristics but updates the bike and brings it into the modern age. The Speedfight 4 has not only survived the introduction of Euro 4 but the new 4 stroke watercooled Smartmotion engine is actually more powerful than the previous version with an output of 11bhp. Alongside this the scooter has been re-tuned for more torque at lower rpm ranges which not only fits the 125's natural environment operating in urban areas and zipping through traffic but can also improve fuel economy. One of the Speedfight's main selling points has always been its style and the current version is no different with its sharp and aggressive design, Peugeot have done a great job of holding onto that classic sporty vibe whilst creating a beautiful and striking modern look. The Speedfight 4 is the perfect option for anyone who wants a bit of sporty style to their scooter and with its improved performance, iconic status and low price point of £2599, it fully deserves a place on this list.
Lexmoto Venom 125 EFI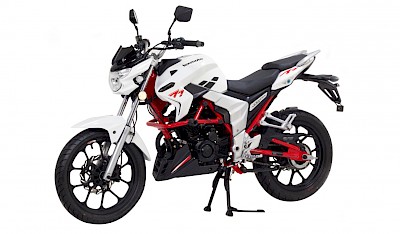 The Lexmoto Venom 125 deserves a place on this list as a surprisingly good budget option from china. Chinese bikes have come a long way and are becoming increasingly competitive in the UK market as their build quality and feel have steadily improved. The Venom has been around for a few years now and the latest euro 4 version is better than ever. The Venom may not have some of the advanced features or the performance of some of the highest priced motorcycles here, but it is still a very competent machine that can't be overlooked, especially when you bear in mind it's price of just £1799. For that small cost you get an awful lot of bike, a single cylinder 4 stroke engine with an 11.5bhp output, led lights, digital display and uniquely an inbuilt MP3 player with speakers placed in the side panels. The Venom handles and performs nicely especially in an urban commute environment. A decent fuel economy combined with the low cost and insurance rates makes it highly affordable while its excellent street bike styling means that it certainly doesn't look like a budget bike despite the price tag.
Piaggio Medley 125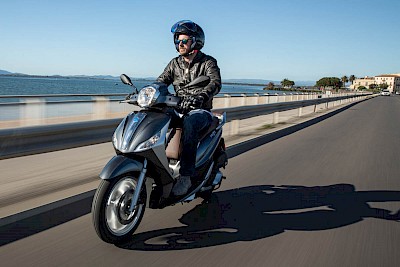 The Piaggio Medley was first released in 2016, a relative newcomer it was designed to bridge the gap between their Liberty and Beverly models, hence the name Medley. Upon its arrival the Medley instantly became a major player in the utility scooter market, matching its rivals on features and offering a highly competitive price. Despite the scooter's Vietnamese production, it still retains the Piaggio build quality and Italian sense of style. The Medley fits in nicely stylistically among Piaggio's range with its smooth and sophisticated design is very reminiscent of the Liberty but with more curves and angles giving it a slightly more modern look. The Medley's real selling point like any utility scooter is not it's looks however but its economy, boasting an impressive 135mpg and featuring a 7 litre tank. Piaggio also introduced their answer to the PCX's idle stop system - 'Start & Stop', Pull up to a junction and the engine will completely cut out but the moment you twist the throttle the engine seamlessly starts back up and pulls away silently and smoothly, further increasing the Medley's impressive economy. On top of this new system the scooter also has all the competitive modern features of its class leaders like LED lights, ABS and even adjustable rear suspension. Another great feature of the Medley is the highly spacious under-seat storage, large enough to fit 2 full-faced helmets plus an additional separate glovebox can be found up front. The current price of Piaggio's Medley 125 is £3,249, combined with its economical features and utility I expect the Medley 125 to become a mainstay of the category.
Yamaha NMAX 125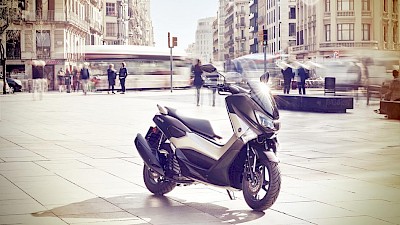 Next up is Yamaha's offering for the 125cc utility scooter market the NMAX 125. The scooter has a very slick and stylish design that's actually reminiscent of its main rival the PCX125 but who's complaining at having too many good looking bikes on offer? In terms of price there's not much in it either with the NMAX going for £2999 and packing the features we've come to expect from a leading model - ABS, LED lights, LCD instrument panels and a focus on fuel economy. The NMAX 125 does have a few unique tricks up its sleeve to set it apart however - it's lighter weight and a first in a 125 scooter, it's Variable Valve Actuation (VVA). What this means is that the scooter actually changes valve timing at different rev ranges resulting in more torque across the board for a nippier and more responsive ride while still maintaining fuel economy. All this translates into an attractive package that can give you an edge in a commute with its sportier performance while still fitting into the utility category with generous storage space and effective fuel economy.
Bonus look - Honda CB125R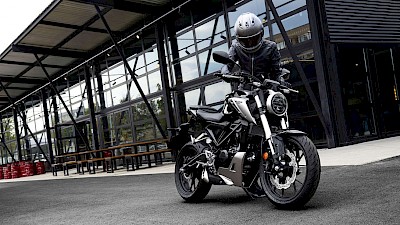 What's this an eleventh bike in a top ten list? Well as an added bonus I thought we would take a look at the brand new CB125R from Honda. This bike is hot off the presses, only releasing in the last few weeks, as such we don't yet know how it will fare in the UK market especially against stiff competition from the likes of Yamaha's MT-125. The CB125R seems quite unique in its class however as it channels the retro style that has become so hugely popular in the last few years, Honda call this a 'neo sports cafe' which sums up the concept pretty well. As we have seen in larger bikes for a while now, it's a fusion of modern luxuries and aggressive design with a classic retro cafe racer vibe which currently is a somewhat untapped niche in the 125cc domain. Similar to the other higher budget models on this list the CB125R looks and feels like a big bike with styling that exactly matches the 300 and 1000cc models, in fact the 125 actually sports the same upside down forks and frame found on the 300cc version. This will make it a good option for anyone looking to upgrade to a larger model down the line. The CB125R also weighs in at just under 130kg despite its large size meaning it will be very easy to manoeuvre and feel comfortable in the hands of beginner riders. It has most of the modern features the top spec bikes in the class have like ABS, LED lights, LCD display USD forks but the power output is just a touch less than the sportier models at 13bhp but with its lighter weight and strong low to mid-range torque it should keep up in performance just fine. The starting price from Honda is £3900 which is competitive considering its specs and looks, it will be interesting to see how this bike does going forward.
What is immediately clear from this list is the sheer variety on offer in today's 125cc market, pretty much every beginner regardless of their individual preferences and needs should be able to find something to suit. This list represents some of the best options currently available, if anything takes your fancy check out the manufacturer's website for more info or find your local bike dealer to find out more.
Lexham Insurance is a specialist in two-wheel insurance with highly competitive rates in the 125cc category so if there is a bike you're interested in whether on this list or not, be sure to get an insurance quote direct, either online or by calling our dedicated UK call centre for the best prices possible.