Granfondos are going on all over the world. Originating in Italy in 1970, Granfondo roughly translated means "Big Race", being at least 120 kilometres or more. Now it's extremely popular in North America, with as many as 200 events a year.
Aldeias do Xisto Lousa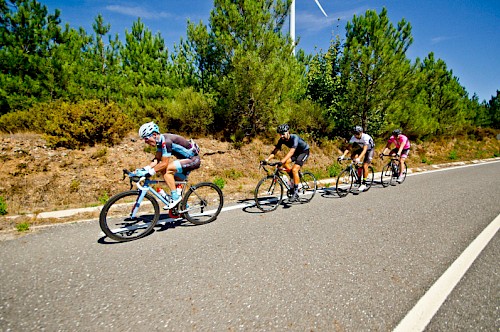 Here in Portugal, Granfondo has been going on for six years and I took part in the sixth edition in Lousã in central Portugal near the city of Coimbra (Granfondo Premium).
The event was started here in Portugal by a very good Portuguese friend of mine, Antonio Queiroz, whose passion for cycling fuelled him to start the first Granfondo in Portugal. He now has another Granfondo in July in the amazing mountain range of Serra da Estrella.
September 10th 2017 was the Aldeias do Xisto and I took part with two clients from Delucci Retreat. The event was faultless, with a great atmosphere and a great mix of riders, from cyclists who were about to embark on their ultimate challenge to riders who were there to ride against the clock and give it everything. An event for everyone.
Extremely well marshalled, regular feed stations, quite smooth roads, with mobile back-up with cars and motorbikes, supplying assistance if needed. A must event for your calendar.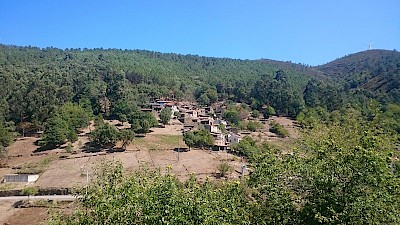 It's also a great way to see the amazing old Portuguese stone villages (Xisto), one of this region's famous historical treasures, with beautiful villages dotted throughout your ride.
Make sure to check out more photos from the event in the gallery at the bottom of this blog.
Ed Wenlock from the UK, who in fact has previously taken part in Serra da Estrella as well as Aldeias do Xisto, is a passionate cyclist and always searching for new cycling challenges, pushing himself all the time and getting stronger with age. Ed has a great group of training partners, one being Chris Lillywhite, who train together in the Surrey hills all year round, all pushing each other to their limits. This year Ed brought along Stefan, one of his training partners, who has taken part in events all over the world and expressed how much he enjoyed the event.
So let's not just take my word on this unique event, let's hear it from Stefan (left on photo) in his own words…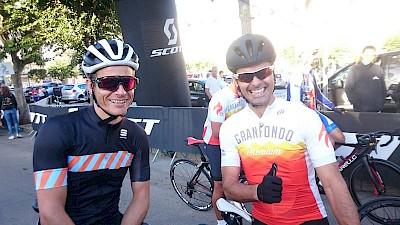 "Having​ ​done​ ​many​ ​different​ ​Granfondos​ ​across​ ​Europe​ ​I​ ​found​ ​"GF​ ​Lousã"​ ​to​ ​be​ ​the​ ​best​ ​I have​ ​experienced​ ​so​ ​far.
"GF​ ​Lousã"​ ​offers​ ​the​ ​perfect​ ​balance​ ​between​ ​a​ ​difficulty​ ​rating​ ​and​ ​being​ ​rewarded​ ​with spectacular​ ​scenery.​ ​The​ ​2017​ ​route​ ​started​ ​with​ ​a​ ​controlled​ ​rollout​ ​from​ ​the​ ​town​ ​which helped​ ​the​ ​riders​ ​to​ ​warm​ ​up​ ​their​ ​legs​ ​before​ ​tackling​ ​a​ ​punchy​ ​20km​ ​climb,​ ​which​ ​was closed​ ​to​ ​traffic​ ​which​ ​I​ ​found​ ​to​ ​be​ ​brilliant.​ ​All​ ​of​ ​the​ ​climbs​ ​were​ ​pretty​ ​hard,​ ​but​ ​the​ ​riders got​ ​rewarded​ ​by​ ​the​ ​amazing​ ​scenery​ ​on​ ​the​ ​summits.
The​ ​roads​ ​were​ ​cleared​ ​of​ ​debris​ ​by​ ​the​ ​local​ ​councils​ ​the​ ​day​ ​before​ ​the​ ​event,​ ​this​ ​effort ensured​ ​safety​ ​along​ ​the​ ​whole​ ​course.​ ​ Having​ ​clean​ ​roads​ ​eliminated​ ​all​ ​the​ ​concerns​ ​I​ ​had with​ ​the​ ​fast​ ​sweeping​ ​descents.
The​ ​feeding​ ​stations​ ​I​ ​stopped​ ​at​ ​were​ ​brilliant, ​ ​they​ ​were​ ​very​ ​well​ ​stocked​ ​and​ ​the​ ​staff​ ​were incredibly​ ​enthusiastic​ ​and​ ​helpful.
The​ ​route​ ​was​ ​really​ ​well​ ​sign​ ​posted, ​ even​ ​though​ ​I​ ​spent​ ​the​ ​entire​ ​ride​ ​on​ ​my​ ​own,​ ​there was​ ​no​ ​question​ ​whether​ ​I​ ​was​ ​on​ ​course​ ​or​ ​not.​ ​There​ ​were​ ​marshals​ ​at​ ​critical​ ​points​ ​on the​ ​course​ ​warning​ ​the​ ​riders​ ​of​ ​potential​ ​hazards.
The​ ​last​ ​section​ ​from​ ​the​ ​top​ ​of​ ​the​ ​"windmills"​ ​(which​ ​is​ ​the​ ​last​ ​classified​ ​climb)​ ​to​ ​the​ ​finish was​ ​my​ ​favorite.​ ​It​ ​offered​ ​a​ ​fantastic​ ​display​ ​of​ ​the​ ​region's​ ​scenery​ ​and​ ​an​ ​exhilarating descent​ ​back​ ​into​ ​Lousã.
At​ ​the​ ​finish​ ​line​ ​they​ ​offered​ ​complimentary​ ​beer​​ ​(which​ ​always​ ​goes​ ​down​ ​well​ ​for cyclists)​ ​and​ ​a​ ​pasta​ ​bar.​ ​The​ ​finishing​ ​results​ ​for​ ​the​ ​participators​ ​was​ ​immediately​ ​available on​ ​the​ ​event's​ ​website,​ ​which​ ​I​ ​found​ ​to​ ​be​ ​refreshing​ ​as​ ​other​ ​events​ ​would​ ​have​ ​you waiting​ ​for​ ​a​ ​couple​ ​of​ ​days​ ​for​ ​the​ ​results.
Overall​ ​this​ ​experience​ ​has​ ​left​ ​me​ ​with​ ​a​ ​very​ ​memorable​ ​experience.​ ​I​ ​will​ ​definitely​ ​be back​ ​and​ ​I​ ​hope​ ​to​ ​share​ ​this​ ​experience​ ​with​ ​my​ ​friends."
So there you have it! All you got to do is come and do it…………..