As my regular blog readers will know by now I am not based in the UK, so it will come to no surpise to you that I have lost touch of what are the right races to take part in on my return to the UK.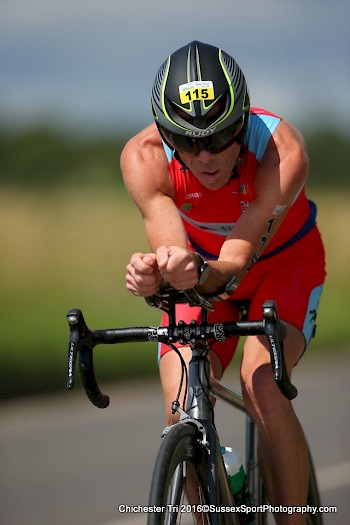 I was over in the UK in early July and I was determined to take part in a Triathlon, but which one? There are so many to choose from so I googled my way to the www.britishtriathlon.org (British Triathlon Federation), once there it's easy then to choose the area you want to race in, the type of event you want to take part in and what period.
One common difference between Portuguese and British triathlons are that the majority of the swims in the UK are pool swims, whereas in Portugal they are mainly open water swims. The Portuguese can't believe so many triathlons in the UK are based around pool swims - they still don't believe me today! All the races in Portugal, are lakes or sea swims, due to an abundance of lakes and never ending beaches.
While exploring the possibilites on the British Triathlon website I came across the Chichester Triathlon Series in the south coast,the event covered a whole weekend from the 2nd to the 3rd July. The Saturday was dedicated for younger people aged 16 to 18, who could take part in Junior Aquathlon and Junior Triathlon events which formed part of the Triathlon England South East Junior Triathlon events. Then on Sunday Sprint Triathlon (Try a Tri) and Olympic distance, Tri Events, all the swimming taking part in the pool at Westgate Leisure Centre in Chichester. The sprint distance consisted of a 400m swim, 33k bike and 5k run. Olympic distance shorter swim, normally 1500m, being a pool swim, was 600m, 42k bike and 10k run. The event looked perfect for me, they had plenty of experience running these events and as it was also their 10th anniversary I thought it would be nice to be a part of it.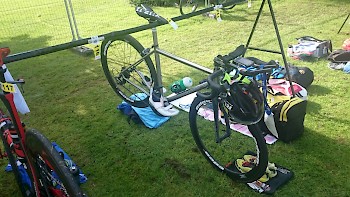 I emailed the organiser, Ben Polhill, who couldn't be more friendly, helpful and excited I was coming over from Portugal and was interested to hear my feedback after the event. This made my mind up, this was the event for me, I decided to go for the Olympic distance. An added bonus was that James from Vaaru Cycles kindly lent me one of their new bikes, which he also kindly fitted some clip on tri bars for me. Another nice bonus was that EDCO lent me some of their top Swiss made deep section carbon wheels. I knew I would be a bit slower at this event because I was over celebrating my friend Chris Lillywhite's wedding the week before so wouldn't be able to do my normal routine building up to the triathlon but at least I had some top kit for the event.
The event
When I race in Portugal all the roads are closed so my main worry in the UK was traffic, as roads on most events are not closed, so good organisation and good marshalling is key, especially on the bike section!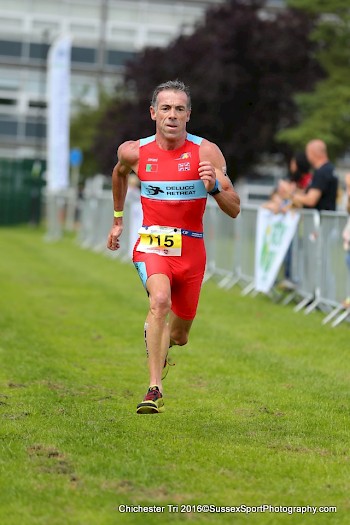 The pool swim bought back some memories of racing in the UK and I had no problems. You do count your own lengths, but there are people at pool side counting also and they put a board in the water to let you know when you have two lengths to go. To guide you from the pool to your bike it was made very simple with a funnel of barriers to guide you straight into transition.
Well, what a pleasant surprise, the bike route lead you out of Chichester into the Sussex country side, with rolling roads and some challenging climbs, to break up groups as being a non-drafting race, passing through a few sleepy country villages and tree lined country lanes. It's a great bike course, at no time did I feel in danger due to marshals and signage being spot on.
The run was an out and back, on a tree lined path through a local park, with plenty of water on route, also loads of encouragement from the marshals, so in short, nice and safe with the locals also getting into the whole event.
With a great finish area, lined with supporter's all getting into the whole atmosphere, with free nutrition at the end supplied by Nature's Way foods. There were also plenty of stalls selling all kind of refreshments, local produce and sports equipment.
Overall I found this to be a great event for all levels including serious athletes, especially if you are just starting out, as you have the choice of both distances and it's one for the family. I will put this down as one of my favourite races in the UK and will try my best to take part next year. Nearly 900 people took place, but it didn't feel crowded or over-subscribed at all. I would highly recommend for anyone considering this to put it in your diary next year! In regards to my own performance I managed 6th overall.
I would like to say thanks to Ben, the Chichester Council and Westgate Leisure Centre for a great event, I'll be back!
www.everyoneactive.com Chichester Triathlon
www.vaarucycles.com My bike Octane Titanium
www.edco-wheels.co.uk Wheels