One of the main things cyclists are talking about is the new Dura-Ace groupset for 2017 called the R9-100 Di2. With continued development and improvements over the last 10 years, what will this new 2017 groupset have to offer which is better than older version?
Shimano's latest tech
Shimano's using the latest technology and improving every component with options to customize gear setup, to maximize the rider's performance. Shimano are using E-tube wireless connectivity to communicate to your gear set up (not to be confused with Sram E-tap full wireless group set) the Shimano still has wires.
How does it work?
In simple terms, when you are changing from one chain ring to the next it will automatically move the chain on the cassette, to provide a smooth transition through the gears, therefore saving energy, as opposed to pushing the wrong gear. It's a nice smooth transition, you don't have to think about it because it does it for you – which is ideal for race conditions.
Chain set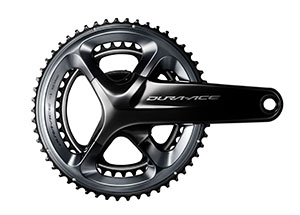 Looking at the new chain set there are big changes, it is much bigger, improved aerodynamically and lighter saving 7grams from the last model while more rigid due to the 4 arm construction was helps give it more direct power. There is also a power meter available.
No two ways about it - Shimano are top of their game when it comes to power and this new system, looking at it does seem to be the business.
With dual sided strain gauges, hard wiring for reliability and performance, this will measure power equally. The design looks nearly the same as the standard, nice, sleek and fully waterproof, also if you change the chain ring size this will not affect the power.
It has wireless options to update firm ware (BLUE TOOTH – ANT) and rechargeable battery.
Shifters
They seem more of a sleeker design, with the addition of a carbon hood which is a nice touch, with a more defined click when changing gear.
There is an E-tube customising option as well and multi-shift option on both switches.
Calipers
They have better braking power, not that they were bad before! They look much more compact on the frame and also are compatible up to 28mm tyres.
If there was one thing I'd say, it' that they only come in black, which is great on an oversized tubing and matt black bikes, however, if you have a bike with thinner tubing or bike with colour it would be nice with a bit of silver in the mix, but that's just my opinion.
Prices have been released but not on the power chain set option which everyone is waiting for, to compare it to the S R M…
Shimano Dura-Ace R9100 pricing
Crankset – £499.99 or £529.99 (depending on ratio)
Power meter – £TBC
Front derailleur – £99.99 (braze on), £109.99 (band on)
Rear derailleur – £189.99
Shifters – £449.99
Brakes – £159.99 each (same price for direct mount brakes)
Cassette – £209.99 or £219.99 (depending on ratio)
Pedals – £219.99
Bottom bracket – £49.99