Just before I set off back to Delucci Retreat in Portugal I was invited by my old mate, Chris Lillywhite, to Destination Bikes, based in the heart of surrey, Box Hill, my old training ground.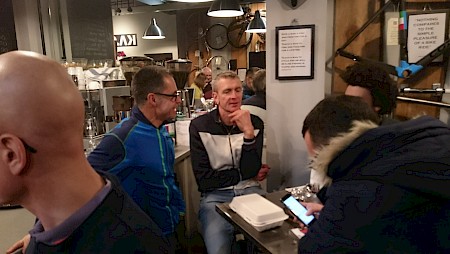 Sadly Chris couldn't make it due to a family bereavement, he was greatly missed by all at the venue and could have shared many a tale I'm sure with Sean Yates who was going to be a guest speaker chattering about his amazing career. It was also great for me to catch up with Sean, who I hadn't seen for a good few years.
An evening with Sean Yates…
So what was the event for and who was behind it? The objective of the evening was to raise some money for C.R.Y (Cardiac Risk in the Young). Russell Clark, with the help of his brother Justin, a former pro rider, who I had the pleasure to train with back in the day, were the organisers of the event not forgetting Jeff, owner of Destination Bikes without whom the event would not be possible.
So what is C.R.Y? To give you an idea, it seems to be aimed at people from the age of 14-35, to raise awareness of cardiac problems and encourage them to have a cardiac screening, especially if you have any history of heart conditions or sudden deaths in your family. Hopefully, these screenings can be encouraged by parents or clubs, you can however, have a test at any age. I have one every year, I'm 52 and still competing but it certainly gives me peace of mind.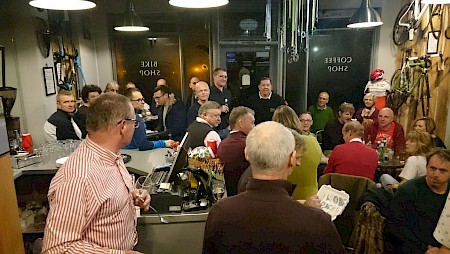 If you are participating in any kind of sport it's a very good idea to have a screening, to check that you don't have any kind of heart muscle disorder or electrical faults in your heart.
Where I'm based now, in Portugal, if you are taking part in any competitive sport at school, club or professional level, it's mandatory to have a cardiac screening. It is also common in most European countries and was introduced in around 1998. However, it is not mandatory in the UK.
Heart problems do not just occur at high intensity sport, they can happen just jogging or in your sleep, so, for your own peace of mind, get a screening.
All the information you require is on www.c-r-y.org.uk
Great Atmosphere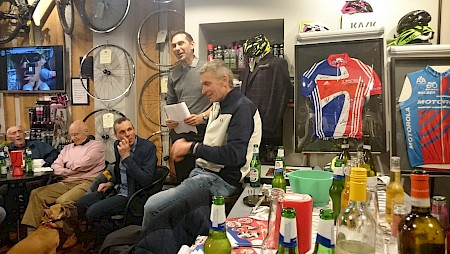 There were a host of familiar faces, including Nick and Tony Mills, former owners of the shop many years ago, where I bought my first Pinarello back in the 90s, which I still ride today. Nick and Tony now live in Spain but they still ride their bikes and continue to live and breathe the passion of cycling. Also there was Simon Cope, former pro rider and old mate, now Sports Director for the Wiggins Team. That is to name but a few, creating a great atmosphere which was added to by free beer and even fish & chips laid on from a mobile chip shop outside. A great touch! The beauty of cycling is how it brings people together through the sheer passion of the sport.
I must point out that Russell's all-time hero is Sean, so he couldn't hide his excitement as he hosted the question and answer session with Sean, which was fantastic. It just makes you realise what an amazing athlete and character he is. He's worked with some of the best teams in the world and his input has created some true champions because he has the ability to bring out the best in riders and teams. He is a humble and modest man, I'm honoured to know him, and it was great to catch up.
After Sean's chat…
Time to raise money. This was done by auctioning a great array of framed signed Pro jerseys. The auction went well, with Justin puishing the bidding to its max, with full backup from his brother Russell. They were like a double act and bounced off each other with banter, which made the auction entertaining.
With everyone getting into the spirit of the event, apart from my mate John Wise's dog, who drifted off to sleep and started snoring, which was funny. John did win a Jersey, but I'm not sure if it was John who was doing the bidding or his dog!
I really enjoyed the event - a great cause, and also saw some old pals I haven't seen for years. This kind of event really does reiterate my love for the world of cycling.