When we think of titanium, we think of a nice gleaming bare metal frame.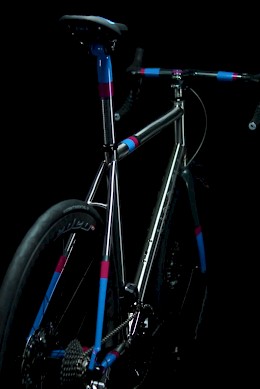 Let me show you how titanium gets a great look, but without losing that nice raw metal appearance which makes it so special. Custom spraying is a great way to create a unique look and you can also get a custom made saddle, totally personalising your bike. The customer and bike manufacturer both work together, creating a bike design, from the customer's own imagination.
A few years ago I in worked in the motorcycle industry, where I witnessed bike owners striving to be different, personalising their bikes with custom spray jobs, and not just their bikes, but also their crash helmets. Personalising one's bike is growing in the cycle community, even pro riders having their own design mark on their frames and helmets.
So, let's have a look at how it's done as James Beresford, owner and designer at Vaaru Cycles, guides us through the process….
Here are the steps for painting Titanium.
Our other finishes on Titanium also include:
Anodised, Polished, Bead Blasted, Sand Blasted, Brushed, Painted or Decal.
Step 1: The customer sets a brief of basic ideas, build spec and a budget to work to.
Step 2: We produce a few paintwork concepts with initial ideas from customer and ourselves. This is alongside the build specification. These are then refined to the final design.
Step 3: When the customer is happy to proceed we perform a bike fit to make sure all components will be a correct fit before paintwork proceeds.
Step 4: Paintwork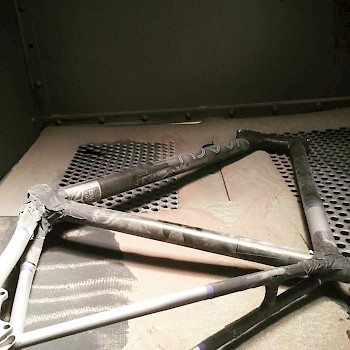 Preparation and masking is the most time-consuming part. Paint mask stencils are cut for the artwork. We never use stickers, it's only paintwork. The frame, fork, bar/stem, seat post and topcap are prepared for paint. The frame areas requiring paint are blasted to give the primer a key to adhere to.
The carbon fibre parts are rubbed back to bare carbon then primed. The primer is wet and dry sanded to give a super smooth, flat finish for the colour. A long process of masking and painting begins. It's best to paint in a colour order, giving you less ridges between the layers of colour. This is essential to the quality of the final processes.
Colours are re masked and over masked in order then it is ready for the clear coat.
After the clear coat has dried it's time to wet sand the clear coat to a flat finish, then polished. No ridges will be felt when you run your fingers over the paintwork and it will look like glass.
Step 5: The bike is then ready for building and collection. The best bit is always seeing the customer's reaction to something they've been looking forward to collecting.
The finished paintwork and saddle took just over 40 hours to complete. It's a long process to perfection but the outcome is well worth it!
The Spec:
The frame is a Titanium 3AL/2.5V Vaaru V:8 Di2 with Vaaru F:160 forks and V:TS titanium seatpost. Shimano Dura Ace Di2, Pro Stealth Evo one piece bar and stem. The wheels were Edco Aerosport Umbrial DB which RRP at £1999. The complete bike pictured finished at £7700
The Finished Project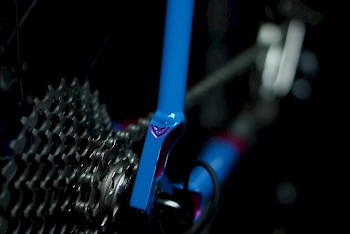 As you can see, a lot of thought and hard work goes into making your dream bike. None of this is possible unless you have direct communication with whoever is building your bike. There's nothing like talking to someone personally, as opposed to it all being done online.
With the smaller manufacturer, like Vaaru, you get that personal touch, like going to a tailor, a few tweaks here and there, to arrive at a perfect result - there's nothing worse than an ill-fitting suit.
With so much choice out there, and a lot of bikes looking the same ( stealthy matt black) personalising your bike is a nice touch, with the added bonus that you won't have that problem of one of your fellow riders having the same bike as you. It seems to be that colours are now coming back, like it was in the 80s and 90s.
You can give it a nice Retro look or a modern look, do what you like. Just get creative! Make sure to check out the full Vaaru gallery below.