Due to the growing media coverage, more and more people are following the classic cycle races like The Paris-Roubaix, which is a one day race starting north of Paris and finishing on the Belgian frontier.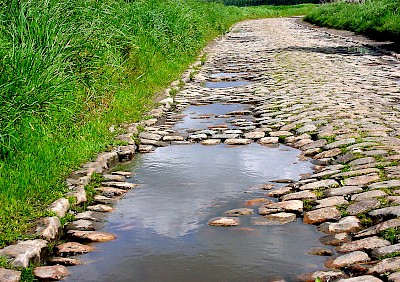 Known as the Queen of the Classics it had its first edition in 1896, with 115 editions to date. This takes place in April, when sometimes the weather can be wet and cold. It's also been called the Hell of the North due to the horrendous terrain, demanding cobbles and gravel, sometimes lasting for over 50k, with a total distance of around 250k finishing in Roubaix on a concrete outdoor velodrome Andre-Petrieux.
Now, with an increasing number of people taking part in Granfondos and sportives, other event organisers are following the classics trend and have started to make their event more demanding and challenging by adding harsher terrain, creating truly amazing events, not for the fainthearted.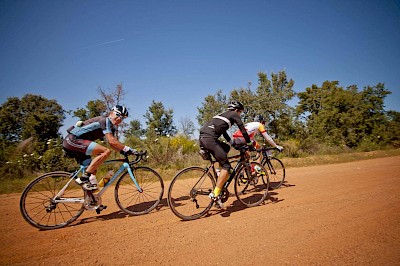 There is a great event named Classica de Idanha situated in Idanha a Nova, Portugal, which I attended last April and have entered once more, but this year it was more demanding with more added challenges. I knew it was going to be more demanding when I looked at the profile and the advice given on website regarding how to prepare your bike and yourself.
150K with a lot of cobble sections, steep climbs, with over 2k of gravel, mixed up with flat roads and long drags, with sweeping long narrow descents, so this had everything and sounded even more exciting than last year!
The tips on the organiser's website where invaluable, even with years of experience you don't know it all, you are always learning as the world of cycling progresses. One of the major points for riding on the cobbles and gravel on a normal road bike are your tyres.
Tyre width and pressure.
The tyre pressure is much lower, as low as 7.5 bar, when going over cobble and gravel.
The width of the tyre is very important. I put 25mm tyres on mine, but to be honest 28mm would have been better, as I discovered when hitting the 2k gravel section after 100k. Four guys got away from the bunch and I tried to go with them, but my bike was going everywhere. The group of four had wider tyres therefor more traction, travel and were pulling away. It took me 6k of pain to catch them up once we got back on normal roads, head down time trial mode (valuable lesson learnt).
For the cobbles I found the 25mm tyres were fine, depending on what kind of rider you are, 28m would have been a softer ride. When riding on cobbles it's very important to keep the power on and constant. When in a big bunch, concentrate on what's in front, don't suddenly change your line as you may bring down riders behind you. If you do change you line check and let riders behind you know, as they may be very close to your rear wheel.
Be aware, when fitting a wider tyre, check to make sure your frame is compatible for wider tyres, as they might rub on the frame, especially with older bikes
Wheels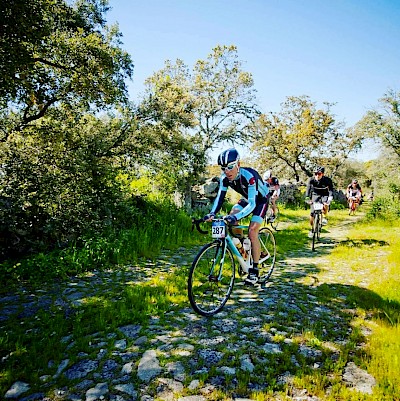 I just put normal non deep section rims, a standard size rim aluminium. These being more comfortable, also didn't want to damage my nice carbon rims from the gravel and cobles as the carbon rims will get marked.
Handlebars
I put another layer of rim tape on the top of the existing handle bar tape to absorb the shock through the handle bar while on the cobbles.
Water bottles and bottle cages
Make sure your water bottles fit nice and snug or they will bounce out on the cobbles, and also that you bottle cages are nice and tight.
Nuts and bolts
Go through your bike and check everything is tight, this is very important! Cobbles and gravel will work them loose if they are not tight.
Food
If you have bars of anything which is wrapped up, then partly unwrap it before you set off then it's easy to eat on the move.
Saving energy and recovery
In between these hard stages try and recovery buy sitting in with a big group as riding on your own is hard work. Sitting on a wheel or working together will help you recover and have opportunity to eat and drink and also increase your overall speed. It's so important to look at the route prior to the event so that you know when these hard sections are coming.
How did it finish
For this event I took all this into consideration and as result managed 2nd in the Masters with 150k and over 2000m of climbing, with an average speed of 31k per hour, first race of the season (be prepared, it works).
None of this would have been possible if I didn't take these measures, partictually recovering on the move, eating and drinking, not forgetting working with your fellow riders. Of course, it does still involve a lot of suffering, but that is what it is all about, good old fashion suffering and who can suffer the longest!!!
Cycling is a very tactical sport and the guys who work on the front of the peloton on their own all day aren't the ones who win…
Classica de Idanha a Nova is a fantastic race a great challenge and I'm looking forward to next year. It's well organised and gives you the chance to experience this beautiful part of Portugal, the terrain, the villages and all the locals cheering you up those demanding stages.
A one to put in your 'To Do' list. The key is preparation and race smart!