The best all-round wheel needs to be light, strong, fast rolling and, not forgetting, they have to look the business - all for the right price.
People don't just race carbon wheels now, they train using them in the summer months, so it is vitally important to get the right set of wheels which can withstand this level of punishment. Don't just think the more you spend the better the wheel, the most expensive aren't necessarily the right wheels for what you would be using them for.
I had the opportunity this year to try and test a set of EDCO Albis carbon wheels, I put them through every cycling scenario I could think of to give a true verdict of how they truly perform.
Luckily the bike I was on was the amazing Octane Titanium road bike supplied by Vaaru Cycles, which now use Edco wheels on their range of bikes. As you would expect with the high spec, the Vaaru is well up for the job.
The Test Begins
The first test was down in the South Coast of England, with twisty country lanes riddled with pot holes and open roads where I encountered wind and rain, truly the worst conditions to test new carbon wheels out in. I rode in these conditions for a solid 2 hours and couldn't believe how well the wheels coped. I felt stable in the wind and didn't get blown around which was good as I only weigh 62 kg.
After putting them through the mill they didn't lose their shape and after hitting many a pot hole they stayed completely true. The bike didn't shift its line and was very fast rolling, with that beautiful sound you get from a deep section rim – along with no rattling noises!
Loving these wheels already
The rain continued for another five days, with at least a 100k ride every day, with plenty of grit and dirt on the way. I've had wheels in the past where within a week of rain, the bearings have started to slow down and become noisy - but not these wheels, they are perfect so far!
Racing
Two weeks later, after I'd clocked up over 1000k in all kinds of weather, I entered a triathlon in Chichester, West Sussex, still using the same Edco wheels and they had been running as sweet as the day I picked them up.
Let's see how they race… It was a hilly course with fast flats so perfect to test the all-round performance.
Lovely fast wheels pick up speed beautifully as you get into your rhythm on the flat sections and drags, they're also fantastic on the high gradient climbs, even with the 50mm rims.
Commuting
Personally, I would not commute on such a lovely set of wheels, but let's give it a try.
Through the streets of London, right into the heart of the city the wheels are very responsive, and accelerated with ease from traffic lights while staying very smooth. These were helped with the addition of 25m tyres which are spot on and together with the wheels make a perfect combination.
Now, with 1500k in the bin, all I've done to them so far is wash them off with some soap and water.
Touring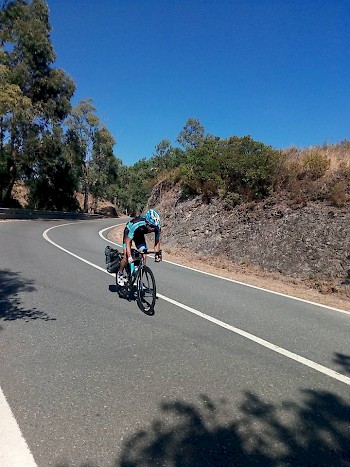 Jump on a plane to Portugal for the Delucci challenge N2 ride across Portugal with Vaaru Cycles. A group of four, including myself, took part in this event - all details can be found here.
If these wheels are going to break it will be with my next test, to load the bike with paniers and cycle across Portugal from Chaves (at the very top) to Faro (at the very bottom), 738k on the old National 2 road with extreme heat, mountain roads and cobbles. Normally you would never use this kind of wheel for touring. So let's see if they're as strong as they say they are!
Riding from Monday to Saturday with 20kg in the paniers, with long twisty descents and equally long rolling flats, touching speeds up to 80kph with cross winds, I can't believe how stable the wheels were considering the additional weight. The braking was unbelievable, so smooth and precise, I had total confidence in the wheels, even undertaking the cobbles, climbs and descents, powering over the cobles, still keeping the 25m tyres as well, which made the ride softer on the cobbles.
After 738k across Portugal the wheels are still as new, true! One of our fellow riders broke a spoke on his Mavic's, but not the Edcos.
With over 2238k on these wheels, only with a few days break, there was one more test.
Mountains
After a couple of days off back at my home Delucci Retreat Training Camp to get some rest, it was then time to ditch the panniers!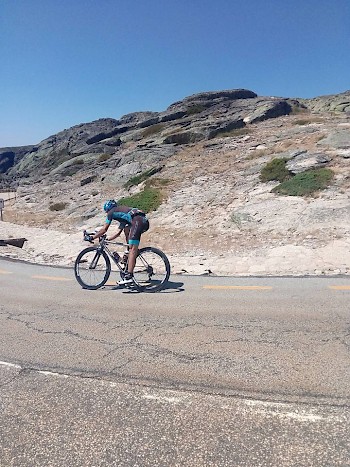 Now it's time to test these wheels in alpine conditions, along with fellow Delucci challenge rider David Sheperd riding a Vaaru V: 8 Di2 (which I reviewed last year). Starting from Miranda do Corvo, we covered a distance of 140k, finishing with a 2000m climb for around 28k to the summit of Serra da Estrella (highest point in Portugal). With technical switchbacks and demanding climbs with up to 14% gradient, it's a challenge for man and bike!
We spent the night at the summit and cycled back the next day the same way. So now I could test the wheels climbing and descending in alpine conditions and I can tell you I was not disappointed! Climbed beautifully, great rolling speed on long climbs which you can't experience in the UK, you can just feel the wheels through every pedal stroke dragging you up the climb.
Also descending at speed, perfectly braking into the bends. Direct contact on to the rim, very smooth. There was no snatching feeling which you can get with carbon rims.
Summary
So after all this testing, what do I think? It is quite rare to test a wheel like this, in all these different scenarios.
Braking: Superb. With the brake track being lower down from the standard braking area, it keeps the heat away from the tyre and the quality of the braking surface is of very high quality and you just don't get that horrible screeching braking noise which you get a lot with carbon rims. This is complemented by using their own edco cesso red brake pads, which are high quality brake pads, which provide perfect braking.
Handling: The u shape rim and the bladed spoke layout makes the whole wheel feel stable in adverse conditions.
Speed: The wheels roll superbly, build quality of the bearing and hubs stand out and the aerodynamics of the wheel make the wheels feel fast.
Strength: Definitely one of the strongest wheels I've used and to be totally honest, I have never tested a wheel to this level, as I wouldn't use my best wheels in all these tests because I would be worried about damaging them - but not the Edcos.
Price: £1,399.00
Down side: Got to give them back in October
Rating: 10/10 - All Around
Specifications
50mm Full carbon clincher
Full UD carbon, with 3K rim bed finish
3K reinforced spoke holes
ILT Braking System - Integrated Low Temperature brake track in combination with edco Cesso Red brake pads
EDCO wheelset with ILT
Available in three decal colors, White - Black shadow, Black - Black shadow and Black - White shadow
1521 g (Front 669 g / Rear 852 g)