Hosted by the Vespa Club of Britain, this low-key members rally in Kendal was well worth the ride up north. The Lake District is a stunning place but has been neglected for years on the rally scene; hopefully this member's rally won't be the last though…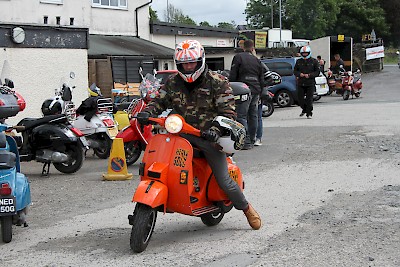 A 170 mile ride on one of the busiest Fridays of the year meant I spent most of the journey filtering through stationary traffic, the rest of the ride was spent feeling smug for being on two wheels. We arrived at the venue, Kendal Rugby Club, handed over our tickets and received a nice goody bag by return (loads of stickers, metal cog badge, Kendal mint cake and a bottle of beer). A quick erection on the campsite, a change of clothes and we were off to sample what this 300 capacity members only rally had to offer. The venue itself has everything needed, a large flat campsite, hot showers, toilets, a good bar with friendly staff and a decent sized room for an evening do. We met up with a few friends in the bar and made some new ones as we sampled a few beers, just enough alcohol to help give us a good nights sleep in our cosy tent.
Saturday morning and breakfast was served in the clubhouse, a few stalls were set up around the site and people began to gather for the ride out. I'm not usually one for ride outs but we decided to tag along as the 100 or so scooters headed to the Lakeside Motor Museum, a quick bite to eat there and a few of us peeled off for a more challenging ride up the Hardknott Pass and back again, a great little ride on one of the bumpiest and steepest roads in the UK, followed by a quick blast back to Kendal.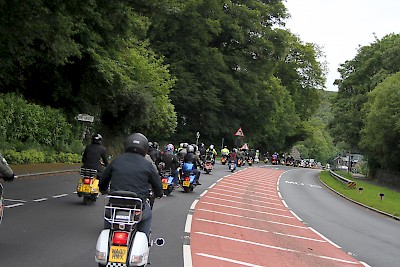 We arrived back at the campsite just in time to see a line up of Vespa GTS's, in celebration of ten years of this modern rally going machine. The model is so popular that I'd estimate 70% of the scooters at Kendal were GTS's. They're a perfect long distance tool and I love them (and rode there on one) but they'll never look as good as a line up of classic scooters. After a quick shower we headed into town to see what the local pubs had to offer, as a rally town there are more than enough pubs to cater for thirsty scooterists, so hopefully (if the rumours are true) we'll be back for a larger scale Vespa Club rally next year. By the time we got back to the campsite the do was in full swing but we'd missed the draw for the well stocked raffle, not to worry as proceeds were going to the North West Air Ambulance so it was still a fiver well spent. There was a good friendly atmosphere throughout the weekend and despite never having done a VCB event (other than our recent trip to Croatia) everybody was very welcoming and we had a great time until 1am when the bar closed and we were sent to bed by the tired bar staff.
The threatened rain finally arrived overnight, a torrential downpour that lasted for hours but thankfully it had stopped by Sunday morning and we rode home in blustery but dry conditions. If you ride a Vespa, fancy something smaller than a national rally and enjoy spending time with friendly people maybe the VCB is for you.