It doesn't cost a fortune to get riding!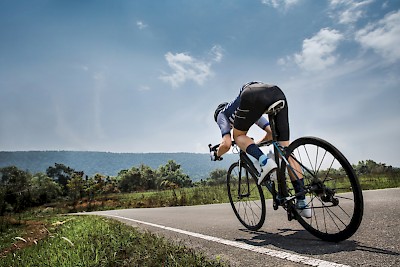 Starting off with the hobby of cycling means you are most likely excitedly looking to splash some cash on a bicycle to get yourself started. It's fun times looking for a bike but try to not get carried away with the novelty of buying a new toy and do a bit of research and compare, you don't want to spend your hard earned cash on something that turns out to be an old banger. There is plenty of choice out there for all budgets new and second-hand, but sometimes it can be confusing to know the difference between a good deal and a bad one when you are so new to cycling.
It was only last week when a customer of mine got in contact asking for advice. His girlfriend was keen to take up cycling and had a £600 budget but wanted to make sure they spent wisely, so they asked for my opinion. First up I received a few links of some bikes that she had spotted on the world's favourite auction website, eBay.
The first thing I think of when comparing new and used is the budget, what you are getting for your money and are there any potential further costs. It is important to remember when purchasing second-hand that some parts and consumables might well be worn, you could end up spending more money on tyres, chain and cassette etc, this potentially costly scenario could just blow your budget completely out of the water.
Another thing to think about, is how soon do you want to get on your bike? It is highly probable fresh off investing your pennies on your new two wheeled friend that you will want to ride it straight away. Purchase second-hand and expect to spend time replacing parts or taking it for a service at your local bike shop. By spending money on a new bike you'll have brand spanking new components and of course a warranty; so that in itself is a massive bonus for new above used.
After seeing the finest selection of second-hand bikes eBay had to offer, I then spent some time surfing the web for the very best new bike deals I could find.
My Bike Recommendations
Specialized Allez road bike 2016
Trek T1.2 C H2
Cannondale Synapse – Claris 2016 (Womens)
Focus Cayo Donna Sora (Womens)
Vitus Bikes Zenium L (Womens)
Summary
If you take the time to look there are some great deals out there. Make sure to consult the sizing charts which will tell you the right size frame to get. The above bikes are just a few of the best I could find within budget which are ideal for sportives ,training, commuting and even touring. Whatever your budget, there are good bargains to be had just take your time, looks at specs and reviews and if looking at second-hand take good care to look closely for wear and abuse. If your fortunate enough to have a family member or friend who is a keen cyclist and knows what they are on about, you can always ask them for advice.