In this exciting world of cycling the technology is forever growing, so choosing the right product can be mind boggling.
For example, when Cycle magazine say "this gadget will make you faster and more efficient" it's hard to know what to use. For sure, wheels are a major factor in making your bike travel, but it's all about choosing the right ones. With chain rings there are so many options out there, not just lighter ones but rings which can help you. So, let's see if there are some chain rings out there which can really improve your efficiency. The only way to do that is to test them.
The other week I took part in an event with some Portuguese friends, riding from the west to the east of Portugal, 700k of riding with nearly 1000m of climbing on my new Vaaru Octane 6-4 with an added bonus, a set of oval chain rings given to me by James, owner of Vaaru Cycles.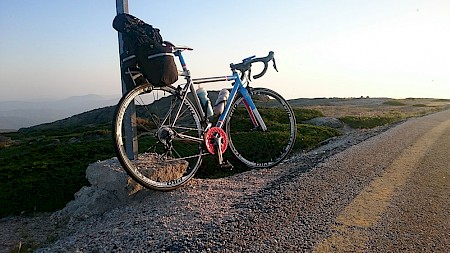 Oval Chainrings
I have used oval ring before, in the late 90s, and found that they were noisy and never ran quite right. So, what are these like?
Absolute Black is the name of the chain rings, a family business in London, and to be honest I've never heard of them, but if James puts them on the Vaaru bikes then the quality will be top.
James had put a red chain ring on, which looks very funky, there are also black and grey versions available.
So how did they feel? One thing which was worrying me was how smooth they were going to run. What can I say? They were so smooth I was blown away. I can't compare them to the Rotor Rings. The whole pedal stroke felt solid and complete. This is due to the thicker 5mm construction and a 6-point ramp and recess shifting design, shifting better than other brands of oval chain rings. I'm very much into cadence and the oval construction encourages this. On the climbs I felt as though I had an extra kick so, with panniers on my bike, this was a massive help. It's as though the pedal stroke was being assisted but in a very smooth and unobtrusive way.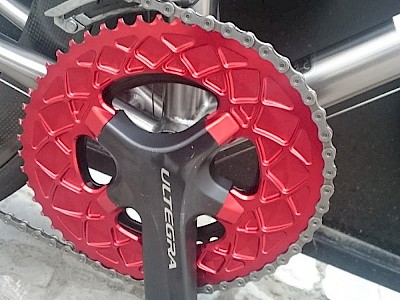 When I was riding with the guys I definitely felt I've got an advantage here. Best keep it to myself - happy days!
Shifting from big ring to small was also very smooth, which surprised me - no chain drop - spot on.
When on the big ring and pressing on, I was flying. Once you're in your rhythm it seems easier to hold at speed, much easier than being on a conventional ring, again very smooth, and I can feel the stiffness of the ring (15% stiffer than Rotor) and the power from legs is unbroken on your pedal stroke and the transfer of torque to the rear wheel seems more direct as appose to a traditional round ring.
I rode these rings for 700k with 1000m of climbing in 5 days in some of the most demanding climbs in Portugal and I can honestly say they were a massive advantage, also your legs do keep fresher for longer.
For triathlon and duathlon, they would be perfect as they take a lot of strain off your legs, especially from your knees and if you're a cramp sufferer.
Speaking for myself, the issue is that I don't want my fellow riders to have them as I can definitely say I have an advantage and feel the need to put them on my other bikes.
These rings have totally shifted my thinking of the oval ring to a 100% positive conclusion. These are the business!

What cranks do they fit on? Shimano, Shram (more details on website) also ok with Di2, Pioneer, SRM and other power meters.
Obviously make sure to choose the right size ring for what you need, Absolute Black have a great website which guide you on what rings are right for you whether its for a Road, MTB, Gravel bike.
Also, there is no annoying timing adjustment, i.e. moving the ring for different kinds of terrain, since they have the design of the oval perfect and this is what it makes it a cut above the rest, not to mention the pure quality of the product. You can mix the rings with your standard and oval but I don't see the point unless it a cost issue. If you want a secret weapon then buy these!
Price around £86 a ring - for more details head on over to absoluteblack.cc.