If you have read my previous blog reviewing the Absoluteblack Oval Chainrings you would have known that I really did put them to the test on my road bike including racing, training and touring amassing 700km in 5 days. In this latest blog though I put them to the test after a half marathon to see how well they hold up in a Duathlon/Triathlon scenario. Will they be any good for achy legs?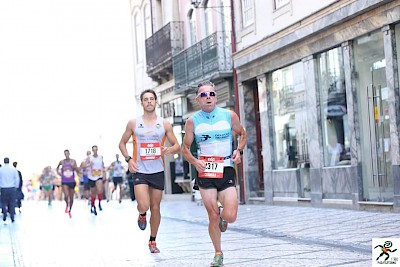 For those that don't know when I originally put the Absoluteblack Oval Chainrings to the test back in June this year, I was completely won over by just how well they worked and I definitely felt they provided an advantage. Even when writing that blog, it made sense to me that these rings would work really well for those who compete in Triathlons and Duathlons as they would take a lot of strain off your legs and knees, this opinion was based on theory however and I felt oblidged to put them to the test to see if I was right. So I entered a half marathon, it would be my first one in a while, which meant my legs would be tired, not to mentioned sore, and my intention was to give it my all, I wasn't there to take things lightly!
The half-marathon was situated in the beautiful city of Coimbra not far from Delucci Retreat, with over 2000 runners taking part. The race started at the historical Coimbra University, high above the city, with closed roads. With a good start, I set off maintaining a decent pace, drinking and eating well. Throughout, I knew I was lacking speed, but this was my first running race for a while, so was to be expected. I managed to finish 2nd in the masters category with a time of 1hr 24mins and not being at my best, I was very happy. With my legs tired from the half-marathon it was time to get on the bike and put the Absoluteblack Oval Chainrings to the test, would they make a difference and aid my ride back to Delucci Retreat or would they become more of a hindrance?
Absoluteblack Oval Chainrings - A good choice for Duathletes and Triathletes?
Susie from Delucci Retreat had kindly driven me to the race, with my bike in the car, and provided some well appreciated support. I took a one hour break straight after the half-marathon to have some food and drink, I then slipped in to my cycle kit - It was time to ride.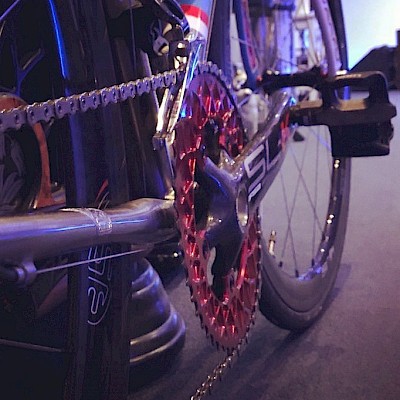 Straightaway, as soon as your legs are peddling you can feel an advantage. I could feel the design of the rings helping me finish my pedal stroke and taking some of the effort away from my legs, in turn making it easier to disperse the lactic acid in the legs from the run. It's a good hour and half cycle back to Delucci Retreat, with a great deal of climbing and gradients as steep as 17%. As I mentioned in my last blog, with these rings you don't have to reset to a different position for different terrain, just put them on the required setting and you're done, no mucking around.
I cannot tell you enough how much these oval rings help after a long run, you can definitely feel the oval ring assisting you through your pedal stroke, but very smooth at the same time and as an added bonus they look good! For me these are a must for duathletes and triathletes, they really do work! Next up I will test on a full TT bike.