You may well have seen that I have created a couple of blogs on Absolute Black Oval chainrings before. One a review, and the other a test for use in Triathlons and Duathlons, both blogs generated a lot of interest. One year on, I thought I'd best do an update!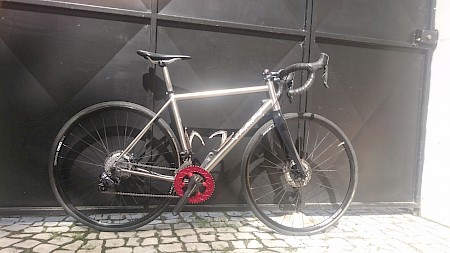 It is fair to say these oval chain rings have been well and truly used in that year, I've used them in Granfondos, touring, duathlon and basically every cycle scenario I've been apart of, they are on every bike I own, this even includes the hire bikes for my customers at Delucci Retreat.
I had the offer to go to Morocco and explore the Atlas Mountains in June with friends, as you would expect from me I was very keen and jumped at the chance. The Atlas Mountains is an extremely popular location currently for cyclists and it would be great to experience what it had to offer and have a real cycling adventure.
I took my Vaaru V8 which was the closet thing to a gravel bike I had. If there was a bit of gravel I thought it would be alright… time would tell I suppose!
Cycling in the Atlas Mountains, Morocco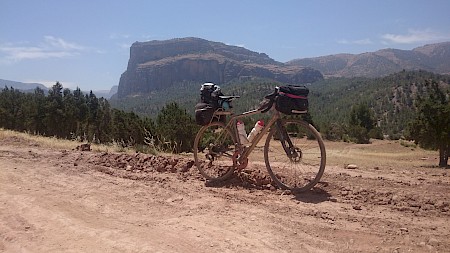 Before I knew it, the adventure had started, the terrain in Morocco was crazy with 70% of it being gravel and stones -this was going to be a challenge for man and machine. We had to ride 600km over 6 days, most of the time at altitude over 2000m to 2500m. I could only fit 25mm tyres on the bike, so I did most of the climbing in the saddle. Cadence was key on the uneven and gravely surfaces.
With rocks and gravel hitting the chain rings every day, and no opportunity to wash the bike or degrease the chain, maintenance was low during this trip. With all this the chainring didn't drop once or get noisy, assisting me up every climb and finishing off that last bit of the pedal stroke for me.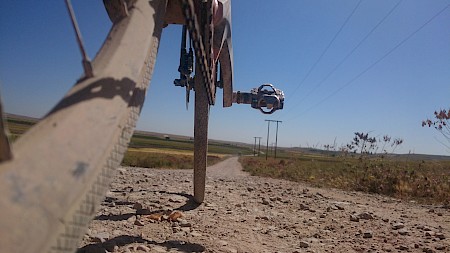 Not once did my chain come off, it was as efficient as ever. If you set the rings correctly then they are perfect! When I first got these from Absolute Black I found the instructions easy and detailed making installation nice and straight forward.
After 6 days of abuse thanks to Morocco's demanding and unforgiving gravel roads the ring's beautiful red shine had been completely covered by dust, mud and whatever else had been thrown at them. Thanks to the dirt they might not look the part, however, they definitely performed the part - they ran as smoothly as the first day.
Road Bike Off Road
This adventure in the Atlas Mountains was the first time I had used the Absoluteblack chain rings off road, and not forgetting these rings were on a road bike with two rings in a mountain bike environment. After this epic journey, I was proud to say neither man or machine was broken!
I took a short video clip to show how well they were spinning after the Atlas Mountains. Remember these rings are over a year old – not bad at all I'd say!
The chain rings on my Octane (my other Vaaru cycle) have done over 1600km on the road and still look great. The sheer quality of the rings shines out from the rest. As I say every time when I test these, they are indeed secret weapons.
I am definitely hooked on these, simply because they work and improve your efficiency on your pedal stroke and are just such good quality in my opinion. If you have enjoyed my reviews and tests on the AbsoluteBlack Oval Chain Rings stay tuned as I will shortly be testing on a TT Bike - that will be interesting!