Invest a little time in maintaining your bike and you will be rewarded. Your bike will be safer, last longer and need fewer repairs.

Learning how to look after your equipment will mean more time spent enjoying the open road, rather than dealing with roadside breakdowns.
To help you out, three experts have shared their top tips to keep your bike running for longer.
Number one touring and leisure cycling magazine. Actively encouraging the nation to get out on their bikes.
1. It's as easy as ABC
Before going out on a long distant or rocky bike ride always ensure you do the A B C check:
A is for air. Always make sure your tyres are pumped with air and they circle round without difficulty. If after pumping your tires with air you still have this problem, look at your brakes or mudguards for friction or possible wobble.
B is for brakes. These are the most important part of your bike so this is a must before going out cycling. You can check if they are working by simply moving the bike forward and pressurising the right-hand brake for the front brakes and then reverse the bike and apply the left lever to check the back brakes.
Finally, C is for chains and cogs. Look for signs of them being rusty or frayed and simply oil them up. Also, make sure you check the saddle and handlebars don't move - overall just look for anything slightly unusual.
2. Take time for TLC
Everything needs a little T.L.C from time to time - including your bike. So ensure you are regularly giving it a check-over to help prevent any problems.
3. Learn to DIY
Learn how to repair your bike so that if you're faced with a broken chain or tire puncture, you can fix it! If something was to break or puncture whilst you were out on a ride, you would need to know how to fix it or you would find yourself pretty stuck!
Top tips from Ernie Feargrieve – Lead Mechanic for Great Britain Cycling Team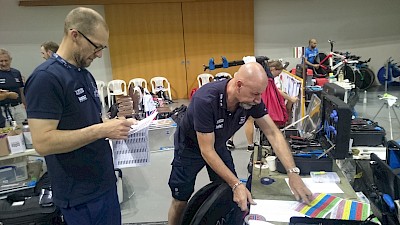 Ernie has been to five Olympics Games as the Lead Mechanic at Major Championships for the Great Britain Cycling Team.
4. Prepare your bike like a pro
There are lots of uses for white vinegar. You might be surprised to hear that it can also help with your performance on the track.
To make you tyres grip more on the track, wipe your tyre clean with white vinegar. If you're cycling competitively, every millisecond is important and tips like this could give you the edge.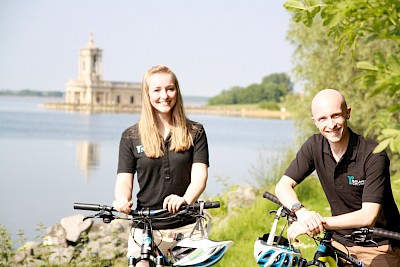 An independent, family-run chain of cycle shops, based in central England. Established in 1981.
5. Safety first
When it comes to bicycle safety, the two most important components are the brakes and the tyres. It's always important to make sure these are working and in good health.
Keep your tyres well pumped up (you'll find a floor pump is much easier to use than a mini pump). Check them for worn patches and cracks, especially if you haven't ridden your bike for a while.
Do replace your tyres if they're worn, as they won't provide good grip on the road, and will be more susceptible to punctures. Your local bike shop can do this for you. Brakes come in a few different varieties. The main thing to check is that when you pull on your brake levers, the brakes apply smoothly and effectively, by the time your levers have moved half the distance towards your handlebars.
If your brake levers are very stiff or are nearly touching your handlebars before the brakes apply, then this is a good indication that your brakes need some attention. Your local bike shop can help. It's worth getting your bike serviced once a year (more often if you're a regular rider) by a qualified mechanic. They can give your bike a thorough check and replace any worn parts.
6. Keep it maintained – a step by step guide
When it comes to day to day maintenance, the best thing you can do to keep your bicycle running smoothly and increase the life of your components is to keep your gears clean and lubricated.
Allowing gunge, dust and dirt to build up on your gears will reduce their working life; slowly grinding away at the cogs, chain and jockey wheels.
Here's a step-by-step guide to cleaning your chain. If you're riding your bike regularly, it's good to do this after every few rides, particularly through the winter months:
1. Using a bike degreaser solution and a brush, gently scrub your chain and cassette to get rid of any black gunge. If you don't enjoy getting your hands dirty, a pair of latex gloves are a good idea. You can also buy a handy chain cleaning tool from any good bike shop, which makes this whole job much easier.
2. Rinse off excess dirt/ degreaser with a bike cleaner solution and then water.
3. Use a water displacer such as GT85 to remove residual water and avoid rusting.
4. Finally – once dry – be sure to use an appropriate chain lubricant (oil) to keep the gears running smoothly. Apply a thin trickle of lube to the chain, as you turn your pedal backwards. Make sure you don't use too much, as this will quickly attract more dust and black gunge, which will probably also decorate your legs and clothing! You can wipe off any excess with a clean, dry cloth.
Becoming familiar with the workings of your bike will stand you in good stead should something go wrong on the road. While keeping up with your equipments maintenance will keep your bike performing better for longer. We hope that you find these expert tips useful and have enjoyed learning how to look after your bike from the best.