2017 has arrived and there are a lot of exciting new scooters heading our way this year, but it could also be your last chance to get hold of some great scooters that are going to be disappearing due to the new Euro 4 emission laws and will no longer be in showrooms after 2017.
We explored the benefits of 125 transport in our previous blog, their nimble handling and fantastic fuel economy make for a great commute and scooters bring with them an iconic sense of style to boot. So if you're thinking of getting a scooter this year, here is a look back at some of the best and most popular 125 scooters of 2016 that are still in a showroom near you!
Vespa PX 125
The first and undoubtedly most iconic scooter on our list is the Vespa PX 125. Vespa celebrated their 70th anniversary in 2016 and the PX has been a mainstay of the Vespa range since its debut in 1978, becoming one of the biggest selling scooters of all time. In 1979 the release of the film Quadrophenia sparked a mod revival and saw a whole new generation grow up with the PX. More than 30 years later the 2016 model keeps most of its original features – the classic aesthetic, a single cylinder 2-stroke engine and despite a modern electronic ignition and electric starter, it still keeps the trademark kick-starter and as of 2016 the PX is the last Vespa model to offer the twist-grip gear change. Unfortunately the new Euro 4 laws are finally putting an end to production of this legendary scooter but the current 2016 versions may still be available in UK dealerships and once they are gone – they are gone forever so grab yours now!
Piaggio Medley 125
A brand new offering from Piaggio the Medley ticks every box – a very competitive price point of only £2,671, a new euro 4 compliant liquid cooled engine designed to reduce noise, deliver a comfortable ride and offer an extremely economical 135mpg! The Medley is Vietnamese-built but still carries all the quality you would expect from Piaggio, packed with modern features like ABS, a fuel saving Start&Stop system and even a phone charger! With class-leading performance for this price what more could you possibly want?
Sinnis Shuttle 125
This budget offering has been growing in popularity and with a starting RRP of £969 it's not hard to see why. The Sinnis Shuttle has the commuter in mind with an emphasis on storage – both a large under seat area and a rear luggage rack which can be fitted with an optional top box. It's not packed with modern features but has sturdy build quality, a great look and will do over 100 miles to the gallon.
Peugeot Speedfight 125
The original Speedfight 50 first appeared in the mid 90's and quickly gained iconic status as one of the forerunners of a new 'sport-scooter' class it went on to sell more than half a million units. In 2014 Peugeot released a 125cc version that's still going strong today with a four-stroke air-cooled engine that offers nippy and responsive performance and a sharp sporty design that will turn heads. With an RRP of £2299 the Speedfight 125 is a good choice for anyone who wants a commuter with a bit more attitude.
Sym Jet 125
The Sym Jet 4 125 sits somewhere in the middle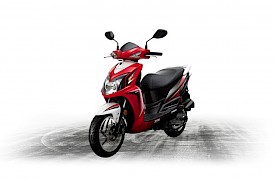 of our list in both performance and price. The 2016 model starts at £1799 and makes for a great economical commuter with an environmentally friendly 4-stroke engine and a sharp stylised sport look that younger riders may gravitate towards. It lacks technology features like ABS but has all the essentials covered with a good build quality and performance.
Honda PCX 125
The PCX 125 has sat at the top of the 125 class for a while now and was last year's biggest seller although the emergence of Piaggio's Medley as a true rival could change that in 2017. The PCX is another scooter that ticks every box - the famous rock-solid Honda build quality, eye catching style and economic performance and price. Starting at £2699 you get a whole host of modern features including led lights, low-rolling resistance tyres, phone charger, a fuel saving idle stop system and eco-friendly 4-stroke liquid cooled engine that delivers 133mpg.
Scomadi TL 125
The TL125 is the latest offering from Scomadi – a relative newcomer to the scene, British designed and Chinese built. What marks the Scomadi apart is that it's a modern homage to classic scooters reminiscent of a vintage Lambretta with a very reasonable price tag at £2571. It's modernised to fit in with Euro 4 regulations and features a rear led light and electric ignition although it does still have a kick-starter. Scomadi know how important to scooter enthusiasts customisation is and the TL comes in a host of colour variations including carbon and chrome effects and already has a variety of optional extras available as well. Scomadi's drew a lot of attention every time we saw one at a rally last year and with impressive sales in 2016 we expect to see plenty more this year.
The prices given are based on the guidelines at the time of writing and may change over time. Total costs may also be subject to on the road charges, it is best to contact your local dealer and find out the most up to date prices and availability, and then come back to us for a great scooter insurance quote!