When Lexham asked me to choose my top ten scooters I was initially really excited as I have seen so many stunning ones over the years. However, after looking back through my photo albums I realised how difficult it would be, like picking your favourite songs when there are so many to choose from.
I've split my top ten into two, with five from the 1980s and five from modern times. I know it will be controversial because everyone has different tastes. I'm sure most people will disagree with my choices, but that's what's so great about our diverse scooter scene.
I've restricted myself to scooters that I've seen in person. This is partly because it narrows it down slightly but also because I think you need to see a scooter at close quarters to really appreciate the paintwork, chrome and engraving.
---
My Top 5 Scooters From The 1980s
Number 5 - Enchanted Dream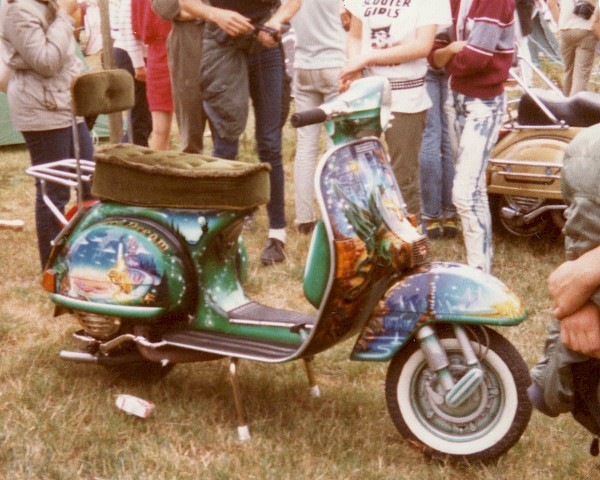 I first saw Enchanted Dream at Brighton in 1982, my first rally, and it was the first custom scooter that I completely drooled over. I thought it was really smart, with lovely murals and great colours. Fantasy paintjobs were really popular back then, with others like Worlds Apart and Time Tells No Lies continuing the trend.
In retrospect I don't think I really noticed the seat which really doesn't go with the rest of the scooter, as my eyes were drawn towards the panels and mudguard. Enchanted Dream may not have had the engraving or finish, but it certainly got a lot of attention in its day and inspired many other scooter builders.
This photo was taken at the Isle of Wight in 1984 at the custom show where it was lined up with some of the others in my top five below.
---
Number 4 – Italian Stallion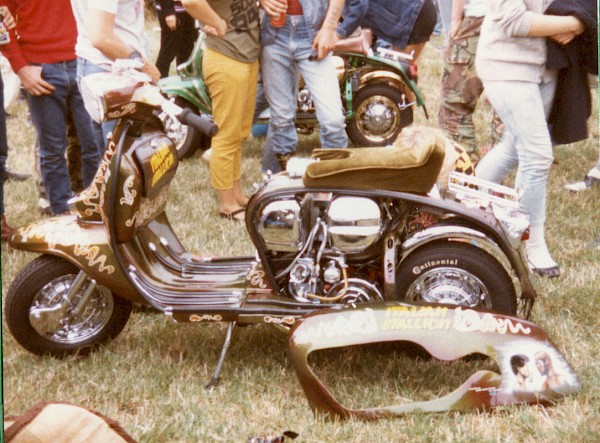 This is another photo taken from the Isle of Wight custom show in 1984. Italian Stallion was inspired by the Rocky III film from 1982, starring Sylvester Stallone and Mr T.
It's one of those custom scooters which has had multiple sprayjobs in its time, with a later version featuring a lighter, cream colour. I remember being impressed by the chrome and engraving, and also the cutouts on the panels.
---
Number 3 - Dazzle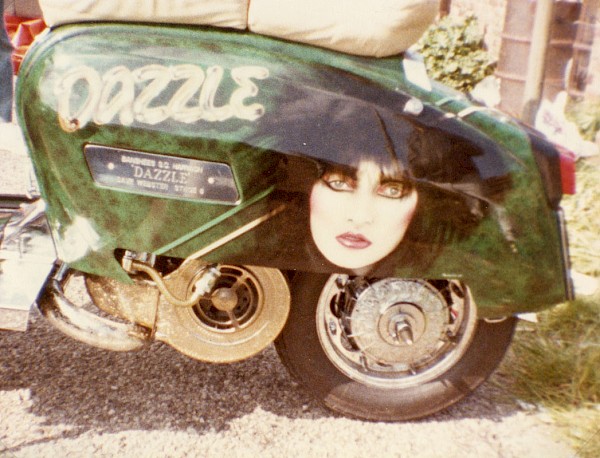 I first saw Dazzle when it was blue, and then when it was resprayed green I remember the buzz going around about how stunning it was. I couldn't wait to see it in person and got my wish at Great Yarmouth in 1985. The details were incredible, from the gold plating and engraving to the pike nuts and chrome.
The paintjob was the work of Paul Karslake, and it features fantastic murals of Siouxsie Sioux, with Dazzle being a Siouxsie And The Banshees song from their sixth album Hyaena.
---
Number 2 – Little Rascal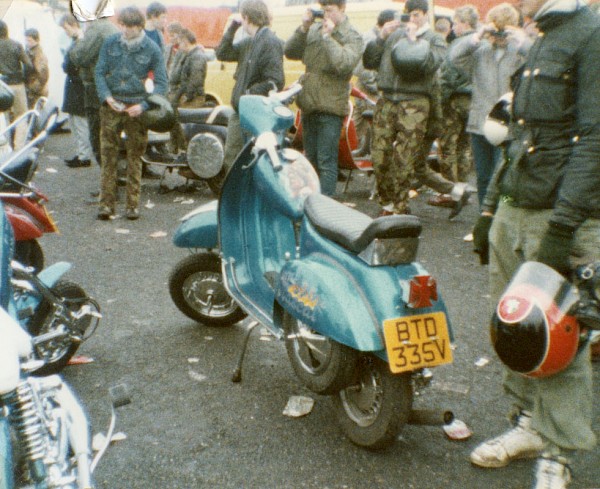 There didn't seem to be many chopped Vespas back in the 80s, but Little Rascal was definitely the best in my opinion. It had cutdown legshields, panels and back end, with 4.5" extended forks and a petrol tank in front of the seat. The paintjob was a lovely candy blue, with metalflake applied over the top. It had plenty of chrome and the obligatory 1980s pike nuts. Finished off with some murals, it was a really eyecatching scooter and won countless trophies.
It was first seen in 1984 and I remember seeing it at the Isle of Wight that year, but the photo above was taken at Morecambe in 1985.
---
Number 1 - Mytho Poeikon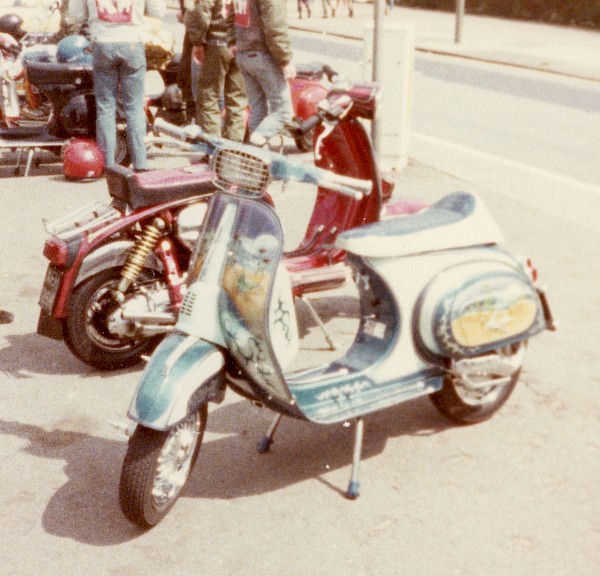 I think I loved Mytho Poeikon so much because it was one of the few full-blown custom smallframes I'd seen. There still aren't many around, certainly not to this standard. The blue and white paintwork was complemented with fantasy murals, plenty of chrome, a smart seat and a bit of engraving.
The murals are inspired by artist Patrick Woodroffe who illustrated various science fiction books and record covers.
---
So there you have my top 5 scooters from the 1980s, now for the modern ones.
My Top 5 Modern Scooters
Number 5 – Old Blue
I do like a street-style Lambretta and this one is a bit special. When I saw it at the Modrapheniacs rally this year I was drawn to all the fabrication, the custom bits and attention to detail. It's owned by Colin Barratt from Lowriders SC and you can read the full spec in my blog here.
It's got a Yamaha RD350 engine, twin exhausts, electric Kliktronic gear change and has a recorded top speed of 94mph, but there was more in it. Just wow!
---
Number 4 - Meat Is Murder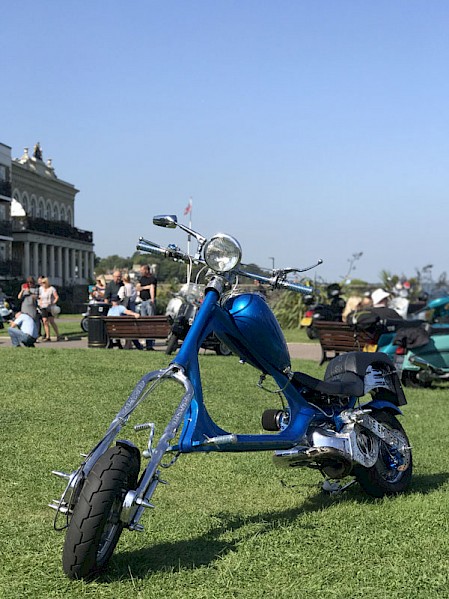 This may feel like favouritism but my husband's chop has got to be in my top 5! Originally built in the 1980s, Meat Is Murder had a new lick of paint and a ton of new fabrication, engraving and chrome in 2008. The engine was rebuilt too and sent off to Taffspeed for tuning. John Spurgeon provided the paintwork and the engraving is the work of the late, great Pete Robinson.
I love all the special bits and know how much thought and care has gone into them, not to mention the money! From the design of the seat to the cutouts in the flywheel and rear disc brake, it was all unique and designed by Lee. It's not the most practical scooter to ride, or carry stuff to a rally, but it's a beauty.
---
Number 3 - Psychological Damage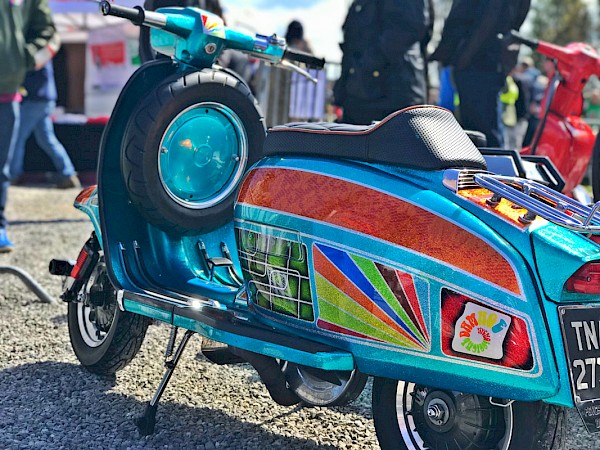 I do have a thing about colourful scooters at the moment, and Psychological Damage certainly ticks that box. When it pulled up at Weston this year I immediately dashed over for photos as I loved it so much.
The paint is by Riding Dirty Customs and is stunning. It's a metalflake overload and really sparkled in the sun, not surprisingly winning the trophy for Best Paint.
---
Number 2 – Roy Lichtenstein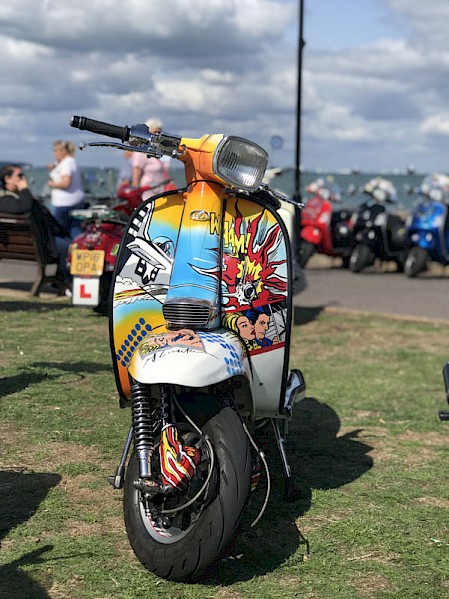 Continuing the colourful theme is this GP, which pays homage to pop artist Roy Lichtenstein. It's owned by Pete Sawczuk of the Scunthorpe Silhouettes Lambretta Club and really carries the theme throughout the scooter.
The paint is by Dave Dickinson and the matching seat by John Corcoran. It's just so eyecatching and the quality of the paint is incredible.
---
Number 1 - Trafalgar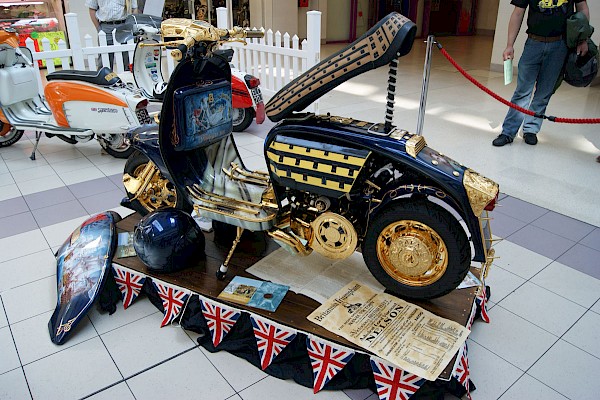 I'm not sure whether it's my childhood memories of visiting HMS Victory on school trips in the 1970s but Trafalgar just seems to have the best theme and build of any modern scooter. I remember seeing it for the first time and marvelling at how much time and money had been lavished on it.
Not surprisingly it won Best Engraving, Best Lambretta and Best In Show at the Isle of Wight custom show when it was first revealed in 2005 having been built to commemorate the 200th anniversary of the Battle Of Trafalgar. The gold plating and engraving are insane, and there are so many details. The embroidery on the seat, the cannon-shaped nuts on the engine, the military buttons where the sprint rack goes.
I love scooters that have extended the theme into every conceivable space, every part and surface – which Trafalgar does perfectly.
---
So there you have my top five modern scooters. I can't believe there are no Vespas there! I'm a Vespa girl at heart, but I went through all my photos and none could replace the choices above, and I didn't want to choose one just to make up the numbers, to provide a false equality.
We are off to Scooter Expo later this month where I will see a whole host of custom scooters and will no doubt come away with a different top 5! Hopefully it will include a couple of Vespas…
What would be your favourite scooters? It's much harder to choose than you'd think!
For more amazing scooter and rally content, head over to Ali's website at: Diary Of A Detour