You can't fail to notice classic scooters either on the road, on TV programmes or in adverts. There's a reason they're all over the place and that's because they're the epitome of cool, although it's taken 70 years for the general public to realise just how stylish they are.
Back in the day us young scooterists were outcasts, shunned by society and mocked by others of our age. The same people who gave us grief for our 'Hairdryers' in the 1980s are the people who are flocking to buy into our scene. Trying to recreate what they saw us doing over 30 years ago, albeit on modern retro scooters as opposed to classic Vespas and Lambrettas. The modern scooters have also started to attract a good few youngsters on to two wheels, which can only be a good thing.
If you're one of the many thousands who want to get yourself on to retro wheels here's a quick rundown of five marques that you need to consider.
---
Lambretta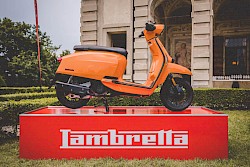 The latest scooter to emerge into the retro market is the Lambretta V-Special. It was launched in Italy recently to a crowd of 2,000 die-hard traditional Lambretta riders. Unsurprisingly it's not their cup of tea but it will appeal to the blossoming retro market. The Lambretta comes in a choice of 50cc, 125cc and there will be a 200cc coming next year, as well as an electric version. Prices haven't been set yet but although you're not buying a bona fide classic Lambretta the iconic brand name will probably make it more expensive than many similar retro scooters.
---
Peugeot
The Peugeot Django is a surprisingly good choice as a retro scooter. It's like nothing else out there, unusual in itself and can only be a good thing. Why copy when you can create your own niche? It's fairly quick, well built and good looking as well. There's already a good selection of accessories, exhausts and tuning kits available for the Django so don't overlook this model.
---
Royal Alloy
This particular hot potato hasn't even arrived yet but has already caused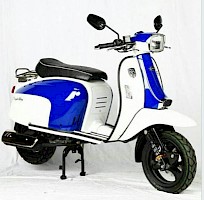 internet wars and court cases. The controversy comes from the fact that it's made by a certain factory who were originally building the virtually identical Scomadi. Royal Alloy are also in direct competition with Scomadi who have upped sticks and moved production from Hanway in China to a new factory in Thailand, in a bid to improve quality and increase production. Although the first Royal Alloy scooters were due in April it's all gone very quiet and we expect it will stay that way until the court rules either for or against the rival. Expect to pay around £2500 for a GT125.
---
Scomadi
Developed by two English bus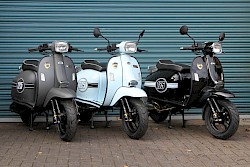 inessmen, the Scomadi arrived with a bang. Suddenly you could buy a brand new automatic scooter with the look and style of a Lambretta GP. Sales rocketed, middle-aged men pestered wives to allow them to buy one and demand outstripped supply. As mentioned before, Scomadi have set up production in Thailand now and we should see the new models before the end of the summer with any luck. The Turismo Technica 200 has already been shown in Bangkok and the improvements will be worth waiting for.
---
Vespa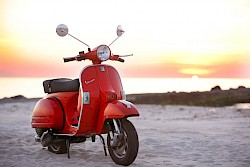 Although Vespa is the only original scooter manufacturer to have survived since day one they've recently dropped their timeless PX model. The geared two-stroke scooter has done well to survive until Euro 4 but sadly the last few models are in dealers now. Will parent company, Piaggio bring it back as an up to date four-stroke machine? Rumours are that they will but we'll have to wait and see. It's a shame that in a buoyant retro market one of the scooter pioneers has failed to cash in by bringing it's own back catalogue up to date. It's like owning Coca Cola but not selling coke.
---
LML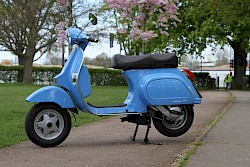 Indian company LML made Vespa under licence for their home market but have since gone on to sell them around the world. It's a company with a troubled history; strikes, factory closures and uncertainty have plagued the brand and still continue to do so. They're currently under an insolvency notice so the future is less than rosy. Even so the LML Star and Lite are the closest you can get to a traditional looking new Vespa at the minute. Get one whilst you still can….
---
Make friends and influence
Whatever you choose, be it a classic or modern scooter you'll be sure to make new friends and happy memories wherever you ride. Don't just think about it though, get out there and start doing it.