Probably due to the fact that we all hope never have to claim on a motor insurance policy, nobody really likes to pay for it. It is however one of the legalities that goes hand-in-hand with riding a motor scooter in this country, so like it or not we are all obliged to cough up.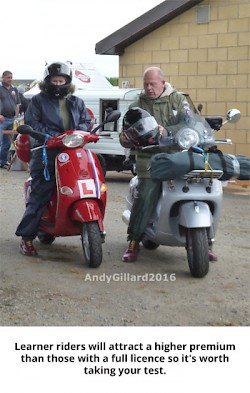 However, there are ways to make sure you don't over pay for the scooter insurance you need, so here are a few tips…
Licence and Training
Insurance is based on risk and it stands to reason that an inexperienced rider is likely to have more accidents than one with plenty of miles under their belt. First and foremost pass your bike test and get a full licence. Not only will this reduce your insurance premium but the training you receive along the way should prove very useful too.
If you have passed your test, consider taking an approved advanced rider training course. Again there is the opportunity to learn new skills, but also a number of insurance companies will offer a discount if you have taken certain courses.
Your scooter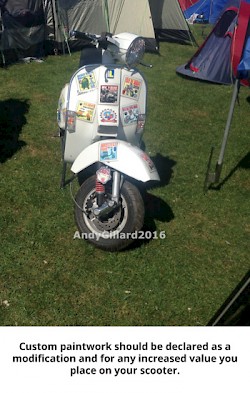 The more powerful and expensive the scooter, the higher your insurance premium will be. Not only is there a greater chance of someone crashing a faster scooter, but the more it costs to buy then the more it costs to repair or replace. If you are a novice rider then don't set your sights too high to begin with. Get to grips with riding on a cheaper, low capacity machine and progress up. Different insurance companies will have set ages when insurance becomes cheaper so ask their advice of when is best to sell your 125 and buy something bigger. Equally, classic scooter insurance often applies only to riders of a certain age, along with the bikes too, so check out the qualifying criteria before splaying out on your dream 277cc Maicoletta from the 1960s.
Watch the Mods
Aftermarket modifications and accessories can have more than one effect on your insurance. Like a magpie is to shiny things, thieves may be more attracted to a scooter with added bling or go-faster goodies bolted on to it.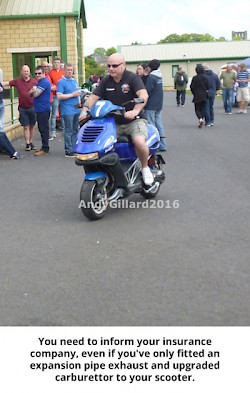 Insurance companies will also see certain engine modifications as an increase in risk, especially with regards to tuning your scooter. If you increase your 125cc scooter's performance to that of a 250 then expect to be insured as a 250, or higher.
Higher? Yes. As it is altering the factory specification of the vehicle an insurance company may ask for an engineers' report to prove the mods have been done correctly. They may also refuse to insure you altogether.
Not only that, but if your scooter is stolen and you've not told your insurance company about any extras on it, then they are unlikely to pay for those accessories. This can include anything from expensive suspension to performance exhausts, spotlights and mirrors, rare period accessories, or basic luggage. Note also that a custom paintjob is also worth declaring too, as are an abundance of standard parts you may have had chrome plated.
Usage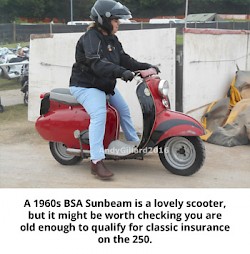 The less you ride your scooter, so the odds of an accident are reduced. If you only use it for a Sunday rideout on a summer's day then ask about premium discounts for maximum mileage. Some companies even offer special winter insurance when your scooter might be laid up in the garage for a few months and not ridden at all.