The Diablo is Lexmoto's current flagship sports scooter and I was able to have this little beast for just over two weeks to road test. Was this stylish little scooter going to be all looks or does it have enough quality to be a great little scooter?

Italian Styled, Chinese Made
As the Lexmoto Diablo was being wheeled out of the long wheel-based van, I was instantly surprised by the looks. As scooters go this was definitely on the attractive side of the scale, in fact I would say it was near the top.
With it's typical Italian sporty styling (more about this in a second) and those telescopic forks it really does look nice and mean - not something you can normally say about a scooter aesthetics. It is the type of scooter you'd be proud to park up, and even happier returning to.
So onto those Italian looks, well this is thanks to Longjia (the Chinese factory who produce the Diablo) working in conjunction with sports scooter aficionados Italjet. The Diablo was designed to be the new Italjet Formula, Longjia though had the bike available for other brands to take on as well and lo and behold we now have the Lexmoto Diablo EFI.
2019 has seen Lexmoto bring in an additional two colourways too, which include black/grey and black/orange options so further colours options to take your fancy.

Engine
The Diablo packs a 6.5kw electronic fuel injection engine which is currently Lexmoto's most powerful motor in their scooter range. Now when you compare this to some of its rivals, it is fair to say this little devil is a little bit down on fire power - though does it really matter?
This little scooter with small wheels and short wheelbase is designed with town and cities in mind, so not exactly designed with land speed records in mind. The engine is nice and smooth and it accelerates to 40mph relatively quickly, anything on top of this tends to be a bit slow, but it remains nice and stable.
Depending on the roads you can expect the Diablo to max out around 55mph. On a decent stretch of flat dual carriage way I saw an indicated 61mph on the dash, but it did take quite some distance and full tuck to get there.
You can have reassurance in the engine, it is quite popular in the scooter scene with the likes of the Scomadi TL 125 and Royal Alloy GT & GPs all having used the same engine.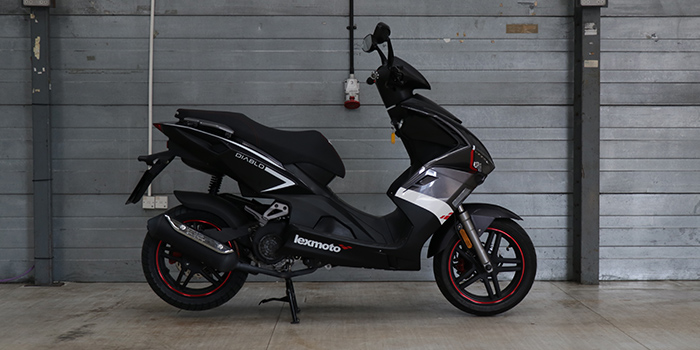 Bits and pieces
The Diablo undertook some changes in 2017 to meet euro4 emission regulations, so we now have Electronic Fuel Ignition, and Combined Braking which I found out to work perfectly well. You get a simple yet respectable dash that even tells you the date and time, LED headlight and indicators. For bump soaking there are the twin telescopic forks at the front and the rear suspension is handled by a single shock absorber. The underseat storage is a bit on the small side, and unlikely to store a full-face helmet so a heads up on that, though still great storage space nonetheless and is always handy to carry any small belongings or bike security like a chain.
Price
OK, so we know the Diablo is a pretty little thing, but it is also a rather affordable little thing too. Lexmoto currently have the Diablo up at £1599.99 which includes a 2-year warranty. Making it a great affordable scooter for those who want a new scooter but are budget conscious.
On the road
Blasting around on the tarmac this little scooter is what every scooter should be.. fun.
It is light, extremely nimble, comfortable and as yet hasn't failed to put a smile on my face. I may be on the small side at 5' 6" and not the heaviest at under 12 stone, but Alex who is a giant compared to me at 6' 4" has had a few blasts on the Diablo and loves it too. OK it feels a little bit small and tight at times, but it still rides surprisingly well, and always left Alex smiling too, so even those of a taller stature will likely love riding this scooter.
Buzzing around town is extremely enjoyable and almost effortless, turning is done with ease and you feel confident in the bike's manoeuvrability. I found on a couple of occasions that I had thought I had put my indicator on but had failed to, I made sure to be a bit firmer on the switch from this point on all was fine after that.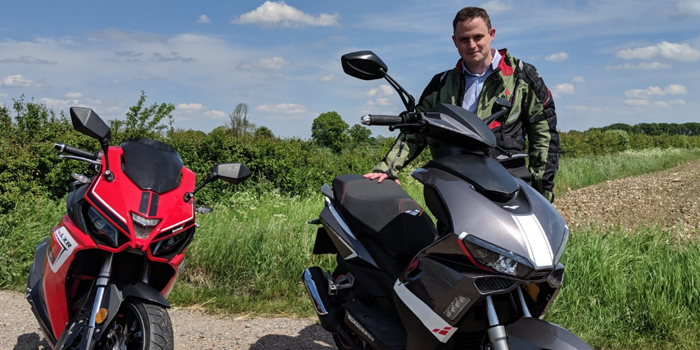 Final thoughts
So to summarise, Lexmoto have available an affordable and very stylish scooter which would be loved by newbies to the biking world or seasoned commuters alike.
Performance wise it is everything you'd expect from a small scooter, lacking a tiny bit on the top end but unless you are doing lots of driving on fast roads, I don't think that would bother you.
Some people are soon put off with Chinese produced scooters and motorbikes, but nothing from my time with the Diablo has come across cheap or bad quality in fact it seems pretty much spot on. The engine seems nice and smooth with no issues at all, the bodywork looks great and all lined up as it should be. No signs of bad paintwork or misaligned panels – it all looks rather smart.
It's been a while since I have buzzed around on a scooter, but the Lexmoto has soon reminded me of just how much fun they are.
Lexmoto Diablo 125 Stats

| | |
| --- | --- |
| Model Code | LJ125T-8M-E4 |
| Fuel Capacity | 6 litres |
| Max Speed | 55 mph / 90 kph |
| Max Power | 8bhp / 6.5kw @ 7500 |
| Engine | Single cylinder, 4-stroke, air-cooled |
| Start Type | Electric & kick-start |
| Front & Rear Brakes | Hydraulic discs |
| Front Suspension | Telescopic forks |
| Rear Suspension | Single shock absorber |
| Seat Height | 790mm |
| Wheelbase | 1305mm |
| Wet Weight | 114kg |
| Speedo | Digital |
| Stand | Centre & side stand |
| Warranty | 2 years |
| Price (correct at time of article) | £1599.99 |