The Isle Of Wight scooter rally is like Marmite, you either love it or hate it. For me it's my favourite rally of the year and I can't think of many things I'd rather do than riding my scooter around the island's country lanes on a sunny summer's day.
As soon as we leave Portsmouth on the ferry my heart soars and I am gutted when we ride back to Fishbourne and board the boat for the trip back to the mainland.
It's like a beacon in my calendar, my most eagerly awaited weekend of the year, so how did it all start?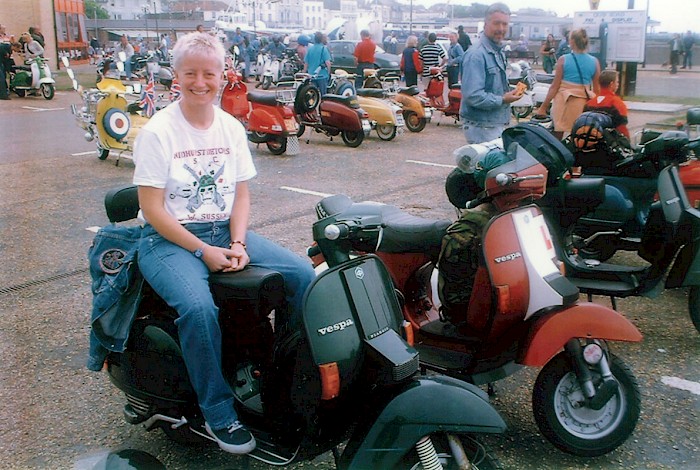 My First Isle of Wight Rally - '82 - '83
I first went to the Isle of Wight scooter rally in 1982. I was only 15 and my Mum wouldn't let me stay over even if I could have got a lift on the back of someone. So my best friend Debbie and I jumped on a train and then the passenger ferry to Ryde pier. We arrived on the green at the bottom of Union Street and I was in scooter heaven. The smell of two stroke and sound of exhausts buzzing around, I couldn't have been happier. We then got a lift to Smallbrook from my then-boyfriend and his mate on their 50 Specials and arrived at the real hub of the rally. I couldn't believe all the fantastic scooters that were there, and there was such a fantastic atmosphere. It made me even more excited to get my own scooter, which finally happened once I'd turned 16 just a few months later.
But 1983 was the first Isle of Wight rally I'd ridden to. I had previously ridden to Weymouth on my Vespa 50 Special so the island was easy, just 25 miles to Portsmouth and then over on the ferry. It was another sunny one too, but what made this year memorable is that I had my first ever scooter crash. It was at a set of crossroads in Ryde which were controlled by traffic lights. I needed to turn right and thought an oncoming car had waved me over, but he hadn't and knocked me off my pride and joy! I was distraught as my lovely scooter had a damaged fairing, mudguard and side panel. Luckily I was OK but it was no consolation as I'd probably have been happier with a broken arm rather than a bashed-up scooter. I still pass those crossroads every year and a shiver goes down my spine at the memory of the crash!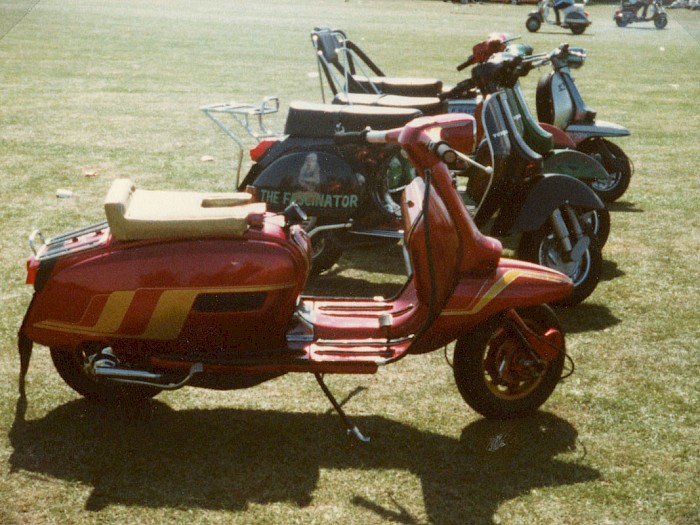 PX200E, VFM do, Edwin Starr - '84 - '85+
By 1984 I'd passed my test and rode my shiny new PX200E to the Isle of Wight. At this rally I went to the first ever VFM do, organised by Nick Jolly and Kev 'Lowey' Lowe, which offered an alternative to the neverending soul music played at the official dos. I don't really remember much about it except the long, drunken walk back to Smallbrook along the windy country lanes. Who'd have thought the VFM collective would still be organising rallies there, and I'd still be attending, 35 years later! It was also the year when Edwin Starr performed on the campsite and endeared himself to scooterists forever with his special version of 'Na Na Hey Hey Goodbye', changing the words to 'Na Na Hey Hey Scooter Run'!
1985 was the year of torrential rain and it flooded our tent so we spent the Friday night in the ladies toilet block, wide awake. All our stuff was soaking wet and we were cold and fed up so we cut our losses and headed back to the mainland. Just as we docked in Portsmouth the sun came out and the rest of the weekend was sunny! We were gutted but I was consoled by a superb performance by my team, Portsmouth, beating Carlisle 4-0, which I'd have missed if I'd been at the rally. It did sadly mean that I wasn't there for the iconic muddy performance by King Kurt though.
The rest of the 1980s passed in a haze and then in the early 90s my scooter was stolen so I disappeared from the scene for a few years.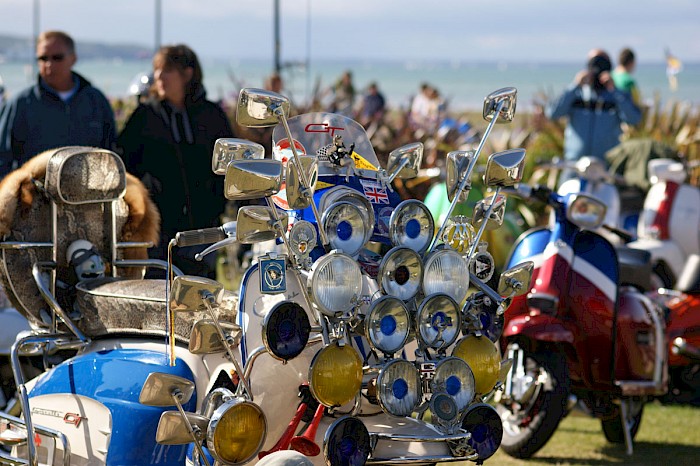 Encore, Hipshaker nights, mods galore - '99 - '01
Fast forward to 1999 and I had the chance to go to the Isle of Wight again, as a result of discovering the Hipshaker nights in Southsea. They took their 60s nights over to the island for the rally weekend and I borrowed DJ Dave's PX while he went over in the van with all the gear. The magic was back! I had a whale of a time, meeting lots of new friends and my love of the rally was reinstated. It was very moddy back in those days, with the New Untouchables putting on dos and hundreds of hardcore mods attending, possibly even outnumbering the scooterists. This changed in 2004 when they migrated to Brighton, freeing up island venues and hotels for the rest of us.
As a result of my born-again status, I bought another new Vespa PX200E in blue, exactly the same as my 1980s one. I rode it to the Isle of Wight in 2000 and it was a great rally, hanging out with the Talismen SC and getting extremely drunk at the VFM do in the nightclub at the Westridge Centre, near the big Tesco in Ryde. I'd definitely got the bug back! I managed to burn my clutch out during the rideout too, something which is easily done when you're going really slowly through the island's towns. There was also a sudden downpour so we bailed out and took refuge in a Sandown pub.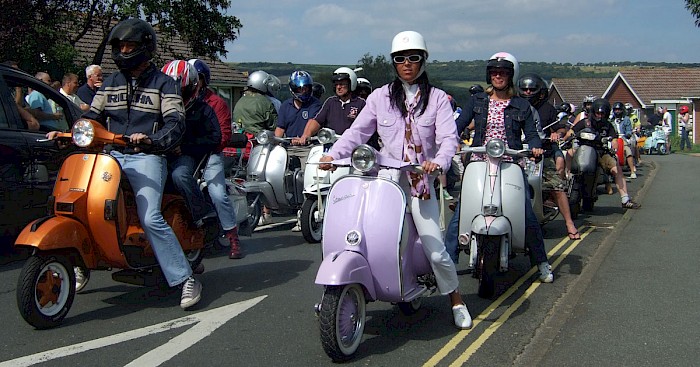 In 2001 I met my now-husband Lee across the breakfast table in our B&B. It was getting busier so the VFM do was at the ice rink in the town, a big venue where it stayed for 15 years or so. We saw some great bands there over those years, from Bad Manners to Edwin Starr, Secret Affair to the Aggrolites and many more.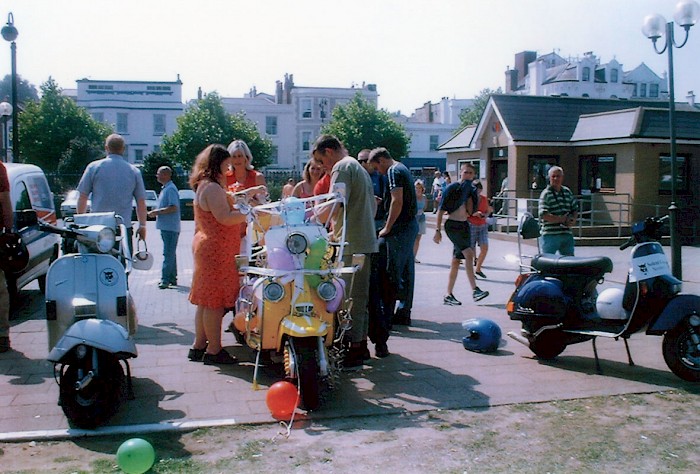 Fancy dress and rideouts!
The rideouts are legendary too, with thousands of people lining the streets ready to wave at the thousands of scooters riding past. Many riders would dress up for the occasion, the best of which for me was when a banana was followed by a group of monkeys down Union Street. It was a sight to behold! For a few years the end point was at Sandown Rugby Club and Tony Class would set up his disco to entertain everyone when they arrived.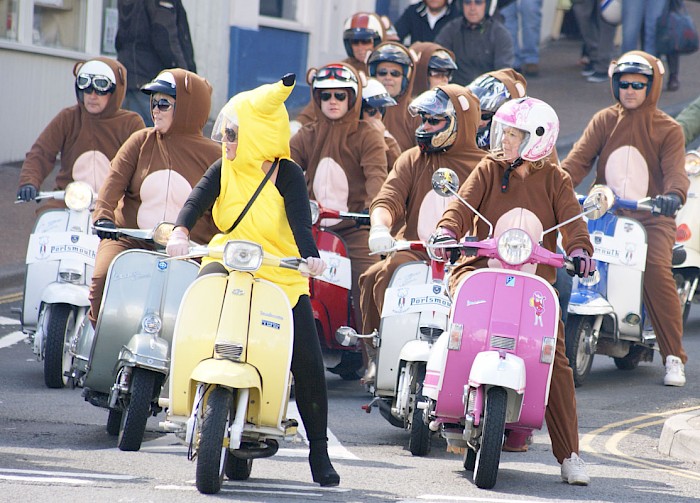 DJ sets, parties and my wedding - '06 - '10
For my 40th birthday in 2006 I wanted to mark this special year by doing some DJ sets. Emma Cox kindly let me spin a few tunes at her do in Yelfs, and then Steve Foster let me play for half an hour on the Sunday night at the Balcony Bar. I loved it, there's nothing like a floor full of happy dancers to make me happy behind the decks!
One of our most memorable years was 2010 when Lee and I got married on the Thursday before the rally in Yelfs Hotel in Ryde. We then had a massive party at Ryde Castle Hotel and spent our honeymoon at the rally. Every year is now our anniversary which makes it even more special for us.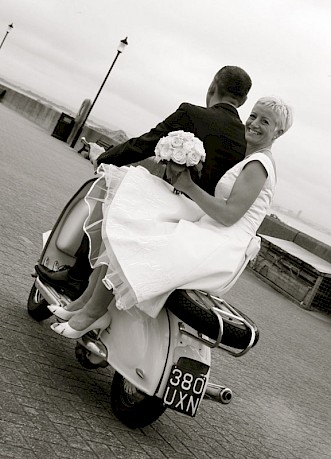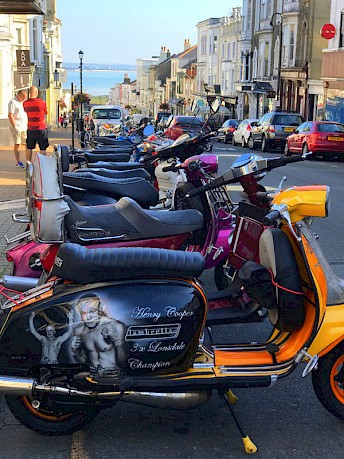 And now, in 2019. What to do, where to go, who to see...
It's nearly 40 years since that first visit back in the early 1980s. Much has changed, but a lot stays the same too. The green is still heaving with scooters all weekend. Smallbrook is still the focal point although you'll find pockets of scooterists in all the major island towns and campsites. The rideout was decimated by torrential rain last year, so I'm keeping my fingers crossed for better weather this year.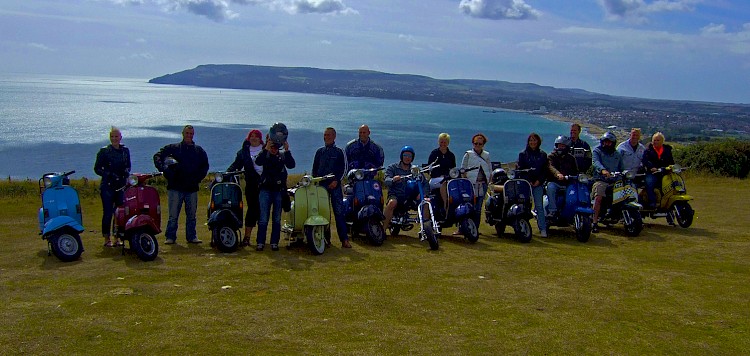 My main tip for the weekend is to ride around the island and take in some of the breathtaking views. Some of the best places to do this are at the top of Culver Down where there's a great pub which is perfect for an al fresco lunch. Brading Down is stunning too, with views over the rolling hills towards Sandown and Shanklin. We also love having lunch at the Propellor Inn which is right next to Bembridge Airport. It's so peaceful, except for the occasional sound of gliders taking off or scooters riding past!
I've written a comprehensive guide to the rally with all you need to know about accommodation, entertainment and what to do if you break down! Here's a link – and if you spot me on the island do come and say hello!
---
For more amazing scooter and rally content, head over to Ali's website at: Diary Of A Detour