As much as a modern new scooter is great at getting you around, reliable and economical you can't beat a classic machine. They have soul, character and the kind of charm a new scooter will never match.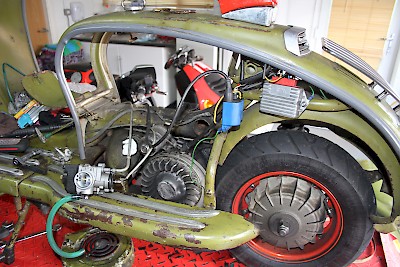 There's a trade off though, with those attributes also comes a need to keep on top of routine maintenance and be prepared to enjoy the odd breakdown or minor mishap. Especially if you're not mechanically minded, or have never owned a classic before. Here are some practical tips for anybody looking to buy their first classic Vespa or Lambretta.
Do your research
If you're not really familiar with scooters learn as much about the different models as possible before buying the first one you see. Not all that glitters is gold; there are plenty of nice looking imports from Vietnam and India. Most of them come sprayed up quite nicely but look beneath the surface and they can quite often be dodgier than a bad curry. Welded together frames, engine internals fabricated from baked bean cans and components well past their best are just some of the horrors disappointed buyers have come across. If you're in the know a 'Nammer' as these Vietnamese bodge jobs are called, is fairly easy to spot, garish paint jobs and unusual seats or accessories are a few clues to look out for. If you're unsure abut a potential purchase ask on internet forums or Facebook groups before parting with your cash. Scooterists will quickly shoot your new 'dream' machine down in flames if the dealer or scooter is anything but legit.
Buying without a registration
It's fairly common to buy a classic scooter without registration documents; there are lots of people importing them from abroad. Many are unrestored, unloved fairly original scooters that will want a complete rebuild. They may look very rough but these can actually be a good buy if you shop wisely. Make sure you buy with a NOVA certificate if at all possible though; it'll make the eventual registration more straightforward. It's a good idea to join either the Lambretta Club of Great Britain (LCGB) or Vintage Motor Scooter Club (VMSC), both clubs will help with advice, sourcing parts, issuing dating certificates and registering your pride and joy.
Getting spares
The thriving scooter scene and demand for iconic machines means virtually all parts are available, either genuine or remade. Shops and companies specialise in making sure parts are available whether you're planning a complete rebuild, or building a scooter from scratch.
Read up
Whether you're planning to do it yourself, or let the experts get your scooter on the road it's essential that you know your way around the scooter. It may only be a fairly simple air-cooled two stroke engine but that doesn't mean you'll not need to get your hands dirty. Things do and will go wrong, knowing how to change a gear cable in the dark, fit a spare wheel after a puncture or adjust the clutch is all part of classic scooter ownership. Get a manual about your scooter; Lambretta owners need a copy of Sticky's Complete Spanner's Manual. Vespa owners should buy a Haynes manual for their model. A little knowledge is better than none.
Don't be put off
Owning a classic scooter is well worth the hassle, it may not be perfect to start with but with time and perseverance you'll have a scooter that stirs the soul, some days you'll hate it, others you'll love it. Get out and buy one, find a winter project if you're that way inclined, or a running restored beauty. Either way you'll be looking forward to next spring.