Sadly, nowadays it's all too common to see motorcycle thefts and their somewhat depressing stats mentioned in the media.
Motorcycle and Scooter theftt, however much we wish to think will never happen to ourselves are very common and can happen to any motorcyclist, the best we can do is to try and prevent our pride and joy being stolen, and to do that we need to make sure they are secure as possible wherever you park them up. It is worth remembering that unfortunately, the motorcycle theft business has become quite organised, so even bikes that have a high level of security can still be targeted if deemed a worthy risk by some thieves.
In this blog, I will talk through the most common security methods and some of the products available for all budgets in an attempt to try and prevent your scooter or motorcycle being preyed upon by thieves.
---
Alarms & Immobilisers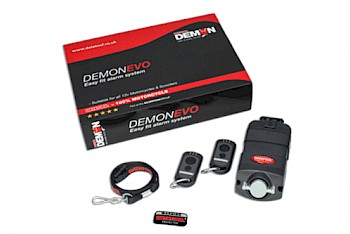 As you are most likely aware alarms & immobilisers come as standard on many bikes when rolled off the production line, so your motorcycle could already have one. For those motorcycle owners wanting to add a system to their bike, below are just 3 of a huge selection available. It is important when you go to choose an alarm that you look for it to be Thatcham or Sold Secure approved. It is also worth noting that DIY install motorcycle alarms might not receive an insurance discount that potentially a professionally fitted alarm could enable you to receive.
Low cost option – Meta Legos 3 available from £69.95
Medium cost option – Datatool Demon Evo available from £89.95 (PHOTO)
High cost option – Datatool S4-c1 'Red' Alarm/Immobiliser available fitted from £260
---
Marking & DNA products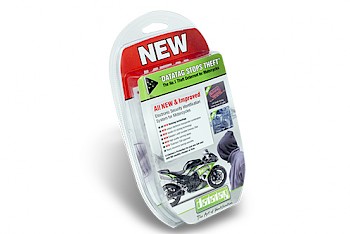 Marking and DNA security products are something worth thinking about purchasing for your bike, they are easily affordable and even have the potential to earn a discount on your scooter or motorcycle insurance premium. There is a selection of products available in this category, Datatag are the leader in this market then there are Microdot systems such as Alpha Dot where a glue filled applicator is dabbed/brushed onto the vehicle in multiple places leaving behind a unique identification mark for the vehicle, the dots themselves are tiny, in fact a 1mm spot is big enough to see the identification number.
Low cost option – Alpha Dot available from £24.99
Medium cost option – Datatool Datatag Motorcycle Tagging Kit available from £89.85 (PHOTO)
High cost option - see Tracking
---
Tracking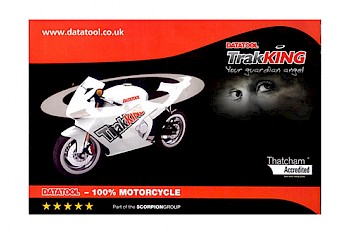 Tracking is on everything from mobile phones to fitness bracelets, and has for many years been used on vehicles including motorcycles and scooters. The aim of these devices is for your vehicle to be tracked to a location in the event of a theft. As like all technologies, tracking itself has developed, so some devices don't purely rely on GPS which can potentially be blocked by buildings etc. The newest technology to the vehicle tracking industry is VHF which cannot be jammed, some newer devices on the market combine both VHF and GPS/GSM technologies to maximise the chance of the vehicle being recovered.
Low cost option – Datatool TrakKING, available from £179 (additional subscription fee required - 1 year is £99) (PHOTO)
Medium cost option – BikeTrac available from £299 (additional subscription fee required – 1 year is £99)
High cost option - TRACKER monitor £361 (additional subscriptions fee required – 1 year is £169.00)
---
Disc Locks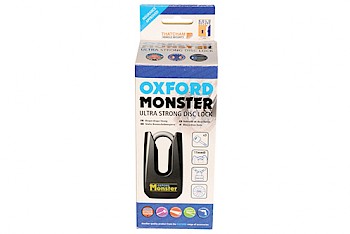 OK, an old disc lock isn't likely going to stop three or four serious burly thieves picking up your bike and placing it in the back of a van and driving away off into the night, but it will still act as a deterrent to opportunist thieves. New disc locks though have advanced and become a far more impressive security method, tougher materials, movement detection and alarms have now made disc looks a bigger deterrent to thieves. There also isn't any harm having a secondary security device on your bike.
Low cost option – Mammoth Security Maxi Disc Lock available from £18.80
Medium cost option – Oxford Monster Disc Lock available from £52.18 (PHOTO)
High cost option – Abus Granit Detecto X-Plus available from £198.99
---
Armoured Chains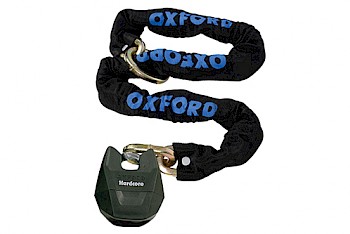 Armoured motorcycle chains are one of those essential pieces of motorcycle security and probably the most common method in use. These chains are useful both away and at home, but don't be lax when using it. Try not to leave the chain with too much slack, have it tight against the object that is secured to and preferably keep the chain off the ground. A slack chain will be more vulnerable to attacks. It is also worth thinking about what part of the bike you put the chain through and the object it is secured to. Normally put your chain through your wheel? Well remember wheels are easily removed leaving the rest of your bike to be taken away, if possible and without damaging your bike think about possible putting the chain through the frame itself.
It might be self-explanatory but when away from home, make sure to secure your motorbike to the biggest, heaviest, and most secure item possible, you want to aim for something immovable like a lamppost. I think most of us have seen viral images online of bikes with long chains secured to a post no taller than 3 foot which could easily be lifted off, try not to make these mistakes.
Low cost option – Bike It Mammoth 10mm square lock & chain available from £32.95
Medium cost option – Oxford hardcore XL Chain available from £58.81 (PHOTO)
High cost option – Abus Victory X-Plus 68 & Loop available from £164.99
---
Ground Anchors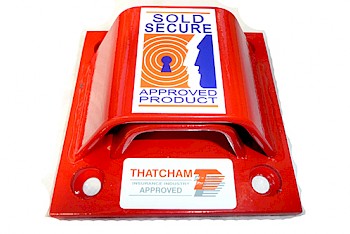 Whether you park your bike next to your property, in a shed or a garage, a ground anchor or docking point is adding another point of protection. Instead of potentially chaining your bike to something that could easily be broken or manipulated by thieves, a motorcycle ground anchor or docking point gives the motorcycle a very secure mount to a building or floor-base.
Low cost option – Oxford Brute Force Ground Anchor available from £17.50
Medium cost option – Red Alert Double Bridge Ground Anchor available from £39.95 (PHOTO)
High cost option – Oxford Docking Station Ground anchor available from £99.99
---
Garages, Sheds & Covers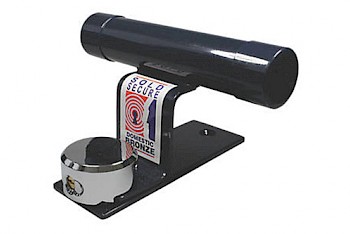 It goes without saying, that a motorcycle placed in a secure garage/out building is going to give you less chance of it being stolen when compared to being parked out on the road with no methods of security at all, but not everyone has access to a garage or outbuilding, so below we cover a few options for various parking scenarios.
Low cost option - Datatool Motorcycle Security Cover available from £27.95
Medium cost option – Squire Garage Defender available from £77.00 (PHOTO)
High Cost option – Protect a Bike Motorbike Garage available from £1007.10
---
Other options
There are plenty of options available for motorcycle security, the ones mentioned in the blog above cover the basics security methods, other potential products that might interest you are burglar alarms if you keep your motorcycle in a garage/shed/out-building. If your motorcycle is kept in a normal garden shed think about upgrading the lock, hasp, hinges and it also might be useful to block your bike being visible by frosting the shed windows. CCTV such as IP cameras can also be a useful security addition for your home as well as vehicle/s.
We have a few other blogs that might be useful to you such as: Ten tips to keep your bike safe, Keeping track - Scooter & Bike Security and 10 tips to keep you and your scooter safe in the cities.
---
Support your local Motorcycle Dealers & Clothing Retailers
Although in this digital world it is easy to purchase things online and have it delivered within a day or two, it might be worth just popping over to your local motorcycle dealer or clothing & accessories retailer and have a look what they have available, you might well be surprised quite how competitive their pricing is! The staff can also talk you through security and help find what best for you. While there you can also enjoy looking around all the bikes and accessories on display.
---
Disclaimer
The products mentioned in this blog are purely examples to make you aware of what is available on the market, and not an endorsement or paid advertising. It is important to do your own research and make your own decision with the security purchases you make and where you purchase it from. Make sure that any security on your bike is in-line with your motorcycle insurance terms set out by your insurer. Prices and availability correct at time of posting and subject to change.
---