The 125cc scooter market is obviously a heavily contested one, with brands bringing out so many different scoots to suit almost every situation and use possible. I was able to get my hands on Kymco's stylish and sophisticated offering the Like 125 – so here's my road test & review.
When this scooter turned up with the other from Kymco (including the AK550) I instantly thought how stylish this little thing looked. I was also surprised to see a certain Tommy Bridewell has left his mark on the scoot with his racing number 46 stuck on - hopefully he's left some of his riding skill in the glove box for me as well, that'd be appreciated!
Anyway, this scooter looks elegant and according to Kymco will be "the Envy of the City". You can see the influence of retro scoots from times past as well. We had this Like with us for a couple of weeks, and I had a chance to ride it fairly frequently.
Comfort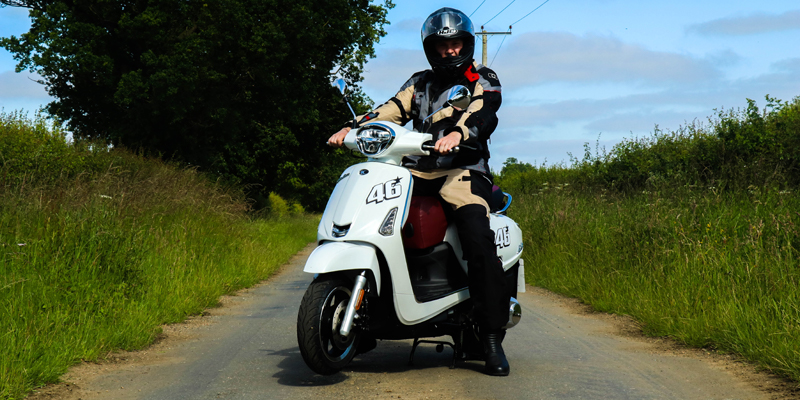 Scooters for me are all about comfort and ease of use. Now, for me comfort on this was… okay. But considering I'm 6'4", a lot of scooters aren't really going to fit me too well - my knees being in the dash isn't helpful when riding around. To combat this, I had to sit a little further back than I'd like, and it was definitely a sight to behold with me on there. But once I got used to it, riding around comfortably was no problem - other than dangling my leg like Rossi (or Bridewell) into corners!
For a fair test we had our other resident bike tester Brett have a go, and it fit him well at 5'6". I really liked the seat, which I found very comfortable – so if you've got a longer ride planned, I'd have no worries on the comfort front.
Suspension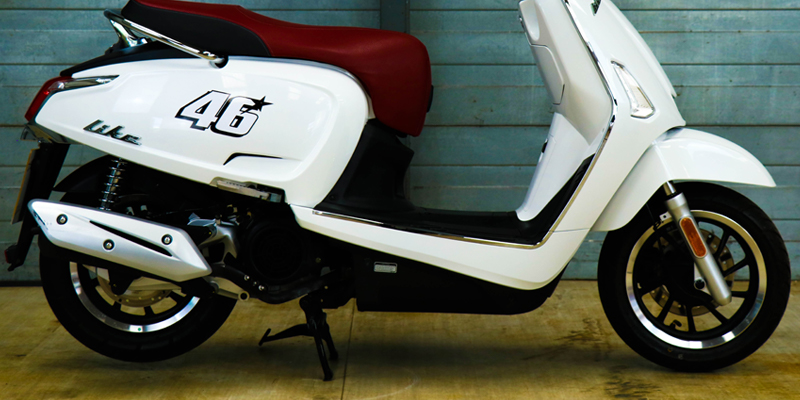 Up front you have telescopic forks which did well to soak up the many potholes littered on the roads in the UK, but I dare say roads are generally better in cities where this bike will live. The rear suspension on the scoot was provided by a "unit swing" which also did well to keep the rear wheel planted on the road.
When I sat on it, being 15 stone-ish, the scooter did let out a bit of a gasp – but it did respectably to keep me going comfortably on the road.
Size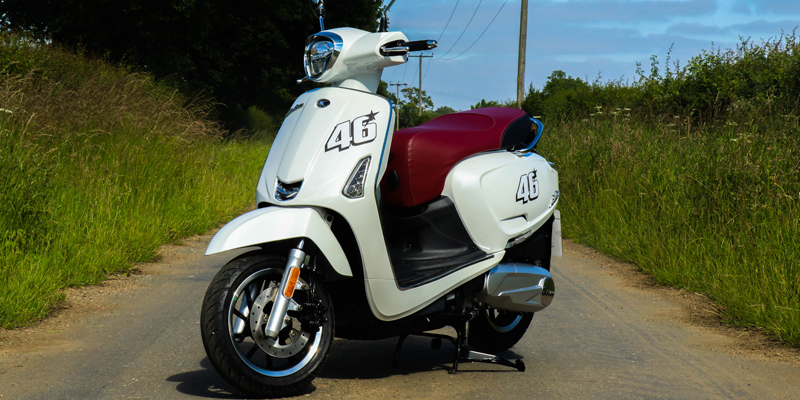 Simply enough the scooter is sized well and in line with all other scooters in this category. The wheelbase is 1319mm and allowed for some pretty sharp turns with ease, and the double-seat is a decent 790mm high for the main rider. It only weighs 115kg wet as well, so overall a very well sized scooter (for a normal rider!)
Engine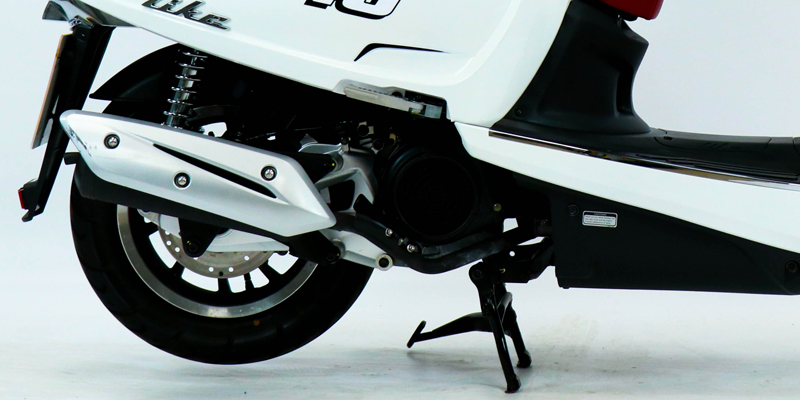 This scooter is surprisingly powerful and left the VSR 125 for dust on the road (the VSR 125 being a bike we were testing at the same time). It's a Euro 4 compliant single cylinder 4 stroke motor, air cooled and putting out 11.39BHP @ 8500rpm. Torque and low-end power is great for a scooter - at 10.4Nm @ 6500rpm. All very usable figures, and again this scooter does outpower a lot of 125cc naked bikes and other scoots at similar price points!
Of course, it's automatic/twist & go and belt driven. Engine was very perky and responsive, giving you power when you need it most.
If it's good enough for Tommy Bridewell in the paddock, it's good enough for me.
Brakes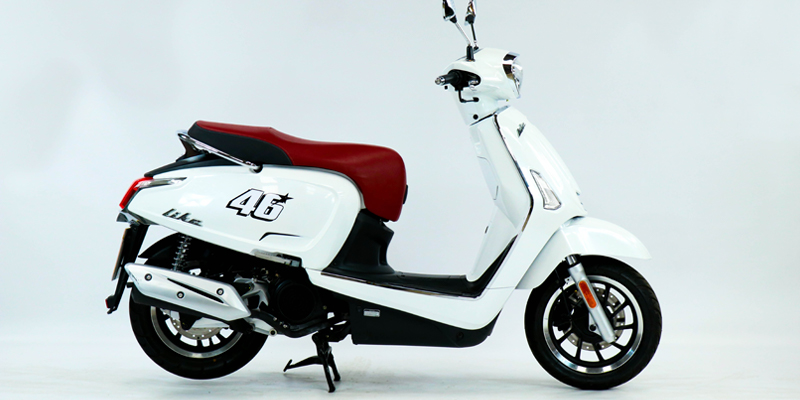 Great to see both a front and rear disc here, both 220mm with CBS (combined braking system). Brakes felt responsive and adequate for running around the city or on country backroads. No complaints here.
Storage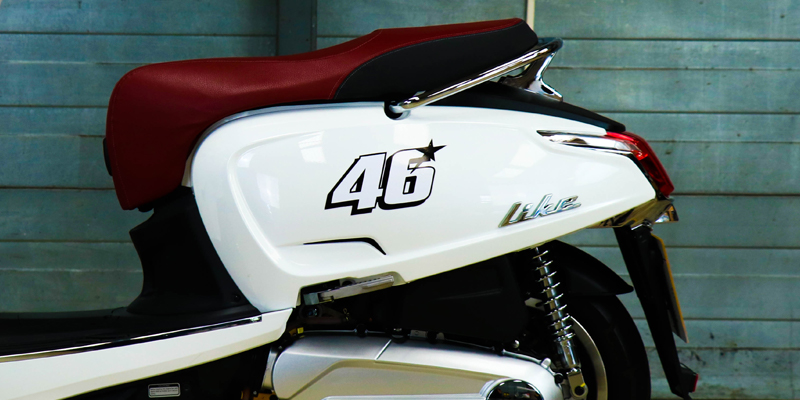 The good thing about using a scooter as a commuter bike is that you have no worries with storage. There's a good amount of under-seat storage available (not quite enough for a full helmet, but definitely enough for any shopping or your rucksack). The glovebox is easily accessible with the press of a button, and would fit a few smaller items in comfortably – it's also a particularly good place for your phone, as there is a built in charging socket which is very handy.
Retro Styling and "Luxury Accents" – Tommy Bridewell edition!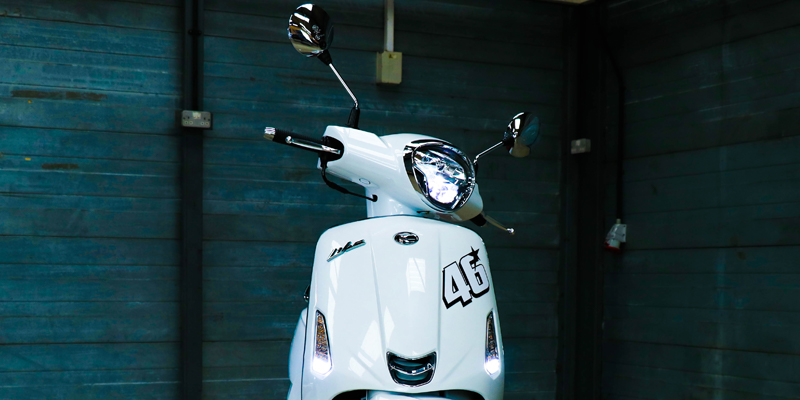 In terms of the appearance and looks of the scooter, I think Kymco have done a good job integrating retro/classic features with a modern twist. There is LED lights front and rear, as well as a clear and simple dash. This one was white with a red seat, with chromed/silver details and looked quite elegant on the road for me!
Of course this one has the 46 of Tommy Bridewell which is by no means standard, and Kymco have no plans of releasing it as a special edition, but as it was previously lent to him as a paddock scooter for a BSB race it still has his 46 on. I'm hoping people thought it was Tommy himself riding around!
Parts and bits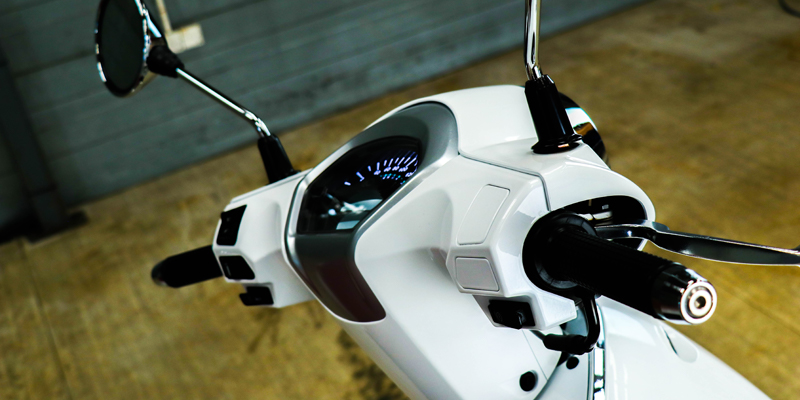 Just mentioned was the dash being nice and simple – Kymco do have a Noodoe system on other scooters which is incredible as a user interface, but unfortunately not on the Like 125 which instead opts for a digital and analogue display which works well. I'm hoping future editions of the scooter have the Noodoe fitted as it's a great feature.
The throttle controls, levers and switches all felt typical Kymco high quality, and I particularly appreciated the 'ticking' noise whilst the indicator is on.
On the road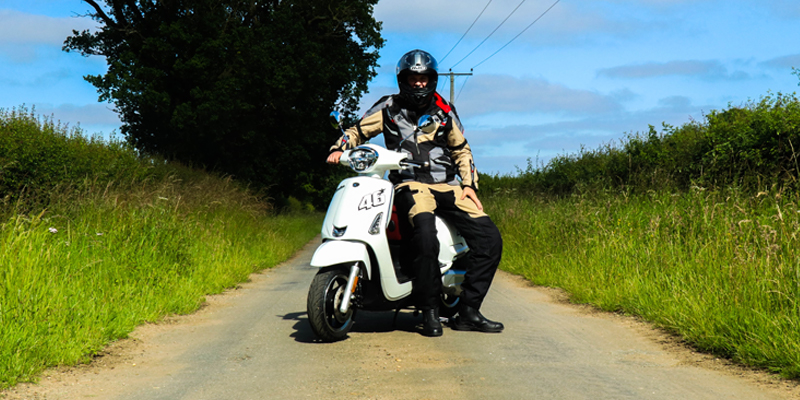 Generally the bike was great to ride around on, and if I had a commute in to work by town or city I'd absolutely consider this scooter as my mode of transport. The wheels are nice and small allowing you to be nimble and agile on the road - and accelerate quickly - but still felt decently stable. The fuel tank is 6.3L so you'll have to run it to near empty to get over the pesky 5L limit at petrol stations, but overall you can expect MPG at well over 100.
Filtering is definitely possible with this scooter due to it's lightweight and well sized frame, and the brakes and throttle are both responsive enough to allow you to weave between stopped cars.
Price
Prcied at £2,349.00, for what you get here, I can't see any complaints for a good commuting scooter. Other scooters in this category don't come close to the engine power, and Kymco are renowned for their quality parts and features.
Stats
| | |
| --- | --- |
| Model Name | Like 125 |
| Fuel Capacity | 6.3 Litres |
| Max Speed | 60 MPH |
| Engine | 4 Stroke, Air-cooled, Single Cylinder, 2 Valves (Euro 4) |
| Start Type | Electric Ignition |
| Front Brake | 220mm Hydraulic Disc (CBS - Combined Braking System) |
| Rear Brake | 220mm Hydraulic Disc (CBS) |
| Front Suspension | Telescopic Front Suspension |
| Rear Suspension | Rear "Unit Swing" |
| Seat Height | 790mm |
| Wheelbase | 1319mm |
| Weight | 115kg |
| Speedo | Dual Digital and Analogue |
| Stand | Centre and Side Stand |
| Warranty | 2 Years Parts and Labour |
| Price (correct at time of article) | £2,349.00 |
Final thoughts?
If you're considering a new 125cc scooter for a run-about, or even as your daily commuter, you'd be silly not to include this scooter as a consideration. It's well priced and looks great, is pretty well powered and performs well on the road.
Definitely give this one a second look!
Kymco Like 125 Scooter Insurance
Looking to insure a Kymco Like 125? Lexham's best deals are direct!