The RS 125 GP Replica is a bike that takes the racing heritage from one of Italy's finest racing outfits, and places it on the road. This means the power and performance of the bike is top notch, the styling is great – but there are just a couple of finishing touches missing for me.
Be warned, this is an in depth review, and is quite the read. I tried cutting bits out, but there was simply so much to talk about it was pretty hard to. But as I mentioned the power and performance, and this is the GP replica, it's only right to start with that first and jump right in.
Power & Top Speed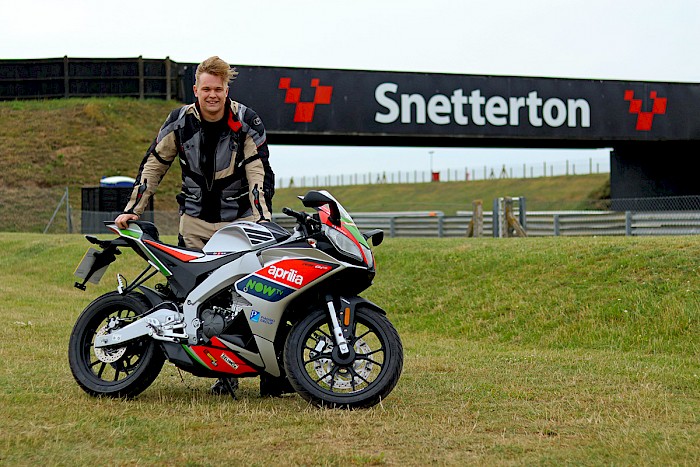 To get the most out of this bike on the road (or track) you need to live high in the rev range, which is typical for a sports bike and 125cc, but if you're cruising in a high gear at anything less than 6000rpm you're going waiting for the power to be delivered if needing to accelerate quickly. Again, you get used to it easily, and just need to shift down to get the engine singing to make the most of the full 15bhp and 10.4Nm of torque that the bike has at your disposal – which is by no means outrageous, but is right on the limit for CBT and A1 riders. It gets no better than this for power on a stock 125cc.
I've got this to 76mph (indicated on the speedo, which I think reads a tad higher than it should) yet it still felt like it had some left in it, of course the problem was that I was running out of road on our top secret Bike Matters test track - and it certainly needed a lot of road for me to get to 76mph – I'm 6'4" and 15 stone(ish).
On a ride out with Brett whilst he was testing the Vespa GTS 300 Supertech HPE, he noticed the RS GP acceleration was exceptional for a 4-stroke 125cc with the quick shifter clearly helping to speed things up and keep acceleration constant - but the Aprilia did a great job keeping up with the Vespa even though it was more than double the cc!
Gearbox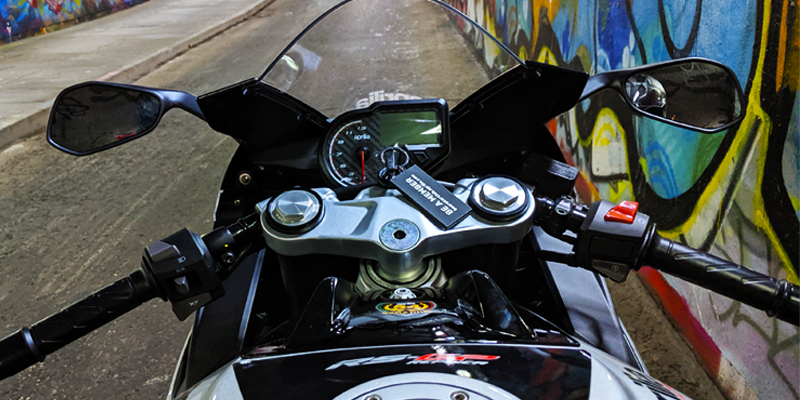 One stand out point for me is the RS 125 GPs gearing. First gear could do with a tiny bit more in it, but you just have to get used to the fact you need to shift near enough instantly from 1st to 2nd. If not, you hit the limiter - and I mean you literally hit it - if you're not careful you are lurched forward whilst the bike screams for the next gear and power drops off a cliff. Once you're outside of 1st and working through the 6 speed gearbox, you realise how well tuned in to the engine the gear ratios are. I had no problems with getting power down when living in the 7k+ rev range, and comfortably cruising at 70mph in a tall 6thgear.
Having 6 gears is vital for a sports bike like this, especially on a dual carriageway where you can cruise at 70mph in sixth and the engine doesn't sound like it's about to explode with the needle bouncing off the dash. The counter-balance shaft does a great job at stopping additional vibrations from the single cylinder 4 stroke beneath you, creating this premium feeling engine which seems a cut above others out there in terms of performance.
Quickshifter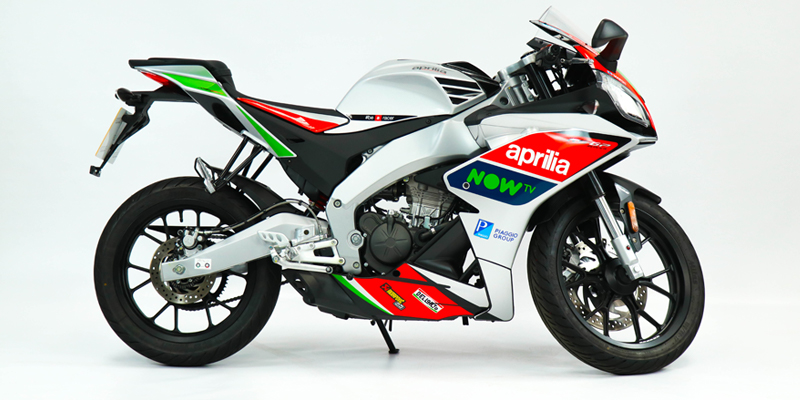 Now the quick-shifter is incredible. It's particularly useful when pulling on to an A road and picking up speed – especially on a 125 where any loss of acceleration can be huge. The engine ECU effectively works out peak potential torque and power, then "unlocks" the quickshifter at about 9000rpm where you can either keep pushing to get as much out of the gear as possible – risking that instant drop off in power at the limiter – or quickly tap up and get in to the next gear. No clutch, no rolling off the throttle, just simply lift your foot.
Having not yet actually ridden a bike with a quick-shifter as standard I didn't know what to expect, but now I think every 125cc bike should have one. It's not needed 100% of the time as there's still the control gained when using the clutch going through gears – but if you're just accelerating as hard as you can it's perfect for allowing near continuous power and acceleration. Particularly where this is vital on a 125cc... It does allow quick downshifts too, but without a blip – so clicking down the gears is really nice with the quick-shifter, just be careful when slowing down rapidly as you will want to use engine breaking in each gear as normal!
Handling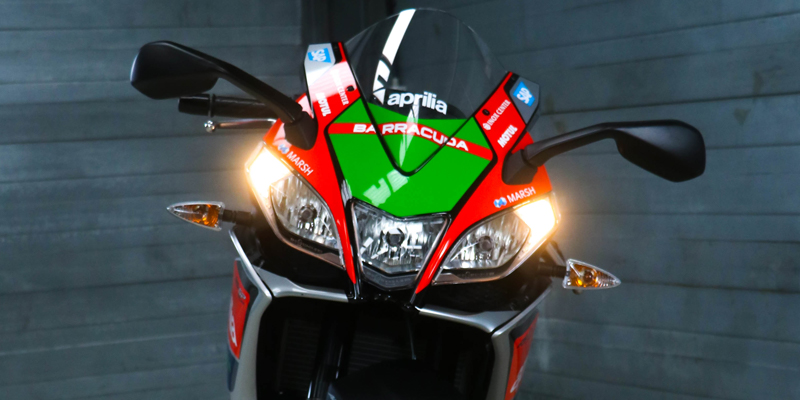 The bike feels planted on the road, especially at high speeds – which is great for a bike that is so light at 144kg. The stellar handling will be a combination of the 40mm USD forks and rear single shock suspension (non-adjustable) plus the GP aerodynamics no doubt. It does have the typical 125cc slim tyres, which for me as a bigger rider do little to inspire confidence, but they do the job well and allow you the control around corners that you'd expect.
Thinner tyres do also mean you can throw it from one side to the other easily as well, so combined with the light nature of the bike you could really throw this around the twisties if you were so inclined.
Brakes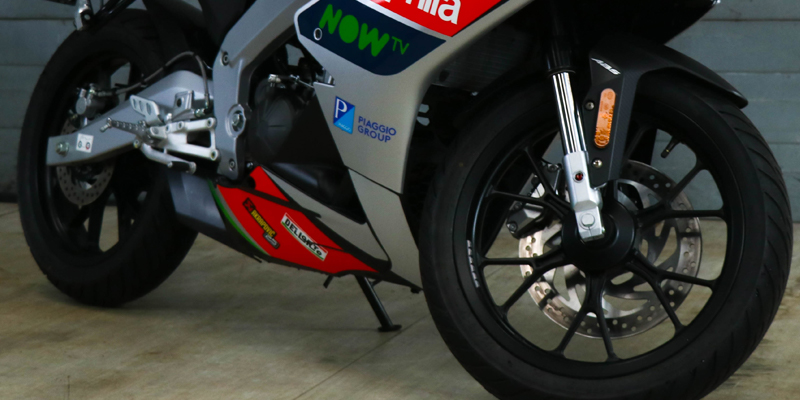 Stopping power is really good, a HUGE 300mm disc up front with a four piston radial caliper & Bosch ABS to give you that confidence that you can stop when you want to – and the combination of the strong engine breaking with the impressive brakes, you've basically got yourself a 125cc GP race bike! Oh wait.
At the rear we have a single pot 218mm disc, but no ABS. So the rear can lock up under stress, which some people like, but it didn't come close to that for me when riding around.
Overall pretty impressed with the brakes.
Features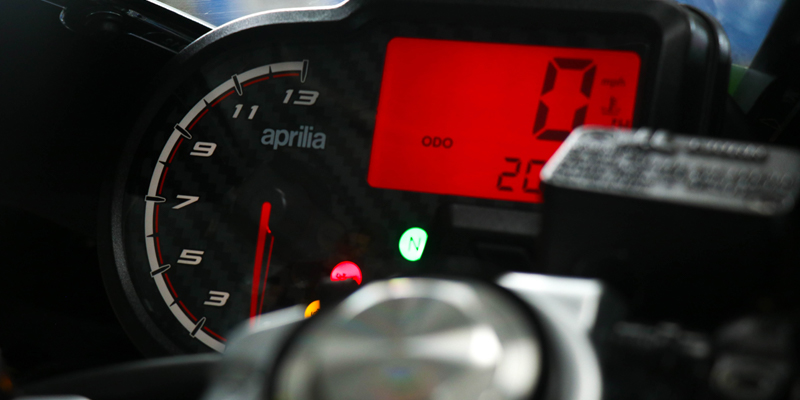 For rider aids and controls, there isn't a huge deal to talk about. A particular gripe I have with some bikes is the cheaper feeling switches, plastic and controls – but no gripes here. Switches and controls all felt good, but the clutch lever was a little wobbly (easily sorted)!
No rider modes either, but that's fine for a 125cc.
Appearance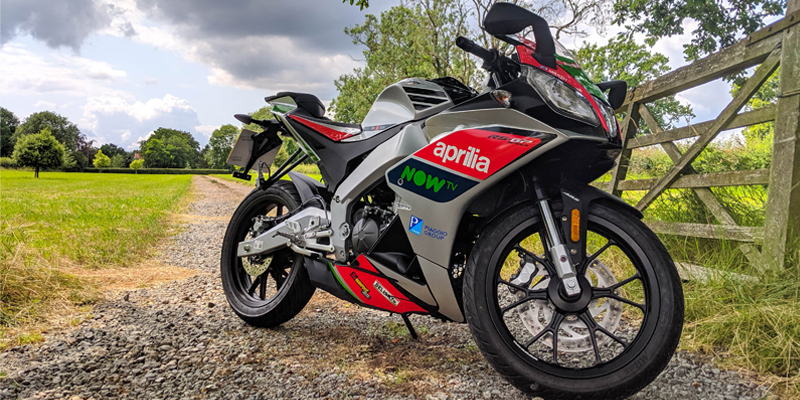 The exhaust itself isn't going to blow you away, but the engine sounds beautiful beneath you and subsequent rasp is decently loud. I'm sure you could get an aftermarket exhaust if you were desperate for one, but the way this bike has integrated the exhaust with the fairings would make it a huge shame to ruin the looks by doing that. For me anyway.
No complaints though; at high revs when screaming down your local B road, using the quickshifter to engage the next gear – the sound really is GP.
Exhaust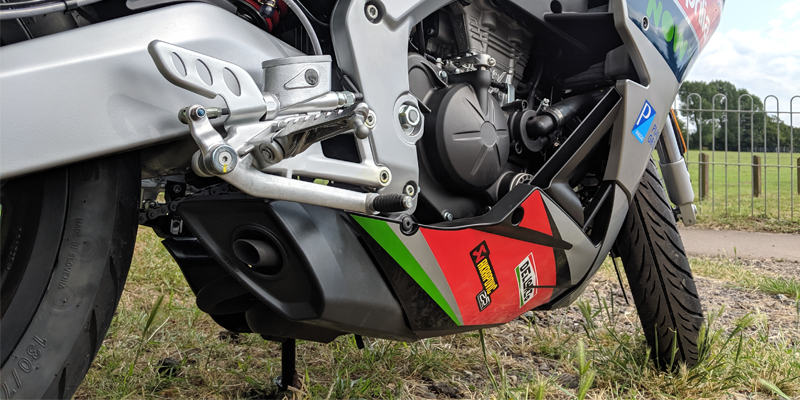 The exhaust itself isn't going to blow you away, but the engine sounds beautiful beneath you and subsequent rasp is decently loud. I'm sure you could get an aftermarket exhaust if you were desperate for one, but the way this bike has integrated the exhaust with the fairings would make it a huge shame to ruin the looks by doing that. For me anyway.
No complaints though; at high revs when screaming down your local B road, using the quickshifter to engage the next gear – the sound really is GP.
What's it like as a road bike though?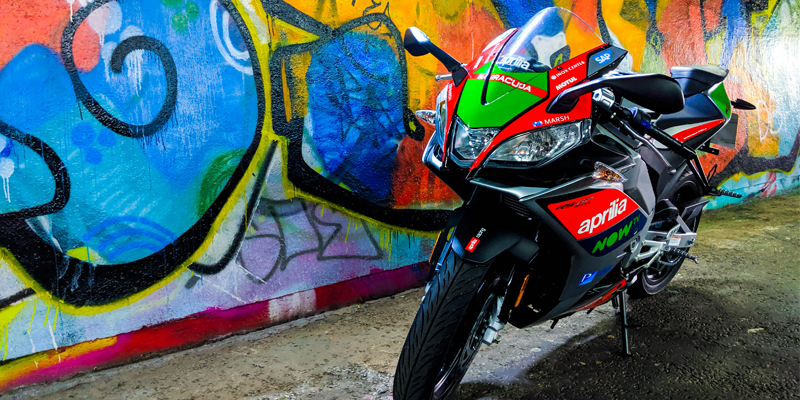 The bike is easy to manoeuvre around, the incredibly lightweight body is 144kg wet – thanks to an aluminium frame and reduced bulk when designed. There's no concerns for getting the bike around in tight spaces, and with a wheelbase of 1353mm the turning circle is respectable for a sports bike.
It does have characteristic 125cc narrow wheels, and the frame itself is quite slender – no problem for many young riders, but surprisingly for me (at 6'4") I fit well on the bike in the 820mm saddle. After a ride I'd come off the bike with no excessive leg cramp, and no back or wrist pain – typical complaints on sports bikes. Don't get me wrong, the riding position is absolutely a sporty one; with set-back rear sets and semi-clipon/handlebars, but i'm happy to say there was no sign of problems on short to mid range rides at all.
Fuel & MPG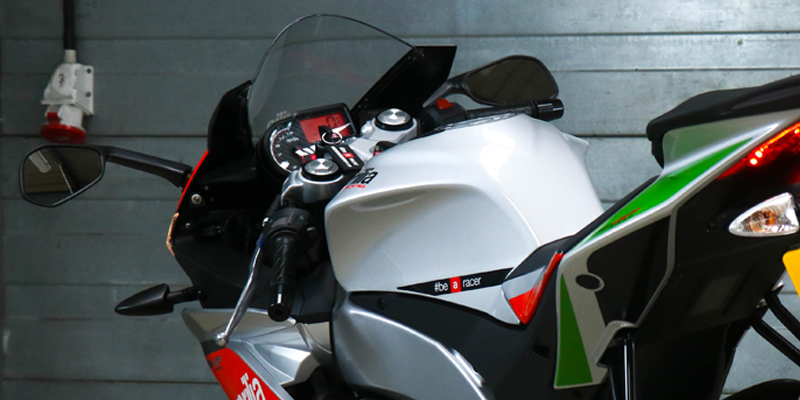 The 14.5L fuel tank (3.5L reserve) should get 100MPG, so you shouldn't have too many worries when it comes to filling up and getting the miles in – it would just be nice to know how much is left in the tank.
Hmm, perhaps a gauge on the dash would be helpful! There is a warning light though.
Storage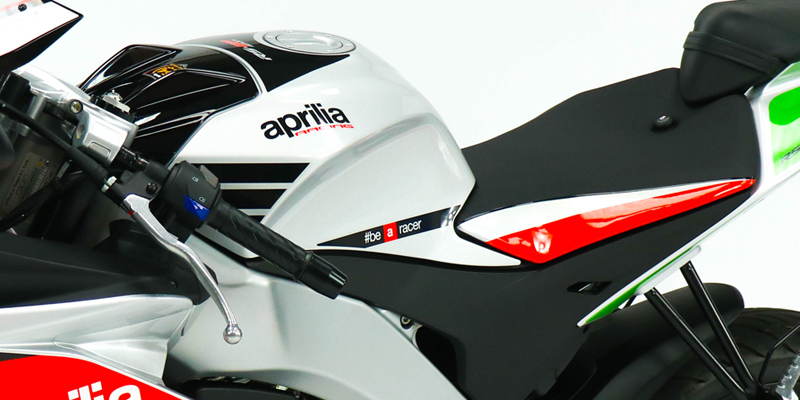 There's a whole song and dance about the underseat storage, and yes you can fit your phone and wallet in the space under the seat, maybe a sandwich, or a 6" tablet as they say.. plus you can pay for an accessory to add a USB charger port there, but it really would have been good to have this included as standard considering how common USB ports are becoming on bikes...
Is anyone too fussed about extra inches of storage on a sports bike?
Quality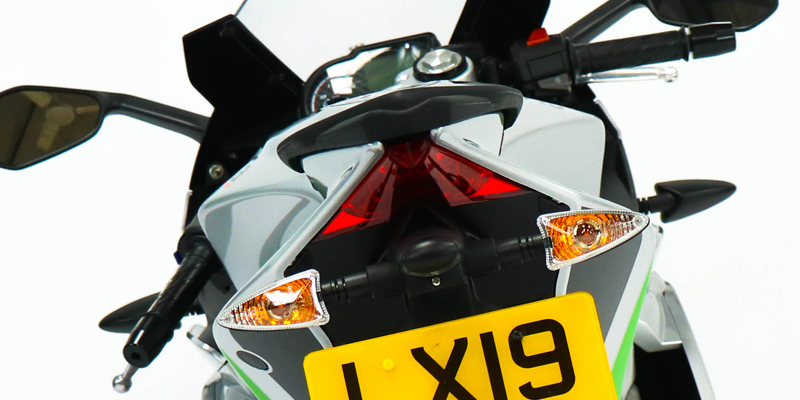 Good quality parts were used and put together with great attention, and I'm sure with regular maintenance and care you wouldn't have many issues. For maintenance and running costs, a short term test doesn't really allow me to speak with too much authority – we had the bike at Bike Matters for just over a week.
Plenty of time to get miles in, but not enough to find out about the ongoing reliability. Pass!
Almost perfect, but...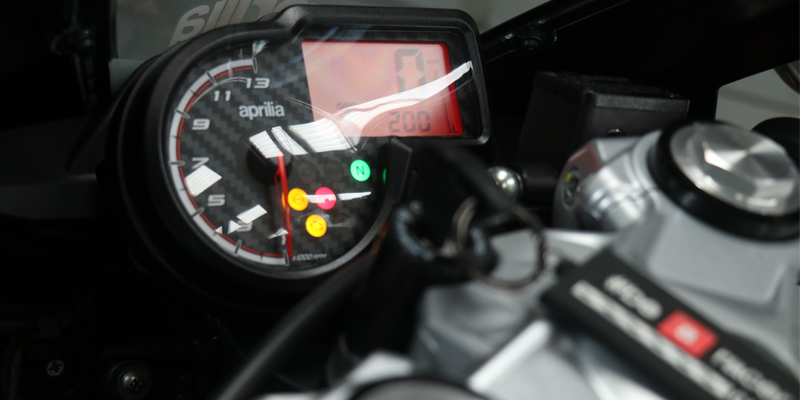 There were a couple of finishing touches missing on the RS 125 GP Replica for me. I can't fault it as a fun bike to ride, because it certainly is – especially for a 125cc. But when you look at this as a bike you'd use daily as a commuter or just for fun on the road, the lack of full dash is something new 125cc riders would very much appreciate - the missing fuel gauge is a drawback (but there is a warning light), no gear indicator (great for new riders) is a small point, and the exposed lighting sockets and parts a bit of a worry if you leave the bike for a while in the town/city.
The lack of dash is a bit frustrating overall, though kind of expected considering it is a GP replica - you would expect to have compromises for weight reduction and keeping things minimal. However, the RS125 is still a learner-legal bike, so it would have been great to see of these extras thrown in with new riders in mind (like a gear indicator, fuel gauge, etc).
Considering the GP replica is only £100 more than the regular RS(4) 125, for your extra £100 you do get that quickshifter!
It's just the general lack of "premium features" for a bike that itself is set at a premium price is a downside - opting for simplicity is both this bikes downfall and its charm.
How does it make you feel?!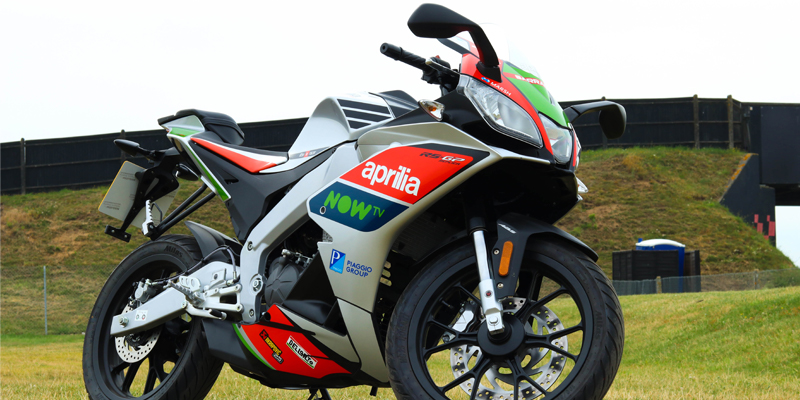 But it's not just that, the bike itself really does encourage you to push yourself, and increase your riding skill. I came off it wanting to go back out, so even if you were to want to go for a leisurely ride, it will end up with a detour down your favourite twisty backroad. I have the upmost faith in Aprilia to know what they're doing with sports bikes, all of their racing heritage is behind you and it all contributes to an amazing ride.
This bike is the eager puppy wanting to take you out for a walk, rather than the other way around. You coax each other to get as much out of each other as possible, sprinting down the road with a beaming smile on your face.
You're having the best time of your life.
That specific moment of euphoric bliss just about explains it. That's how I would describe this bike to someone who has never ridden before.
Price & Summary
Overall, this bike does live up to the reputation it sets itself as a GP racer with a lot of heritage. You're constantly reminded of the race theme – with "#BeARacer" written all over the place, reminders of their 54 world titles, stickers and quick-shifter. It is a 125cc as well, so you can feel like you're absolutely having it on the road, look down at the speedo and realise you're going 48mph in a 50 – which is part of the fun with these 125cc bikes.
Aprilia would want me to say "it makes you feel like a racer" - and it does to an extent. There's no two ways about it, this is a premium bike at £4,599 + OTR if you're buying one brand new - but if you're tempted to go for one, do it - it's absolutely a premium bike. You won't regret your decision, and perhaps you'll get this out on track and truly #BeARacer!
Stats
| | |
| --- | --- |
| Model | RS 125 GP Replica (2018) |
| Fuel Capacity | 14.5 Litres inc 3.5 Litre reserve (noted 104MPG) |
| Max Speed | Indicated 76 MPH (roughly) |
| Max Power | 15BHP & 10.4Nm Torque |
| Engine | 4 Stroke, Single cylinder, 4 valve, liquid cooled - 125cc |
| Start Type | Electronic Ignition |
| Gearbox | 6 speed manual (with quickshifter) |
| Front & Rear Brakes | 300mm Front Disc & 218mm Rear Disc. ABS Bosch (Front only) |
| Front Suspension | 41mm Upside-Down Forks,w heel excursion 110mm |
| Rear Suspension | Asymmetric swingarm with monoshock, wheel travel 120mm |
| Seat Height | 820mm |
| Wheelbase | 1353mm |
| Dimensions | L: 1968mm x W: 760mm x H: 1135mm |
| Wet Weight (Dry Weight) | 144kg (129kg dry) |
| Speedo | Dual digital and analogue tachometer |
| Stand | Side stand only |
| Wheels | 6 split spokes in light alloy, sealing profile for tubeless tyres & 17" wheels |
| Price (correct at time of article) | £4,599 |
Video Review
Aprilia RS 125 GP Replica Insurance
Looking to insure a Aprilia RS 125? Lexham's best deals are direct!
Aprilia Insurance
Here at Lexham we are the UK Insurance partners of the Piaggio Group and provide the official Aprilia Insurance scheme, so if you are looking for insurance on your Aprilia moped, scooter or motorcycle make sure to get a quote directly with us for our best deals.