The GTS Supertech 300 HPE is the latest, most powerful and tech infused Vespa to date, and we were able to get our hands on this modern-day classic to give it a good road test!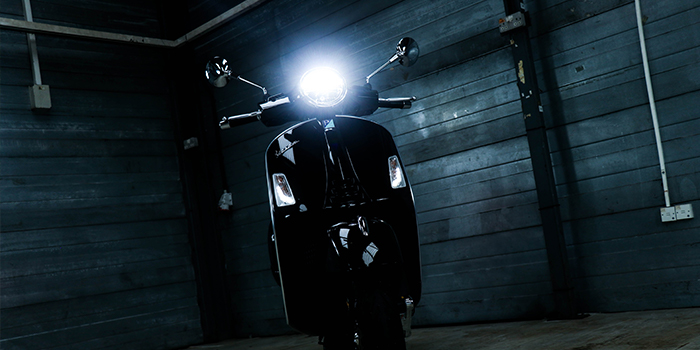 Style and heritage
The Vespa GTS model range is pretty iconic now for a modern-day scooter, it is the chosen ride for many; from Vespa enthusiasts to city commuters Vespa really have got the style, heritage and rideability that has cemented themselves as a firm favourite.
Look at the GTS, it is a fine piece of Italian styling that really has only altered very slightly over the years with the most subtle alterations and improvements all in keeping with that iconic design.
Although the GTS is classed as a large body Vespa, it doesn't really fit into the traditional 'maxi-scooter' category, as it is quite small with that normal scooter styling – however, due to the 300cc engine it quite often gets drawn into maxi-scooter debates. The GTS for a 300 though as I say is quite small, and that for me is a big part of its success over the years. Stick to small scooters and once you've surpassed the 125cc category your options are quite limited, then you'll see the GTS sitting there all pretty with its 300cc engine encased away in that stylish Italian bodywork – is it a surprise they have such a loyal following? Not everyone wants a large maxi scooter, some people want a powerful small scooter and with the Supertech HPE they do have even more power at their disposal than ever before as standard.

Electronic Gizmos
OK, given the long title of this model let's start of with the Supertech part of the name. Now Supertech in part is due to the rather nifty TFT dashboard. In typical Vespa fashion the TFT display is simple yet stylish, and goes with the whole aesthetic of this flagship scooter matching in perfectly – no garish parts to be seen! Install the Vespa app on your smartphone (android or iphone) and you'll have the added benefits of satellite navigation, message notifications, voice commands and even answer calls (though due to time restraints we didn't get to try this out to it's full potential). The display is nice and clean and easy to read, the text is not the biggest but still easily readable. Everything is nicely laid out and you can easily see or navigate to the information you need to display – all rather simple.

Controls
As you guess with Vespa, the switchgear is minimal and stylish, not quite sure of the navigational stick you need to use for the menu on the TFT screen but it did work well. All other controls are on point and as expected, I quite liked the movement on the indicator switch, which is cool.

Engine
HPE stands for High Performance Engine, and that's because this 300cc engine is the most powerful ever produced by Vespa. Now it is producing 23.8bhp, though this might not seem like a lot, have it in a small relatively light scooter and it is quite lively – more about this in the 'on the road section'.

Storage
Typical scooter storage under seat, though admittedly on the shallow side – I can't see it fitting a full face helmet, but it is clear the storage is inline more of the Vespa owners demographic so apparently will store an open face helmet, you'd definitely need to make sure yours fits, as I doubt they all will.
In the leg shield we have the visually pleasing glovebox which you can open by having the key in the ignition and pushing it into the barrel. Once the glove box opens, you are greeted with a nice bit of space for small items such as your mobile phone – Vespa have a USB port tucked away nicely in this glove box so you can charge it up as you go too.

Price
How much does Vespa's latest flagship scooter cost? The exact version we tested the GTS Supertech 300 HPE is yours for £5,999.

On the road
Any GTS is at home in towns and cities, their relatively small size, pokey engine and easy handling make these great for commuting and getting around traffic, and with the added bonus of more power the Supertech 300 HPE gives you more fun at the back wheel. Away from the lights the GTS will surprise a lot of people, it definitely did the BMW driver who pulled alongside me seriously underestimating the GTS' acceleration, don't think he expected to get done so convincingly by a scooter.
The Supertech did pretty much everything I expected it to in the towns and cities, it is a winning formula overall so you knew it would handle the concrete jungle pretty darn well, for me though it was the country lanes where I had the most fun…
Slow moving rural traffic is easily dispatched with the nippy GTS Supertech, when the road becomes clear and the bends become frequent this twist n go scooter really is a blast and shifts to 70mph pretty respectfully. Once you get used to the ever so slight initial lag on the accelerator, bends becomes a right laugh, everything flowingly nicely enjoying that performance the new HPE has to offer. Riding the GTS was absolutely terrific fun on rural roads, you can see why some people love touring on them.
At higher speeds you do get hit fairly with the flow of air pushing over the front of the scooter so for me I would definitely want the addition of a windscreen – shame it doesn't come as standard, but I dare say you'll find this on the touring version. Be aware as well the Vespa stated fuel tank isn't the biggest at 8.5 litres so on long trips strapping a jerry can to your GTS might make life a bit easier, a small compromise you'd expect to make when investing in a small powerful scooter.

Summary
The GTS is an absolute legend in the scooter scene and has a massive following both in the UK and on foreign shores. It is a scooter found most commonly at home in bustling cities and towns where you will see GTS' aplenty filtering through traffic while looking only as a true Italian styled scooter could.
The GTS is also a touring and rally scooter choice for many die hard scooterists, so you'll see the GTS covering hundreds if not thousands of miles on some jaunts laden with luggage. It is iconic and has a loyal following who would love to get their hands on this latest tip top flagship scooter. Yes the Vespa GTS Supertech 300HPE is a premium scooter at a premium price, but chances are if you are looking at reviews on it and interested in purchasing you are more than OK with the price.
---
| | |
| --- | --- |
| Model Name | Vespa GTS Supertech 300 HPE |
| Fuel Capacity | 8.5 litres - Vespa stated (some sources claim 7 litres) |
| Max Speed | 85mph (estimate) |
| Engine | 278.3cc single cylinder, liquid cooled, 4 stroke |
| Start Type | Electric |
| Front Brake | 220mm single disc |
| Rear Brake | Single arm with hydraulic shock absorber |
| Front Suspension | Single arm with hydraulic shock absorber |
| Rear Suspension | Double hydraulic shock |
| Seat Height | 790mm |
| Wheelbase | 1375mm |
| Weight | 150-170kg (estimate) |
| Speedo | Digital |
| Stand | Centre |
| Warranty | 2 years manufacturer |
| Price (correct at time of article) | £5,999.00 |
| Website | https://www.vespa.com/uk_EN/vespa-models/gts-super/gts-super-300.html |
---