50cc Scooters are popular and not just with youngsters getting their first taste of the open road they are affordable, economical and fun methods of transport. For urban commuting especially they are hard to beat. So it is of no surprise that the variety of models available in the UK is vast.
For those not fussed by more expensive brand names, then there are plenty budget friendly scooters out there, including ones which can only be purchased online! Got a bigger budget then as expected there are a host of models available from more renown brands. Below we will list 10 of the biggest selling scooters in the UK within the last year.
Lexmoto Scout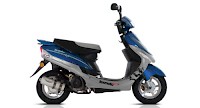 The Lexmoto Scout has been one of the biggest selling bikes for a few years now, the smooth 4-stroke engine scooter has price on its side. At the time of writing the Scout 49 was advertised at a very attractive £649.99. Lexmoto have been established for quite some time in the UK and have a large dealer network and parts service that does help make the Scout a very tempting choice.
Other popular Lexmoto 50cc scooters include: FMR 50, WY50 and Milano 50.
Piaggio Zip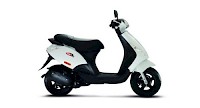 Piaggio are one of the biggest and most trusted motorcycle brand names in the world and their entry level 50cc scooter the Zip, remains at the top of the shopping list for thousands of customers every year. The light, agile and fun to ride 2 stroke engine scooter came into being in 2003 and has continued to be one of the biggest selling 50cc scooters since its inception. With its current price at only £1371 the Zip is priced to be highly competitive with other entry level 50cc scooters. For many owning a Piaggio; whether for the brand name, build quality, style or a combination of all three is simply a must.
Other popular Piaggio 50cc scooters include: Fly 50 and Typhoon 50.
Peugeot Kisbee 50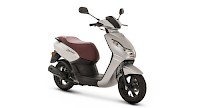 A household name for cars and cycles French manufacturer Peugeot also have an extremely popular range of scooters, including the Kisbee 50. Currently available in the classic colours of Black, Grey and White the air-cooled 4-stroke Kisbee is one of Peugeots biggest selling scooters of recent times. Currently priced at £1199* the Kisbee is a popular alternative for many who don't have a massive budget but want a more renown manufacturer. With a nationwide dealer network and 2 years unlimited mileage warranty the Kisbee comes with peace of mind with high quality aftercare.
Other popular Peugeot 50cc scooters include: Speedfight 50, Tweet 50 and Django 50.
Honda Vision 50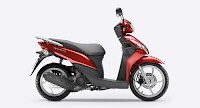 With the possibility of 146 miles per gallon, the high quality and fun Vision has quite a following. Let's face it Honda are known for their quality and reliability so it is not a surprise that brand loyalty remains high and that the Vision has quite a fan base. The efficient 4-stroke which has a 108cc big brother is available in 4 different colours: Pearl Cool White, Pearl Siena Red, Mat Carbonium, Gray Metallic and Pearl Nightstar Black with the advertised price at £1999.
The Vision is the only 50cc capacity scooter manufacturer by Honda currently available in the UK.
Yamaha Aerox 50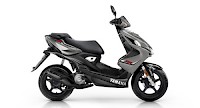 The Yamaha Aerox is one of the sportiest styled scooters on this list thanks to the race-type-R-series bodywork, it is also one of the more expensive. As you would expect though, as the saying goes "you get what you pay for" upon scrolling the spec list you can see why the Aerox is priced more highly, it really is high spec. Unlike most of its rivals the sporty 2-stroke engine is liquid cooled, there's the nice addition of having a disc brake at the rear as well as the front and even the instrument panel is one of the coolest you'll see on a current 50cc scooter with lcd display. Currently the Aerox R is available from £2,249.00.
Other popular Yamaha 50cc scooters include: Neos Easy and Jog.
Sym Symply 50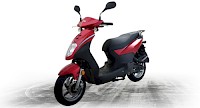 Like the high majority of 50cc scooters the agile and popular Symply 50 is designed with students and commuters in mind. The air cooled 4-stroke comes with an impressive 3 year warranty and is available in 4 different colours: Red, Black, Silver and White. The Taiwanese firm SYM also known as Sanyang also have an established dealer network in the UK. The Sym Symply can be yours from just £1,199.
Other popular SYM 50cc scooters include: Jet 4 50 and Symphony 50.
Vespa Primavera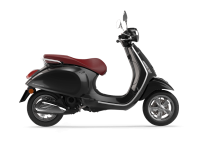 The emergence of the Vespa Primavera has been a popular one, both the 50cc and 125cc models have proven prevalent since the legend remerged onto the market. With its typical Vespa aesthetics, the Primavera really is an icon of style. As you would expect such looks and reputation comes at a higher price as the stunning Vespa Primavera comes in at £2,870 OTR.
Other popular Vespa 50cc scooters include: Sprint.
Aprilia SR50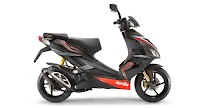 Declared as a supersports scooter, the liquid cooled 2 stroke SR50 is as popular as they come. The SR50 has been a trend setter since it first burst onto the scene, with Aprilia always pushing the spec. The SR50 has been a first with many top features, today the spec includes front and rear disc brakes, liquid cooled engine and of course its racing replica aggressive and aerodynamic design inspired by the RSV1000 R Factory. The Aprilia SR50 is available in the choice of three colour scheme and prices start from £2171.
Other popular Aprilia 50cc scooters include: SR Motard 50
Kymco DJ50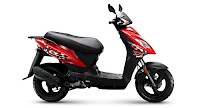 The ultimate rival to all entry level 50cc scooters the four-stroke air cooled DJ50S has a lot to offer for the money including Front disc and rear drum brakes, 6 litre fuel tank and rear carrier. Kymco have been about for over 50 years and have even manufactured for Honda, Kawasaki and BMW so have become renowned for their world class quality and reliability. The super stylish DJ50S can be purchased from £1299.00 and comes with a 2-year unlimited mileage warranty for that extra peace of mind.
Other popular Kymco 50cc scooters include: City + 50, Super 8 50 and Agility RS 50.
Scomadi TL50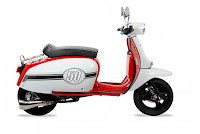 Scomadi haven't been selling normal production scooters for long but the British based firm have rapidly gained a good reputation, and have great customer demand on their Turismo Leggera Scooter series. With their company slogan being "A Modern Classic" is is not a surprise to know that Scomadi scooters have the beautiful styling of classic scooters but pack the punch and reliability of modern components. The work to make the Turismo Leggera wasn't rushed and took 10 years of prototype development from PM Tuning Racing Products and Scooter Innovation to get to production. Scomadi also make the Turismo Leggera in 125cc and 200cc models, for the 50cc Turismo Leggera prices currently start at £1897.00
Need Scooter Insurance?
For a low cost quote on your scooter insurance, don't forget to call us 01379 646 529 or get a quote online.